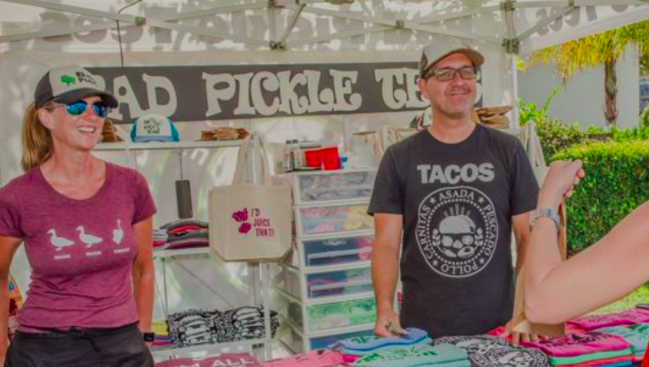 How to Use Events to Grow Your eCommerce Business
Being a small business owner isn't always easy – but the internet has made some aspects easier. Today, anyone can create a website, market a business through social media, and even sell products online. But even with all these options for promoting your brand online, don't overlook offline ways to acquire new customers: specifically, with events.
Getting people together in person might seem old fashioned in the digital era, but it still works. A lot of makers already know this — they're participating in things like street fairs, craft expos, and pop-up shops. And many of them are also promoting and selling their wares online.
If you're one such progressive entrepreneur, here's a piece of good news: you can now streamline your on- and offline efforts, thanks to a new partnership between Weebly and Eventbrite.
Weebly + Eventbrite = More Sales On- and Offline
You may already be familiar with Weebly's website templates — they're easy to create yourself, and have a built-in eCommerce functionality that makes it simple to include products for sale. Now, you can also add event pages to your Weebly site that allow you to sell tickets online.
To see what this looks like in action, here's an example of how an actual Weebly customer — Bad Pickle Tees — could use this new partnership to add event ticketing to their existing Weebly site. Bad Pickle sells cheeky tees and baby clothes with clever food puns like "I'm all that and Dim Sum."
Here's what their eCommerce site looks like:
The product page makes it simple to make a purchase with just a few clicks, using Paypal or a credit card. But Bad Pickle Tees doesn't just sell t-shirts online.
Owners Cyndi and John Grasman have turned a witty idea from a hobby into a fulltime lifestyle. They travel around in their Volkswagen van packed full of tees and totes to sell at festivals and events, using an iPad to keep track of orders coming in and inventory going out via their Weebly dashboard.
On the Bad Pickle Tees site, you can see a list of all upcoming shows, from the Cherry Blossom Festival in San Francisco to the Jackalope Festival in Pasadena.

Taking advantage of integration between Weebly and Eventbrite, Bad Pickle could take their event page to the next level. First, they'd convert their static events page to an Eventbrite-powered page. Next, they could add ticket-buying options right to the page, so fans would be able to sign up for events in the moment. They could also drag and drop any upcoming events on Eventbrite onto their website, and edit their listings to match the unique branding and design of their site.
Getting Your eCommerce Website to Do Double (and Triple) Duty
Tying together web branding, eCommerce, and event ticketing simplifies things for busy entrepreneurs who don't have time to manage multiple technology tools on top of everything else they do. If you sell products and host or appear at events, you can now take advantage of Weebly's new event-ticketing option. Event pages are also ideal for Weebly website owners who don't sell products, but do host events — anything from a wellness workshop to a community theater show.
With Weebly, even the biggest technophobe can create a simple site, an eCommerce store, and an event ticketing page  — all from one dashboard. For your customers, this couldn't be more convenient. And for you, the business owner, it simplifies technology while amplifying your marketing and eCommerce options.
You can also use your Weebly dashboard to check your metrics — tech lingo for how many people are viewing your site, buying your products, and purchasing tickets to events. You don't have to worry about a thousand logistics; Weebly and Eventbrite simplify your digital to-do list so you can concentrate on your creative life as a maker.
Weebly's partnership with Eventbrite gives you essential web-building tools for your event and ways to tie it back to your products. For an easy, instant install right into your Weebly editor and a 10% coupon, visit our Weebly partner page.