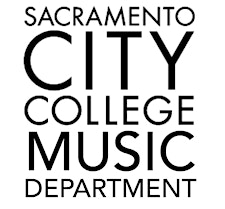 Sacramento City College Music Department
ABOUT THE DEPARTMENT:
The Sacramento City College Music Department prepares students for careers in music performance, education, composition, conducting, retail music industry, music publishing, and music therapy.  Students receive training in instrumental and vocal techniques and performance, music theory, and music history in order to prepare them to for transfer to a four-year institution and to become future performers, composers, educators, writers and researchers, and music therapists.
ENSEMBLES:
#COLLEGECHOIR & Vocal Ensemble:
The SCC Choirs have a rich history of choral music education and performance that started in 1968.  The ensembles have traveled and performed in seventeen different countries and have participated twice in performing masterworks at Carnegie Hall.  Student-driven learning forms the heart of our collaborative approach to vocal education. Under the direction of Professor Daniel Paulson the Vocal and Choral Music program creates a transformative learning experience, which includes a strong foundation in healthy vocal technique, applied performance training and the concrete opportunity to develop musicianship skills through the performance of creative and challenging choral repertoire. For More Information Visit: www.scc.losrios.edu/choir.
Jazz Band
This course includes the rehearsal and performance of jazz band arrangements in a wide variety of styles, such as swing, fusion, Latin, and funk. 
Commercial Music Ensemble
This ensemble includes the rehearsal and performance of contemporary pop and commercial styles: jazz and rock fusion, rhythm and blues, soul, folk, urban styles, country, and Latin.