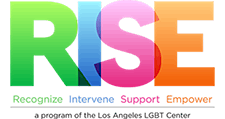 RISE (Recognize Intervene Support Empower) Program
ABOUT RISE
The Los Angeles LGBT Center's groundbreaking, federally-funded RISE (Recognize Intervene Support Empower) initiative initially developed and tested a new service model. The model works with youth, parents, caregivers, and professionals to prepare families, organizations, and systems to respond to the needs of LGBTQ+ youth and combat the heterosexism and anti-LGBTQ+ bias that leads to adverse health and mental health outcomes.
Today, RISE continues to provide direct services, and organizational level training and coaching while evolving into a more robust program that works in broader systems of care at local, state, and federal levels. RISE is recognized as one of the leading LGBTQ+ programs addressing the disproportionate outcomes for youth in systems of care with a consistent connection between direct services, training and coaching, and advocacy to achieve systems-level change.
RISE is the only federally evaluated, evidence-informed program of its kind.
Sorry, there are no upcoming events