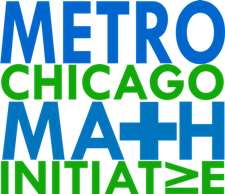 MCMI PD for K–2 Math Educators
Metro Chicago Mathematics Initiative, Consortium Professional Development
University of Illinois at Chicago, Learning Sciences Research Institute
 PLEASE NOTE: All K–2 PD has been combined with our 3–5 for the remained of the 2020–2021 school year. Please register at http://mcmi35.eventbrite.com for all remaining K–2 PD.
The Metro Chicago Mathematics Initiative (MCMI) at the University of Illinois at Chicago (UIC) is offering a series of virtual professional development sessions in 2020–2021 that will focus on developing teachers' formative assessment practices* and leverage technology to support these practices. The TRU Framework, the Mathematics Teaching Practices in Principles to Actions (NCTM, 2014), the CCSSM, and equity-based teaching practices will guide discussions about productive best-practices for the teaching and learning of mathematics in face-to-face and remote settings.


GOALS: The professional development is designed to provide opportunities for teachers to explore problems of practice and provide high-quality experiences for students in both face-to-face and virtual environments:

• Build a collaborative professional community of reflective mathematics teachers;

• Develop teachers' understanding of what it means to differentiate instruction to provide equitable access to a wide variety of learners;

• Enhance participants' abilities to use high-quality mathematics tasks to engage in formative assessment processes and support the development of students' robust understanding of mathematics;

• Expand participants' vision of mathematics teaching and strengthen teacher content and pedagogical content knowledge; and

• Deepen teachers' understanding of the Common Core State Standards for Mathematics, promoting the Mathematical Content and Practices within and across grade levels.

Session 1: MCMI: Core Practices, Routines, and Resources
Session 2: Engineering Tasks and Activities that Promote Collaboration
Session 3: Clarifying, Focusing, and Sharing Learning Intentions
Session 4: Eliciting Evidence of Learning
Session 5: Providing Feedback that Moves Learning Forward
Session 6: Activating Students as Learning Resources for One Another
Session 7: Activating Students as Owners of Their Own Learning
*Embedding Formative Assessment: Practical Techniques for K-12 Classrooms by Dylan Wiliam and Siobhán Leahy and The Formative 5: Everyday Assessment Techniques for Every Math Classroom by Skip Fennell, Beth McCord Kobett, and Jonathan A. Wray.