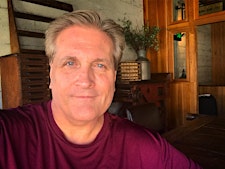 Mark E. Sackett of Reflectur.com / TheBoxSF.com and Brainfood Creative Programs
Brainfood Creative Programs was founded by Mark E. Sackett in 1990 as a creative inspirational program to entice, excite and motivate people towards living a creative full life.  His programs have been taught in many parts of the world and Mark is a well known speaker at colleges, conferences and corporations. His events and seminars for Brainfood Creative Programs and for the Art of Active Networking are well known and attended by 10's of 1000's of people across the country.  
Mark does one-to-one and corporate executive coaching and offers a one day personal branding and brand review session to look at your entire brand and approach to networking in addition to his speeches and seminars.
His Client's for Brainfood have included, The International ICOGRADA congress, The American Institute of Graphic Arts, Warner Bros, Clarke American, Hallmark, The American Jewish Federation. The International Love and Money Summit, numerous conferences and radio shows and many other corporations and individuals across the country.
Mark created The Art of Active Networking not as a business, but as a way to help others do better, to rekindle their passions, to connect with others in a more personal way and to shift the mindset from 'need' and 'want' to "How Can I Help You Do Better Right Now?". He has a TEDx Talk on his site.
Mark is passionate about his creative life as a Art Director, Director, Producer, Graphic Designer and Public Speaker. He lives in San Francisco and runs and operates out of The Box SF his Events and Meeting space and his Letterpress Shop and 1850's Mercantile selling "All things printed!"
Mark can be reached at 415-602-9500 or by email at: MSackett@TheBoxSF.com
Join our mailing list groups, fanpages, buy tickets are request we come to your city and read reviews at: TheArtofActiveNetworking.com
See Mark's Creative Work at Reflectur.com
Check out his store, mercantile and event space at TheBoxSF.com  
Join him on Facebook at Facebook.com/MarkESackettPublicProfile
Follow his Tweets as @MarkESackett and @ActiveNetworkin
Instagram's are: theboxsf / reflectur / theartofactivenetworking / mygive4
You may also Google him as Mark E. Sackett for Facebook Twitter, LinkedIn, Ecademy, Stage32 and many other Social Media Websites!
Add him on the sites you use at: MarkESackett.com
Sorry, there are no upcoming events