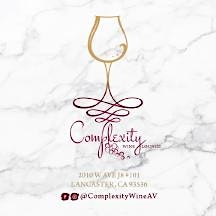 Complexity Wine
We are Dan and Audra Tufts, founders and owners of Complexity Wine LLC. Our love of wine has led us down a ten year journey to learning and enjoying everything wine has to offer and has led us to opening Complexity Wine Lounge!
With an inventory of over 100 different wines, consisting of 35 different varietals, our goal is to guide our customers to the perfect wine every time and inspire your curiosity for exploring the world of wine. 
Come on down and check out all of our unique pairings today!
Dan and Audra
Sorry, there are no upcoming events