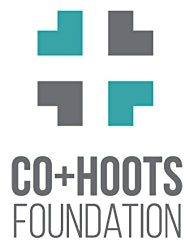 CO+HOOTS Foundation
The CO+HOOTS Foundation connects people through entrepreneurship, collaboration and innovation to build an equitable future. 
Founded in 2014, the Foundation is the nonprofit catalyst to CO+WORK, CO+BUILD and CO+CHANGE the world through education, mentorship, intentional connections and innovation.
The CO+HOOTS Foundation is hell-bent on growing, supporting and engaging the immense power of coworkers, independent workers and small businesses to create long term, positive change in the community and empower individuals to succeed through the power of entrepreneurship.
Sorry, there are no upcoming events