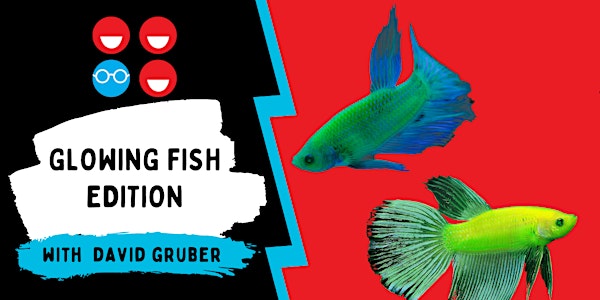 Wrong Answers Only - Glowing Fish Edition
Three Comedians. One Expert. So many ridiculously wrong answers.
Refund Policy
Contact the organizer to request a refund.
Eventbrite's fee is nonrefundable.
About this event
WRONG ANSWERS ONLY is an interactive show featuring celebrity guests who play games and quizzes while learning about exciting research with the help of a scientific expert.
THE HOST
Chris Duffy is a comedian and writer who hosts the TED podcast HOW TO BE A BETTER HUMAN, which premiered this year as the #3 podcast in the country. Chris wrote on both seasons of WYATT CENAC'S PROBLEM AREAS on HBO, executive produced by John Oliver, and writes the popular weekly newsletter BRIGHT SPOTS. Chris' writing has been featured in The New Yorker, The Boston Globe, National Geographic Glimpse, Makeshift Magazine, and The California Sunday Magazine.
THE EXPERT
David Gruber is a coral reef and photosynthesis expert. He has discovered scores of novel fluorescent (AKA GLOWING!) compounds from marine animals. He discovered the first biofluorescent sea turtle and is the lead of Project CETI, a nonprofit looking to decipher communication among sperm whales.
THE COMEDIANS
Chrissy Shackelford is an Emmy Award-winning comedian and writer. She's currently working at Last Week Tonight with John Oliver and previously was a staff writer on the HBO series, Wyatt Cenac's Problem Areas. Be sure to check out Ghostwritten, a character driven comedy series that Chrissy created and stars in.
Rob Haze is a comedian from Atlanta, Georgia. He can be seen on the Tonight Show Starring Jimmy Fallon. He was on the latest season of Adam Devine's House Party on Comedy Central and the new Viceland show Flophouse. Rob is cohost of the Kanye West Podcast The Book of Ye.
Julian Shapiro-Barnum is a filmmaker, actor, and comedian. With formal theater training from Boston University and a background in comedy, improv, and puppetry, Julian works to create topical and system challenging art. He is also the creator and host of the popular Instagram account Recess Therapy.
18+/PG-13ish (Are we going to curse? Yes, yes we probably will.)
For more info visit: https://labx.org/wao