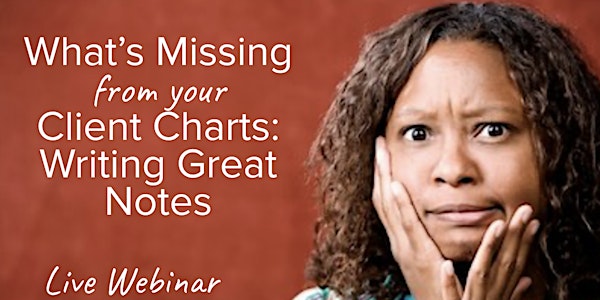 "What's Missing From Your Charts: Writing Great Progress Notes"
This LIVE online webinar will teach you how to write BRIEF psychotherapy notes that satisfy legal, ethical, and insurance expectations.
Refund Policy
Contact the organizer to request a refund.
Eventbrite's fee is nonrefundable.
About this event
JOIN US AT OUR LIVE ZOOM WEBINAR
Saturday, February 4, 2023
11:00 am- 2:00 pm Pacific / 12:00 pm – 3:00 pm Mountain / 1:00 – 4:00 pm Central / 2:00 – 5:00 pm Eastern
(Can't make it live? All registrants will automatically get the recording. See below)
While you may shiver at the idea of an insurance plan, ethics committee, or licensing board reviewing your charts, this is happening more frequently — even to psychotherapists who don't work with insurance. Poor notes may even be considered fraud or unprofessional conduct, or lead insurance plans to refuse claim payments or ask for money back.
In these cases, well-written records are essential, can be your only defense, and can be a deciding factor in whether a client gets necessary treatment or disability approval.
But if you are like most therapists, you never received training in how to write notes. And you may not realize how your current note-keeping habits can hurt you – and your clients.
This LIVE ZOOM webinar will teach you how to write BRIEF notes that satisfy legal, ethical, and insurance expectations, so that you'll feel confident if you receive a records request.
WE'LL ALSO OUTLINE NEW DOCUMENTATION REQUIREMENTS FOR TELEHEALTH. You'll be introduced to 3 note templates, which you can download and use immediately in your practice. Best of all, we'll analyze sample progress notes, and you will get the rare opportunity to see examples of what "good" progress notes look like.
Other topics will include:
Is "the less you write, the better" a good motto when it comes to notes?
11 things insurance plans and licensing boards require in notes and intakes
How to document "medical necessity," the key to treatment approvals
What to do when you fall behind, and how to deal with late notes
Why your notes may be requested -- even if you are not in-network
Possible negative consequences of poor notes
What preventive steps you can take now to avoid "clawbacks"
If time: how to keep from falling behind in your notes, and 10 situations where you should take extra-detailed notes
Plus -- time for you to ask YOUR questions about notes.
Note: We will not be talking about treatment plans -- I have a separate webinar on treatment plans available here.
CEs: 3 CE credits are available for CALIFORNIA BBS Licensees (LCSWs, LMFTs, LPCCs or LEPs); COUNTS FOR LEGAL AND ETHICAL HOURS! Other licensees should check with their state licensing board for possible credit.
COST: $58.50 for licensed therapists or billers (no CE credits); $68.50 for California BBS Licensees who want 3 CE CREDITS; $38.50 for pre-licensed therapists. Group discounts available (see ticketing page). For more on CEs, see below.
PLEASE NOTE: AFTER REGISTERING, YOU WILL BE SENT AN EVENTBRITE TICKET INVOICE (you do not need this to access the webinar): ONE WEEK, ONE DAY, AND ONE HOUR BEFORE THE EVENT, YOU WILL RECEIVE SEPARATE EMAILS WITH THE ZOOM VIDEO LINK
CAN'T MAKE IT LIVE? THE WEBINAR WILL BE RECORDED! If you can't attend live, register anyway — after the webinar, all registrants will automatically get the link to the recording. The recording is available for 12 months. CEs are available even if you don't listen live.
HOW IS THIS DIFFERENT THAN THE PRE-RECORDED WEBINAR YOU OFFER? This webinar is three hours instead of two, giving an extra hour for more content, for your questions to be answered live by the presenter, and for an extra unit of CE credits for those eligible.
PRESENTER: Barbara Griswold, LMFT is author of Navigating the Insurance Maze: The Therapist's Complete Guide to Working with Insurance – And Whether You Should, now in its 9th edition. In addition to her private practice in San Jose, CA, she provides consultations and trainings about insurance, progress notes, and practice building to therapists nationwide. She invites you to contact her at www.theinsurancemaze.com/contact, or schedule your consultation at www.calendly.com/barbgris
CONTINUING EDUCATION POLICIES: For those who signed up for CE credits, a link to the evaluation will be sent after the webinar; attendees must complete this evaluation and post-test before a CE certificate will be issued. The certificate will come via email. The date on the certification will be when you take the CE test -- you may take at any time. CEs are only guaranteed for California BBS licensees, others should check with their licensing board for possible credit. Those who want a certificate of completion must purchase the CE ticket. Barbara Griswold is approved by the California Association of Marriage and Family Therapists to sponsor education for CA LMFTs, LCSWs, LPCCs, and/or LEPs, and she maintains responsibility for this course and its content. For complete CE policies, contact Barbara at www.theinsurancemaze.com/contact.
DISCLAIMER: Information presented is general in nature. Documentation requirements may vary by state, insurance plan, and licensing board. Nothing in the presentation should take the place of legal advice and/or contacting a health plan directly.