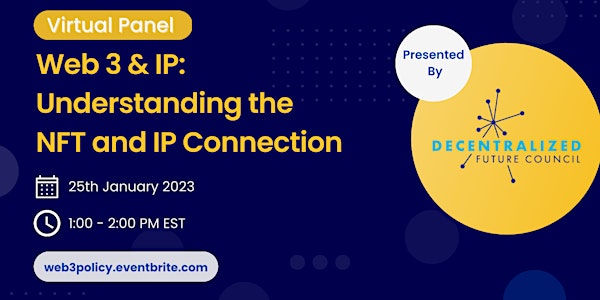 Web 3 & IP: Understanding the NFT and IP Connection
NFTs pose a major disruption risk to the intellectual property community. What does that mean for IP policy?
About this event
Are NFTs disrupting IP rights? What is the NFT & IP connection? Senators Tillis and Leahy have asked for a study on NFTs and IP rights and, in response, the USPTO and the Copyright Office are holding roundtables and have released a Notice of Inquiry.
New decentralized technologies are challenging the definition and scope of IP protections while empowering and inspiring small and large creators alike. What does this mean for intellectual property policy?
The Decentralized Future Council, FIlecoin Foundation for the Decentralized Web, and Internet Education Foundation present this panel of experts to discuss NFT connection to IP and its impact on technological innovation and civil society. Hear thought leaders discuss what rights NFTs provide and how NFTs may impact IP and tech policy.
Panelists:
Jonathan Victor, Ecosystem Lead- NFTs & Gaming, Protocol Labs
Sy Damle, prior GC Copyright Office, George Washington Law School
Kat Walsh, General Counsel, Creative Commons
Madhavi Sunder, Professor, Georgetown University Law
Hillary Brill, Professor, Georgetown University Law