Knowledge is Power! Part 2
About this Event
Virtue LIVE! is back with another live event on Zoom! Featuring J. Karriem, Charlene Muhammad, Dr. George C. Fraser and Dr. Ava Muhammad!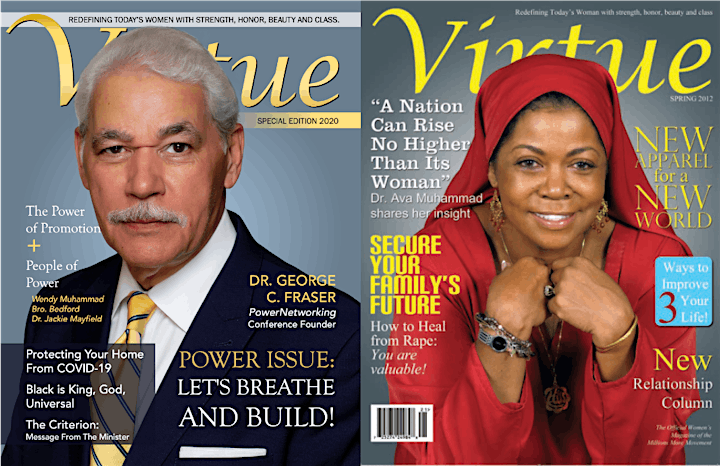 About Dr. George C. Fraser
Dr. Fraser is a Cleveland based author, entrepreneur and speaker focusing on improving networking skills, building wealth and improving diversity and inclusion. In 2011 Fraser was inducted into the Minority Business Hall of Fame and Museum. He has been awarded over 350 awards and citations from around the world to include 3 Honorary Doctorates, a Chaplaincy and a Ambassadorship. He has put on the popular PowerNetworking Conference, selected by Forbes Magazine in 2015 as one of "The Top 5 Conferences Not to be Missed by Entrepreneurs".
For nineteen years the PowerNetworking Conference has been the home of black entrepreneurs looking to connect, grow and prosper. Forbes voted us one of the top five conferences in the world for entrepreneurs. We pride ourself on a unique philosophy of networking and building a financial legacy for your make grand children's one work.
About Dr. Ava Muhammad
Dr. Ava Muhammad is a gifted minister, attorney, researcher and author of several books including Real Love, A New Way of Life, Naturally Beautiful, Elevated Places and more. Dr. Muhammad received her Juris Doctorate from Georgetown University in Washington D.C. and is a member of the New York Bar. She currently serves as the National Spokesperson for the Nation of Islam, under the leadership of The Honorable Minister Louis Farrakhan. Dr. Muhammad has been featured several times in Essence Magazine and Virtue Magazine, as well as on numerous talk shows along with her own program, Elevated Places, on blogtalk radio. She is well received throughout the country due to her unique ability to connect with the human spirit, placing her in great demand.