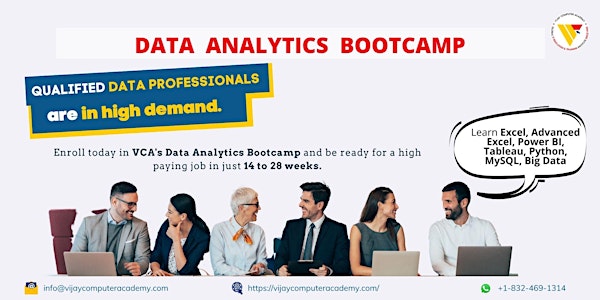 VCA DATA ANALYTICS Bootcamp | Info Session
This info session provides you the opportunity to interact with VCA instructors and get a taste of our Data Analytics Bootcamp.
By VIJAY COMPUTER ACADEMY (VCA)
When and where
Date and time
Tuesday, March 21 · 5 - 5:30pm PDT
About this event
DID YOU KNOW...
97.2% of organizations say they're now investing in AI and data analytics.
Around 95% of companies say that their inability to understand and manage unstructured data is holding them back.
Most companies only analyze 12% of the data they have due to lack of skilled personnel.
Data analytics job opportunities are projected to grow at an incredible 31% from 2021 to 2029.
Take this FREE info session before you enroll in VCA Data Analytics Bootcamp.
With the rise of data in today's economy, our Data Analytics Bootcamp focuses on teaching individuals the practical and technical skills needed to analyze and solve complex data problems through an innovative online learning format.
This is your chance to evaluate Vijay Computer Academy and our specially handpicked panel of instructors. The session is completely free and no payment is required at any stage. Take your first step towards fast-tracking your career.
Get started in the high-growth field of Data Analytics!
Learn the foundations of data analytics, and learn the benefits and skills you need to kick-start your career in a fast-growing field.
You will learn from skilled instructors and learn real-world examples where Data Analytics is applied.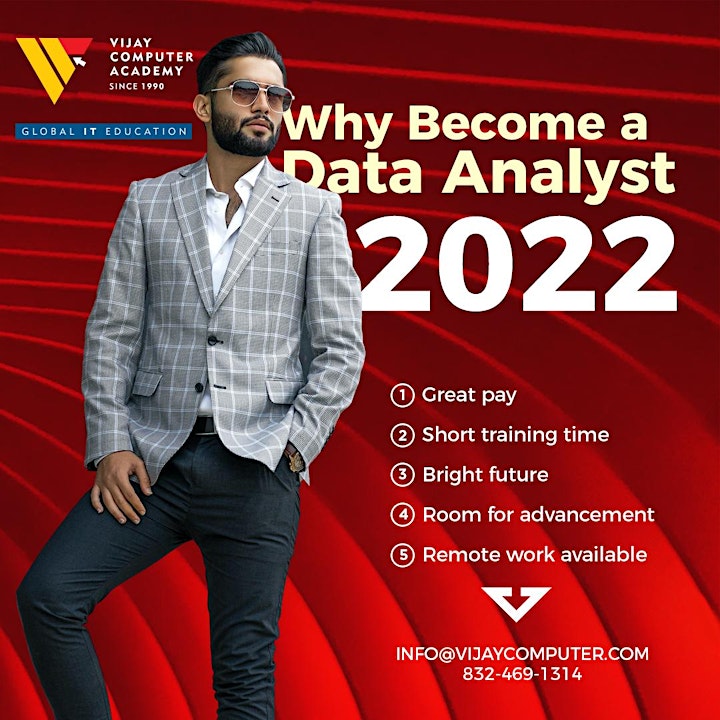 Who should take this Data Analyst course?
Aspiring professionals of any educational background with an analytical frame of mind are best suited to pursue the Data Analyst course, including:
Banking and finance professionals
Marketing & Sales managers and professionals
You are a full-time student but wish to expand your knowledge and bolster your skill set.
Supply chain network managers
You're looking to switch careers and become a data professional.
Beginners in the data analytics domain
Students in UG/ PG programs and many others
Individuals in a business where data is vital to the bottom line
You want to enhance your technical data skills to use in your current role
Individuals interested in visualizing consumer, social, or popular trends.
Individuals who seek to enter a new field like government, media or healthcare — and are looking for a way in
Structured to fit into your life, guaranteed to get you a job!
Not sure which IT program is right for you?
Schedule a personalized career consultation with our founder.
For any further details , reach out to us :
Phone/Text/ Whatsapp : +1 832-469-1314
Email : info@vijaycomputeracademy.com
Our Address : 10701 Corporate Drive, Suite #387 , Stafford - TX - 77477
About the organizer
 VIJAY COMPUTER ACADEMY (VCA) is a global IT institute dedicated to providing world-class IT education and training to individuals (from ages 9 to 90), small and medium scale businesses, corporations, nonprofits, government agencies, financial institutions and higher education institutes.
At VCA, we believe that education is powerful, and we are willing to offer it to anyone who wants it. So we work with zero bureaucracy. No degrees needed, no background, or no IT experience is required; just a willingness to learn and get a place in the high paying job market in short time. All is open to any ages, any genders, in your own time and pacing.
Our mission is to tackle global sustainable development goals 4, 5, and 8 – quality education, gender equality, and decent work and economic growth. For nearly 3 decades, we have been on a social mission to bridge skills and gender divide through our quality, but affordable, IT programs.
Our 31 years old IT academy offers career and workforce development, customized IT training to businesses to reskill and upskill their employees and corporate and community empowerment through IT certification and certificate courses. 
Contact us at +1-832-469-1314 or email at info@vijaycomputeracademy.com to learn about our IT programs and services offered online with live instructors.