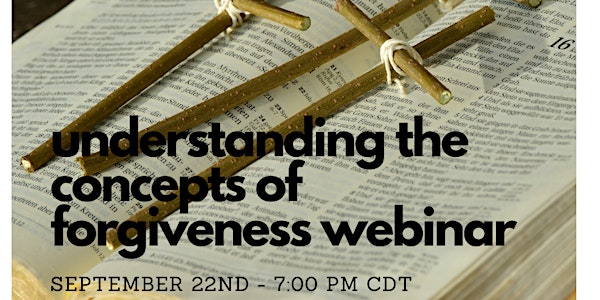 Understanding the Concepts of Forgiveness Webinar
An online webinar designed to introduce basic forgiveness concepts and principles. Open to all.
About this event
You are invited to participate in a special webinar Understanding the Concepts of Forgiveness Webinar on Tuesday, September 22nd at 7:00 PM CDT. 
We will discuss the basic concepts of what forgiveness is and dispel some myths about what it is not. We will dive into why forgiveness is important to the human experience, the benefits when you do it, and preview the PEACE Healing Method that will release you from your burdens for good.
Forgiveness is a unique healing experience in which you learn a valuable tool that you will use for a lifetime. It is an opportunity for emotional healing and a spiritual tune-up through the teachings of Jesus Christ that will leave you feeling lighter, clearer, and freer.
This interactive, open faith series of workshops and webinars has successfully been taught for counselors, therapists, and ministers; in churches, hospitals, treatment centers, and businesses going through organizational change. In addition, this how-to workshop offers a quenching refresher to remember how remain balanced in everyday interactions with difficult people and situations.
Tuesday, September 22nd, 2020 7:00 PM - 9:00 PM 
Everyone is welcome! Sign up today! Registration and the class is free.