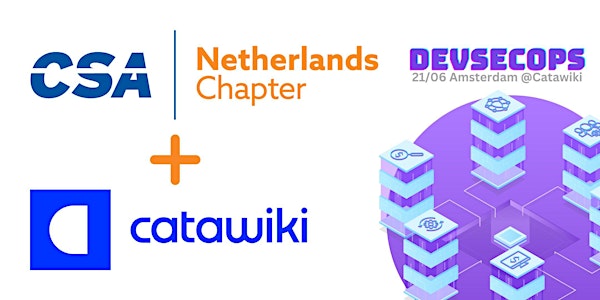 CSA NL - DevSecOps - Networking Event (#1)
The CSA Dutch chapter networking event on DevSecOps, where speakers will share their insights, followed by networking drinks.
Door Cloud Security Alliance - Netherlands Chapter
Datum en tijd
wo. 21 jun. 2023 15:30 - 19:00 CEST
Locatie
Catawiki Amsterdam 2 Sint Jorissteeg 1012 XV Amsterdam Netherlands
Agenda
3:30 PM - 4:00 PM
Walk-in/coffee
4:00 PM - 4:15 PM
Opening
4:15 PM - 4:45 PM
Speaker 1 - CSA DevSecOps & Catawiki experience
4:45 PM - 5:15 PM
Speaker 2 - Microsoft DevSecOps experiences
5:15 PM - 5:45 PM
Speaker 3 - Pending
5:45 PM - 6:00 PM
Q&A & Wrap-up
6:00 PM - 7:00 PM
Networking drinks and snacks
Over dit evenement
3 uren 30 minuten

eTicket voor mobiel
Join us for the Cloud Security Alliance (CSA) Netherlands Chapter Meetup group's first physical networking event on June 21st, where we'll be diving into the exciting topic of DevSecOps. This event marks the re-start of a series of in-person knowledge sharing and networking events that we've all been eagerly waiting for since COVID lockdowns.
We're thrilled to welcome three confirmed speakers from various companies to share their insights and experiences on DevSecOps, and explore its importance in the context of cloud security. The event will culminate in networking drinks at a beautiful location in the heart of Amsterdam, hosted by Catawiki.
Don't miss out on this opportunity to connect with peers and subject matter experts, learn from industry professionals, and enjoy an evening of networking with like-minded professionals. Register now and become a part of the vibrant cloud security community in the Netherlands!
Please note that Catawiki is located in the center of Amsterdam and easily accessible by public transportation, such as trams and metro Rokin. However, there is no parking available at the venue. If you plan to arrive by car, we recommend finding a parking spot in the nearby vicinity (Q-Park / ParkBee Kalverstraat, Rokin parking).