Dit evenement is afgelopen.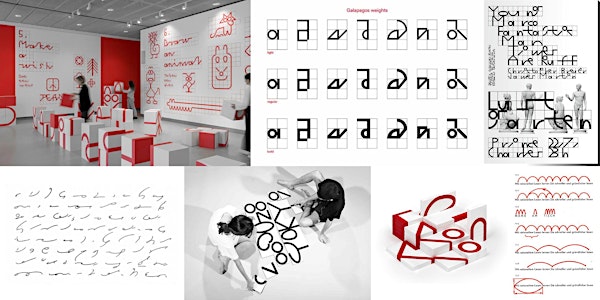 #34 FELIX SALUT | TYPE OR SWIPE
In his lecture, Felix will address two projects. The first part will focus on the by now iconic Galapagos Game and typeface. Part two will b
Waar en wanneer
Locatie
Studio Zeeburg Zeeburgerpad 58 1019 AC Amsterdam Netherlands
Kaart en routebeschrijving
Over dit evenement
The puzzle and typeface Galapagos, a system consisting of 9 elements, exploring all possible combinations to build letters and resulting in striking and extravagant typefaces. Do we know it? ☑️
We also knew, that it was created at the Gerrit Rietveld Academy, but did not realise that Felix is still in Amsterdam and his studio is right around the corner from our venue and former address.
To corrected this mistake, we immediately went to play with his by now largest installation at Museum Kranenburgh in Bergen Noord-Holland. And we are really happy that he will present his exuberant Galapagos project and another very interesting topic in our next lecture.
—
Felix Salut is a typographer based in Amsterdam. He runs his own label and experimental design studio that bridges fields of typography, design, fashion and visual art. Recent clients and collaborations include: Dinamo Typefoundry, Sourcetype, COS, Stedelijk Museum Amsterdam, Bauhaus Dessau in Germany, Edvard Munch Art Museum in Oslo, Rijksakademie Amsterdam, Roma Publications Amsterdam and The Poet Acts Magazine. Since graduating from the Gerrit Rietveld Academy 2003 and escaping Werkplaats Typography in 2005, Felix Salut has freelanced for Mevis and van Deursen and started his own studio. He founded his label Felix Salut in 2015. He has received awards and grants from the Walter Tiemann Prize, Mondriaanfonds, Stimuleringsfonds, Amsterdam Fund for the Arts (AFK) and various Best Books Awards. Felix Salut is a regular lecturer in design at the Gerrit Rietveld Academy in Amsterdam and Ecole Nationale Superieure des Beaux-Arts, Lyon, France.
—
In his lecture, Felix will address two very different projects. The first part will explore the history, present and future of the now-iconic Galapagos Game and the Galapagos typeface released with typefoundry ABC Dinamo.
The second part of the talk will present a *live column* recently written for typography platform Sourcetype on the topic of gesture input on technical devices. "Technology has rapidly increased the pace of our day-to-day life. Our most mundane tasks have been analyzed and streamlined for the sake of efficiency, and our methods of communication are no exception. With the help of emojis, lols, and memes we're able to say more than ever using less. But what gets lost in translation when speed becomes our only measure of success? Typography of Speed is a regular column by Felix Salut that explores past, present, and future examples of language accelerated by technology."