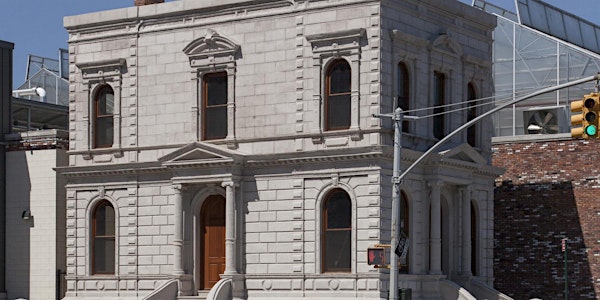 The Cast Stone of The Coignet Building: Hidden in Plain Sight
The fascinating history behind the 1873 Brooklyn Coignet Building and the story of how it was conserved and restored.
About this event
LABOR, LITERATURE AND LANDMARK LECTURE SERIES SUMMER 2021
Hidden in Plain Sight - The Cast Stone of The Coignet Building
Mary Jablonski, President and Founder of Jablonski Building Conservation
This will be an Online Lecture on Tuesday, July 27th at 6 p.m.
Presented in Partnership with The New York Landmarks Conservancy
Buildings can have stories hidden within the products used to construct them. When research is carefully undertaken, interesting stories unfold. One of the most intriguing examples of this is the Coignet Building in Brooklyn. In her talk, Mary Jablonski, President of Jablonski Building Conservation will discuss this unique building and the role her firm played in its conservation.
In 1873, the New York and Long Island Coignet Stone Company built offices along the Gowanus Canal to serve as an advertisement for the company's cast stone products. It is believed to be the earliest cast stone building in the country. The building was a showcase for the firm with its veneer cast stone block surfaces having a variety of finishes; rusticated, smooth, beveled, and ornamented surfaces displaying the possibilities of the new cast stone material. The building miraculously survived and has become a significant element in the story of industrialization of building products and the growing importance of concrete. One hundred and forty years after it was built, the Coignet Building remained standing, barely.
When work began on the restoration of the Coignet Building in 2014, little was known about the cast stone. The first step was to gain a firm understanding of the materials and how they were deteriorating in order to know how to best repair the cast stone. As part of the materials study, petrographic and chemical examinations were performed on cast stone samples. The findings were illuminating. In her talk, Ms. Jablonski will describe what Jablonski Building Conservation discovered and how the building was conserved and restored.
Mary Jablonski is the President and Founder of Jablonski Building Conservation, Inc. and has over 26 years' experience in historic conservation. She oversees the firm's projects to ensure a consistent methodology is applied across projects and to maintain quality control. She has special interests in decorative finishes, early 1800s frame buildings, and modern materials including plastics. She is a Fellow of the American Institute for Conservation and the Association for Preservation Technology and an adjunct associate professor in the Historic Preservation Program at Columbia University.
For information on Jablonski Building Conservation, please click here.
Suggested donation:
$15 General Admission; $10 General Society Members, New York Landmarks Conservancy Members and Senior Citizens; $5 Students.
Advance registration is required to receive the link to the Zoom Webinar Platform.
Photo credit: Trix Rosen