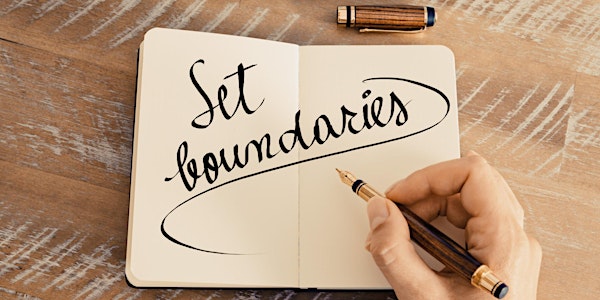 The Boundaries Embodiment Experience (BEE)
Awakening Self-Value, Self-Confidence and Self-Power
Date and time
August 15, 2020 · 9am - October 3, 2020 · 11am PDT
Refund Policy
Refunds up to 30 days before event
About this event
" I have no boundaries..."
" I'm told to have boundaries, but I don't know where to start, I feel lost!"
" I had no financial boundaries in my relationship, and now I am struggling!"
" I feel like my NO does not matter."
" I feel manipulated, and I don't know how to stop it."
" I'm getting triggered easily."
" I am tired, drained, and exhausted; people keep taking advantage of me."
Does any of this sound familiar?
Do you remember the last time you felt triggered, frustrated, aggravated, disrespected, manipulated, powerless, or even violated because of a lack of boundaries?
The lack of boundaries can impact, affect, or even destroy our:
Sense of Self: self-value, self-esteem, and confidence.
For years I used to struggle with boundaries; I felt depleted and exhausted every time people would use manipulative or abusive tactics to benefit from my lack of awareness.
I used to feel like there was no escape, and I didn't know what to do. I felt lost and incompetent.
I experienced the painful consequences of lacking boundaries in many areas of my life, not communicating my boundaries with clarity and confidence, and not being in integrity with my core values.
One day I realized what was happening. I saw the piece of the puzzle I was missing and felt my boundaries in a new way. I felt new clarity and a way to express them that was confident and powerful.
~ Boundaries are a conscious life skill that allows us to create the life we desire. ~
In my journey of helping clients and participants at events, I have created a conscious and practical process that allows my clients to:
Recognize in what areas of their lives they lack boundaries,
Observe the toxic patterns, beliefs, and energic cords that sabotage their inner work around boundaries.
Understand the power of their self-value and how core values are related to boundaries.
Become aware of what boundaries must be in place in their relationships to create harmony in their lives.
Create boundaries around their finances.
Communicate boundaries and consequences with clarity and confidence.
Understand personal triggers at a deeper level and know how to process them.
Create harmony in their life by honoring the boundaires of all aspects of self (Inner Archetypes), including their shadows.
Embody their power to create a safe and sacred space for their desires, needs, wants, fantasies, and dreams.
Awaken their sense of clarity, confidence, freedom, power, and self-value.
"I am more confident in who I am. I am more organized and grounded. I am more in my own energy because of my ability to create boundaries. I have the confidence to set boundaries into place and own them. I am a lot more in my power!" Rosey.
Would you like to feel even more clear and confident with setting boundaries in all areas of your life?
Would you like to reclaim your self-value and create the life you desire?
Would you like to feel empowered to make decisions in your life aligned with what you are creating in this world?
Are you ready to feel the power of BEING YOU?
If you are a YES,
Join me on The Boundaries Embodiment Experience, an eight-week online group program designed to guide you through a conscious and practical process to awaken and reclaim your self-value, confidence, and power, to create the life you desire.
"Working on my relationship blocks, I have achieved some essential steps such as... getting better at defining boundaries, and noticing where I need to set boundaries more." Jessica.
Modules:
Week One: Integrative Life Audit
Week Two: Reclaiming Self-Value
Week Three: Discovering Core Values
Week Four: Personal Boundaries Blueprint (Health & Energy)
Week Five: Relationships Boundaries Blueprint (Intimate, Family & Social)
Week Six: Money Boundaries Blueprint
Week Seven: Intro to Archetypes and Shadows
Week Eight: Exploring and Mastering Triggers
Program Structure:
Two hours Zoom Call on Saturdays at 12 pm EST, 9 am PST.
Module presentation.
Group participation through breakup rooms.
Q&A and Coaching
Worksheets Homework
Private Group (Not on FB)
Calls will be recorded.
Zoom Schedule:
August 15th, 12 pm - 2 pm EST
August 22nd, 12 pm - 2 pm EST
August 29th, 12 pm - 2 pm EST
September 5th, 12 pm - 2 pm EST
September 12th, 12 pm - 2 pm EST
September 19th, 12 pm - 2 pm EST
September 26th, 12 pm - 2 pm EST
October 3rd, 12 pm - 2 pm EST
Bonuses:
A 60-minute Integration Coaching Session with Lucia Gabriela upon completion of the program. ($200 value)
One single ticket to any online or live event led by Lucia Gabriela. Exceptions apply to couples events, full day events, seminars and retreats. ($45-75 value)
Boundaries Essential Oils Kit with diffuser and free doTerra membership. ($175 value)
Program Starts on August 15th, 2020 at 12 pm EST, 9 am PST.
Group Experience Investment Fee:
$950 Early Bird until August 1st, 2020
$1500 Regular Price
Payment Plan Available.
𝐄𝐦𝐚𝐢𝐥 𝐚𝐭 𝐬𝐮𝐩𝐩𝐨𝐫𝐭@𝐥𝐮𝐜𝐢𝐚𝐠𝐚𝐛𝐫𝐢𝐞𝐥𝐚.𝐜𝐨𝐦 𝐟𝐨𝐫 𝐩𝐚𝐲𝐦𝐞𝐧𝐭 𝐨𝐫 𝐩𝐚𝐲𝐦𝐞𝐧𝐭 𝐩𝐥𝐚𝐧.
UPGRADE:
One on One Experience Investment Fee:
$2,800
A more personalized and private experience.
Available at all times.
Payment Plan Available.
𝐄𝐦𝐚𝐢𝐥 𝐚𝐭 𝐬𝐮𝐩𝐩𝐨𝐫𝐭@𝐥𝐮𝐜𝐢𝐚𝐠𝐚𝐛𝐫𝐢𝐞𝐥𝐚.𝐜𝐨𝐦 𝐟𝐨𝐫 𝐩𝐚𝐲𝐦𝐞𝐧𝐭 𝐨𝐫 𝐩𝐚𝐲𝐦𝐞𝐧𝐭 𝐩𝐥𝐚𝐧.
About the organizer
Founder at Nuna Holistic Retreat Center, Founder at Sacred Love Temple, Founder at Sarasota Dark Temple, Relationship and Intimacy Coach, Emotional Somatic Therapist, Tantra Facilitator and Creator of TantriKink.
Lucia Gabriela helps individuals and couples to master their life, relationships, and intimacy with themselves and others.
As a Relationship and Intimacy Coach, Lucia Gabriela creates a sacred and safe space for individuals and couples to build conscious relationships and meaningful intimacy in their life.
As an Emotional Somatic Therapist and Tantra Facilitator, Lucia Gabriela specializes and works with individuals whose journey is to liberate themselves from emotional and sexual traumas. She helps them reclaim their creative power, body, voice, sensuality, and sexuality and welcome pleasure into their lives, creations, and relationships.