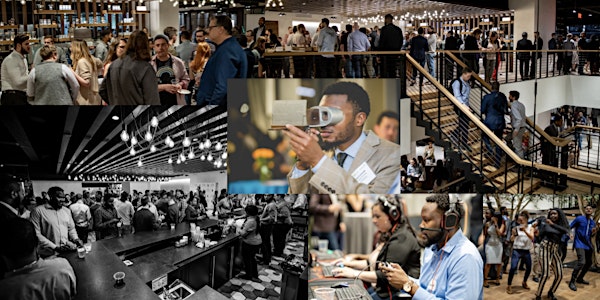 Technical.ly Builders Conference + Philly Tech Week Signature Event
Technical.ly Builders Conference for company and ecosystem builders by day; interactive tech and networking gala Signature Event by night
Date and time
Thursday, May 11 · 10am - 9pm EDT
Location
Comcast Technology Center 17th Floor: Town Hall 1800 Arch St. Philadelphia, PA 19103
About this event
Join us for all of May 11, or choose just the Technical.ly Builders Conference by day, or the return of our interactive tech and networking gala Signature Event by night.
##
Inside Technical.ly, we talk a lot about building. Among our readers, sources and clients, we identify many as "company builders" and others as "ecosystem builders." As a news organization, we are aware of how jargony that sounds.
But hey, after surveys and interviews, it's clear that more than a quarter of those in the Technical.ly community consider themselves building companies — the entrepreneurs, early employees, and HR and operations professionals who build teams, shape org culture and look to the future. Nearly as many of you work to support those companies with infrastructure and services – the investors, community managers, policymakers and others who talk about their hometown "ecosystem" for entrepreneurship.
We've taken that word as the name for our big annual conference, where we gather our community together in-person. Join us in Philadelphia at the gorgeous Comcast Technology Center for the full-day Technical.ly Builders Conference on Thursday, May 11. It's an anchor of Philly Tech Week Presented by Comcast, and the day will be capped off with our beloved Signature Event, a semi-formal networking reception with lots of interactive technology toys.
Early bird pricing remains in effect through March 31. Buying a ticket not only gets you learning and networking; you also support Technical.ly's journalism.
We'll start the day in the Forum, a theater on the 18th floor of the Comcast Technology Center that offers one of the best views in Philadelphia, with an expansive look at how growing tech companies and the economies they fill have changed since the pandemic. From there, we'll spread across the building's Town Hall conference center, with floor-to-ceiling windows looking out across the rooftops. The day's programming will primarily follow two tracks: one on the ins and outs of developing company culture, and a second on developing the local tech economies that they make up.
In keeping with the quality connections this conference has always strived to deliver and what's most valuable to us after years of remote life, the day will also feature plenty of mentorship and small-group discussions. The topics will benefit anyone building anywhere. Fittingly, the building is near 30th Street Station for our out-of-town travelers.
Old friends will remember this conference was long called Introduced. Charmed as we were by our commitment to making quality introductions, the conference went through too many permutations over the years to stand by the same name. The world has been shaken by a pandemic. It's time to return to building.
Sophie Bryan, Project Director, The Pew Charitable Trusts
"THRIVING: What the Innovation Economy Means for Everybody Else"
Sophie Bryan leads the policy team at Pew's Philadelphia research and policy initiative (PRPI). Her work ranges from implementing technical assistance agreements that support improving government programs and practices to collaborating with partners on convenings that link Pew research to potential policy solutions.
Prior to joining Pew, Sophie was the executive director of the local legal services nonprofit Philadelphia VIP. She also has served as chief of staff to then-City Councilmember Bill Green; in various roles at the School District of Philadelphia; and as a legal services attorney, primarily representing clients in eviction and foreclosure cases.
Sophie is a native Philadelphian and holds a bachelor's degree and J.D. from Harvard University.
Melissa Richardson, VP of Team Success, Kleer
"Remote Work, Employee Engagement and Avoiding Burnout Hell"
Melissa Richardson is a passionate talent and human resources leader who drives Team Success at Kleer. An advocate for building strong cultures that employees are excited and proud to be a part of, she wears many hats, including coach, strategist, ambassador, and matchmaker… as it relates to business of course!
Agenda
Arrival
---
Enter the beautiful Comcast Technology Center to find your way around the conference
10:00 AM
Technically's Tech Economy Outlook
---
What Technically's reporting says about where innovation goes next, as told by Technically founder and CEO
The New Rules of the Innovation Economy
---
Team Building & Ecosystem Growing in a Post-Pandemic World: What local means has shifted forever. Investors with a national outlook debate what that means for the rest of us
A New Age of Tech Company Growth: RealLIST Startups
---
What do repeat entrepreneurs who have new startups that are younger than the pandemic have to say about how their experience has changed
How Are Tech Economies Growing Now?: RealLIST Connectors
---
The institutions, services and infrastructure of commercializing science and invention won't ever be the same. Hear leaders from different cities share how to keep up in today's climate
1:30 PM
Everyone is (Still) Hiring Everywhere: High Growth Companies Storytell
---
Funny thing about remote hiring and a tech talent demand boom is that even if employers have ever more options they also have ever more competition. Choosy professionals don't take jobs, they join te...

1:30 PM
THRIVING: What the Innovation Economy Means for Everybody Else
---
Backed by a yearlong Technically reporting project, hear the never-before-seen data and new stories about people whose lives are influenced by a tech economy they may not be a part of
1:30 PM
Growing Diverse Tech Teams: Case Studies
---
Forty-plus years after a landmark analysis about the lack of diversity in tech roles, the gap still dominates. Hear from teams that have made progress with actionable takeaways
2:30 PM
Every Voice, Every Vote: Tech, Policy and Activism
---
Amid tech boom and bust, how innovation is regulated nationally and influenced locally is a conversation about our country's future. Join a discussion about what issues can be shaped by tech leaders
3:30 PM
Remote Work, Employee Engagement and Avoiding Burnout Hell
---
Work expectations changed more during the pandemic than in a decade or more before. Employee retention comes with new strategies. Hear some of them from experts navigating the obstacles
3:30 PM
Inclusive Entrepreneurship and the Future
---
Following a new Technically report, listen to a discussion about what is working and what is not about a more inclusive entrepreneurial community
4:30 PM
Tech Community Exhibit Hall
---
Talk to representatives from a range of US cities to hear what's distinctive about their tech and innovation economies
Frequently asked questions
What is the ticket refund policy?
About the organizer
Technical.ly grows local technology communities by connecting organizations and people through news, events and services. We provide original editorial, expert programming and tools which improve recruitment, marketing, community cultivation and economic development. We serve technologists, entrepreneurs and people who care about technology's local impact.