Dieses Event ist beendet.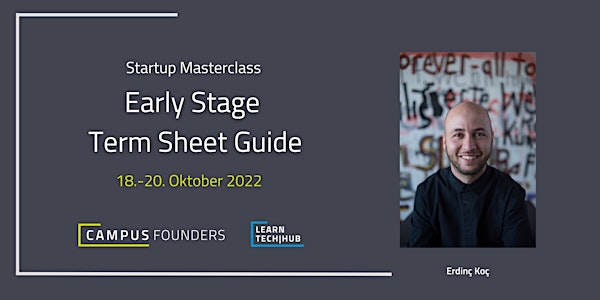 Startup Masterclass: Early Stage Term Sheet Guide
by Erdinç Koç - in english
Datum und Uhrzeit
Di., 18. Okt. 2022 05:00 - Do., 20. Okt. 2022 07:00 PDT
Zu diesem Event
In this Masterclass you will get the ultimative guide on how to Term Sheet as an Early Stage startup. You will learn how to negotiate and close a deal with investors.
Topics that will be covered within the Masterclass are:
Capitalization Table
Company Formation in Germany
Due Diligence by Founders and Investors
Employee Stock Ownership Plan (ESOP)
Founder Vesting
Investment Terms
Negotiation Advice
Non-Disclosure Agreement (NDA)
Startup Valuation
Startup Board
Term Sheet Dynamics
VC Lawyer
This masterclass is an exclusive offer for all Campus Founders and LearnTech Hub members. You are not a member yet? No problem - Apply now!
We would like to introduce our expert:
Erdinç is the Head of the MediaTech Hub Accelerator at the Hasso-Plattner-Institute in Potsdam, Germany. Before, he worked at APX by Axel Springer & Porsche and Rocket Internet in Berlin. Over the past years, Erdinç advised more than 100 early-stage startups on fundraising and helped them to raise Venture Capital successfully. We are happy having you again!
Über den Veranstalter
Wir sind das Innovations- & Entrepreneurship-Zentrum mitten auf dem Bildungscampus. Mit dem Fokus auf innovativen Startups, neuen Methoden, Technologien und Disruption leben wir, was wir fördern. Wir bringen Bildung, Gründungskultur und Unternehmen zusammen und sorgen für Inspiration, Information und Unterstützung. Ausgestattet mit einzigartigen technischen, personellen und infrastrukturellen Ressourcen widmen wir uns mit Leidenschaft, Hingabe und Know-how unserem Ziel: als führendes Startup- und Innovations-Zentrum den besten Teams und Ideen ein Zuhause zu geben und zum Erfolg zu verhelfen.  Komm zu einem unser zahlreichen Events und werde Teil der wachsenden community! ___________________________________________________________________________________  We are the start-up centre in the middle of the Bildungscampus. With a focus on innovative start-ups, new methods, technologies and disruption, we live what we encourage. We bring education, start-up culture and business together and provide inspiration, information and support. Equipped with unique technical, human and infrastructural resources, we commit ourselves with passion, dedication and know-how to our goal: as a leading start-up and innovation center, to give the best teams and ideas a home and help them to succeed. Come to one of our numerous events and become part of the growing community! 
https://campusfounders.de/de/impressum/