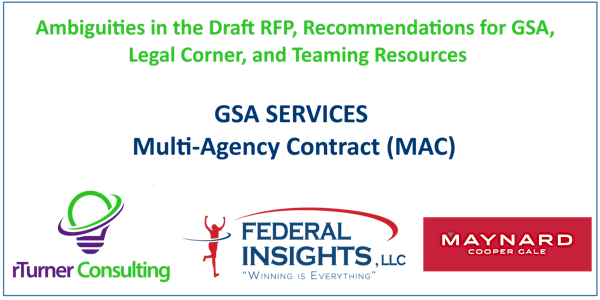 Services MAC - Draft RFP Analysis, Feedback from GSA and Teaming Resources
Event Information
Refund policy
Contact the organizer to request a refund.
Eventbrite's fee is nonrefundable.
Analyzing the Draft RFP, Listening to Feedback from GSA and using Teaming Resources to create winning teams across multiple contract domains
About this event
Draft Instructions, Evaluation Factors and Scorecard
Recently, GSA Released the Draft Sections L and M to include the basics of the Scoring Card.
In this live, interactive seminar, we will be discussing the issues with the Draft L/M, what we are learning from the scorecard, reacting to the latest feedback from GSA and looking at teaming resources you can use to win contracts in multiple domains.
Relevant, Actionable Agenda
Services MAC is the follow-on contract to the hugely successful and popular OASIS IDIQ. This Draft RFP and Scorecard both answers questions and raises issues that need to be addressed.
Robert, Kathy and Joshua will bring you a rich agenda of relevant topics to help you organize your questions for GSA, develop your win strategy and build a winning team for multiple domains.
Seminar Agenda includes:
1. Analysis of the May 2022 Draft L/M/Scorecard; What does GSA need to know from industry?
2. Feedback from the Contractor Working Group where GSA discussed Services MAC, the draft RFP and interacted with industry. This segment will include the LATEST information and insight that industry has from GSA!
3. Messaging GSA with suggestions for improvement; including a list of suggested responses that you can send to GSA to help improve this RFP and create a fair, winnable competition.
4. Teaming Strategies and Resources to help you build winning teams for multiple domains. Robert will demo the Teaming Database and the Teaming Reports that FedPipeline created for each domain.
5. Live Question and Answer with Robert, Kathy and Josh.
Teaming Resources
We have two excellent resources to support your teaming efforts; both will be briefly presented at the end of the seminar.
1. Services MAC Contract Teaming Report. Using our FedPipeline database, we have created teaming reports for each of the eight (8) domains. Each report contains vendors, profiles and contact information for thousands of vendors with qualifying contracts in the relevant NAICS codes.
These reports (video trailer) show you the winning SB and OTSB vendors over the last five years who have winning contracts in each domain's NAICS codes; giving you the information you need to build winning teams and maximize your points on the scoring sheets.
2. Services MAC Teaming Database. At this webinar, we will be launching our teaming database for Services MAC; a live database of companies who are looking for partners. We'll show you how to access this tool and connect with qualified winning partners.
Live Q&A Discussion
As always, we will conclude the seminar with Live Q&A and Discussion where you can interact with your peers and the seminar hosts.
Join us on Friday 5/20, bring your questions and come meet new friends.
Date and time
Location
Refund policy
Contact the organizer to request a refund.
Eventbrite's fee is nonrefundable.