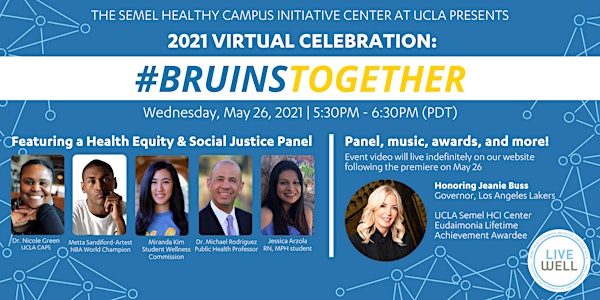 Semel HCI 2021 Virtual Celebration: #BruinsTogether
#BruinsTogether
About this event
You're invited to the Semel Healthy Campus Initiative Center's 2021 Virtual Celebration: #BruinsTogether
----------------------------------------------------------------
When: Premiering 5:30 – 6:30 p.m. (PDT) Wednesday, May 26, 2021
Where: https://healthy.ucla.edu/2021VirtualCelebration
(Event video will live indefinitely at above link following the premiere on May 26)
Featuring:
The UCLA Semel Healthy Campus Initiative Center Eudaimonia Lifetime Achievement Award Presentation
Jeanie Buss, Governor of the Los Angeles Lakers
Health Equity and Social Justice Panelists:
Metta Sandiford-Artest, NBA World Champion
Dr. Nicole Green, Director of CAPS
Dr. Michael A. Rodriguez, UCLA Faculty and Vice Chair
Jessica Arzola, Nurse and MPH Student
Miranda Kim, Assistant Student Wellness Commissioner
Musical Performances:
Resonance A Cappella
David Flores of Las Cafeteras
The jane b semel Appreciation and Recognition Awards Ceremony
Dr. Nicole Green, Executive Director of Counseling and Psychological Services
Al Ferrone, Senior Director of Food & Beverage, of UCLA Dining/Hospitality Services
Jessica Arzola R.N., Graduate Student, Global Food Initiative Fellow
Maria J. Garibay, Undergraduate Student, Semel HCI Center
Miranda Kim, Undergraduate Student, Student Wellness Commission
Follow us on social media @healthyucla for exciting event updates and for a chance to win special prizes!
Be a part of the movement! #BruinsTogether
Envisioned and supported by Jane and Terry Semel, the Semel Healthy Campus Initiative Center at UCLA is committed to making UCLA the healthiest campus in America.