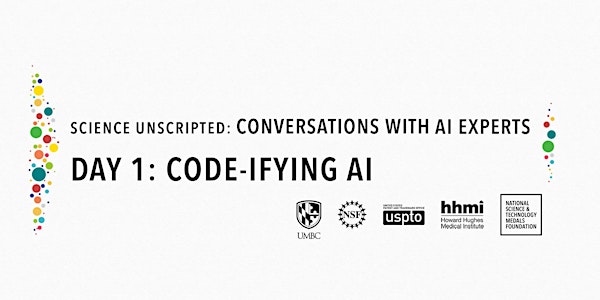 Science Unscripted: Code-ifying AI
When and where
Location
The University of Maryland, Baltimore County Fine Arts Building Recital Hall 1000 Hilltop Cir Baltimore, MD 21250
Refund Policy
Contact the organizer to request a refund.
Eventbrite's fee is nonrefundable.
Description
On October 29 of 2019, the National Science and Technology Medals Foundation will be hosting our first of two evenings of "Conversation with AI Experts" at The University of Maryland, Baltimore County.
Day 1: Code-ifying AI
5:00 PM - Doors open
5:30 PM - Panel discussion
7:00 PM - Reception with free food and drinks
---
The National Science and Technology Medals Foundation invites you to two intimate evenings of discussion with AI researchers and professionals at the University of Maryland, Baltimore County.
This event is a part of the NSTMF's Science Unscripted program. Through the SU program, the Foundation is building an inclusive coalition of inspired STEM students. By highlighting voices often left unheard in the STEM community, we show audiences that there is no "right" way to be a trailblazer in science and technology.
On October 29th, we begin the discussion with "Code-ifying AI", an event which will be centered around AI policy. A panel of professionals and experts will examine what it will take to govern AI, as well as the implications of incorporating AI into our everyday lives.
Attendees will have the chance to hear about the lives and experiences of the women and men dedicated to creating smart, socially conscious AI. Read about our featured speakers below!
"Code-ifying AI" will be webcast live with closed-captions on Facebook, and the full event videos will be available on the NSTMF website afterward. Webcast audiences are encouraged to participate in the conversation using #ScienceUnscripted on Twitter, Facebook, and Instagram.
This event is no-cost, equal access (ADA compliant), and open to the public with priority given to University of Maryland, Baltimore County students and faculty.
Save your seat now and please consider coming to Day 2 of our event: "Decoding Bias in AI"!
Cynthia Matuszek
Cynthia Matuszek is an assistant professor of computer science and electrical engineering at the University of Maryland, Baltimore County. Her research focuses on robots' acquisition of grounded language, in which robots learn to understand how language relates to the real, physical world. She has developed algorithms and approaches that make it possible for robots to learn about their environment and how to follow instructions from interactions with non-technical end users. She received her Ph.D. in computer science and engineering from the University of Washington in 2014, where she was co-advised by Drs. Dieter Fox and Luke Zettlemoyer in robotics and natural language processing. She publishes in robotics, machine learning, artificial intelligence, natural language processing, and human-robot interaction venues. Dr. Matuszek was recently named one of IEEE's bi-annual "10 to watch in AI."
José-Marie Griffiths
Dr. José-Marie Griffiths is president of Dakota State University in Madison, South Dakota. President Griffiths has spent her career in research, teaching, public service, corporate leadership, economic development, and higher education administration. She has served in presidential appointments to the National Science Board, the U.S. President's Information Technology Advisory Committee, and the U.S. National Commission on Libraries and Information. She has recently been appointed a member of the newly-formed National Security Commission on Artificial Intelligence, part of the John S. McCain National Defense Authorization Act for 2019. She has led projects for over 28 U.S. federal agencies such as the National Science Foundation and NASA, over 20 major corporations such as AT&T Bell Laboratories and IBM, in over 35 countries, and worked with seven major international organizations, including NATO and the United Nations. She has received over 20 significant awards in science, technology, teaching and the advancement of women in these fields.
Kandyce Jackson
Kandyce Jackson is an attorney helping investors, product managers, and engineering teams make decisions about how to deal with the legal implications of data activities and smart city infrastructure projects. Advises on privacy, security, automated decision systems, and consumer protection risks. Advice is informed by prior career managing projects and supervising teams as an information technology professional serving clients in highly regulated industries.
Rosario Robinson - Moderator
Rosario (Rose) Robinson is an innovative thought leader, speaker and global transformation change agent in technology and diverse workforce. As a woman technologist for more than 25 years and as the Senior Director, Women in Tech Evangelist for AnitaB.org, she helps further the organization's mission for 50/50 women in tech by 2025 through stimulating storytelling, thoughtful dialogue and advocating for true representation in tech. Rose has worked in the Tech industry in various technical roles in Department of Defense/Intelligence community, Telecommunications, Geographic Information Systems, Cloud Computing, Infrastructure and Open Source Technologies and Programs. She is also an advisory board member for CoffeeChat, a startup that's building Africa's next leadership through mentoring and coaching.