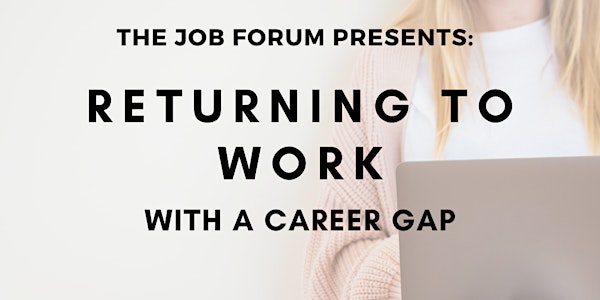 Returning To Work with a Career Gap
The Job Forum is offering an event with experts on "Returning to Work with a Career Gap" Practical help to address Gaps in your career path.
Refund Policy
Contact the organizer to request a refund.
Eventbrite's fee is nonrefundable.
About this event
You are invited to a career discussion event with experts for those job hunters who have been out not working and may have a gap in their resumes. You have questions and we intend to provide some useful answers.
If you have been Out of work due to an illness, caregiving, elder care, Covid, or military service, your resume and record of work likely has a gap. You will want to have the benefit of some extra advice from experts who know what it is like, and you will benefit from a structure to follow to go about job searching and retuning to work as effectively as possible.
There are many uncertainties you may feel and good questions you have. Is it okay to have had the career break you have had? At this career event, you can talk things over and get your questions answered by experts who have the knowledge and want to help you.
The Job Forum is offering a new event with experts on this topic of Returning to Work with a Career Gap.
Thursday, Sept 29 at 6pm on Zoom.
We intend to provide you with Return to Work strategies you can use:
- A tool kit and approach for how to address the gaps in your resume.
- Ideas for how to interview with tips and advice for how to explain your time away and your Gaps in work.
- A discussion of the pros and cons of continuing education and suggestions that may help you.
- Brainstorms for you about transferrable skills that are valuable and you may not realize you have.
- Ideas and information about resources that are available.
- Suggestions for how to structure your time in a new job so that you will increase your chances for succeeding.
Sign up with Eventbrite and once you are confirmed we will send you the Zoom link & password 1 hour prior to the event.
This event is brought to you in partnership with BAYS MITC:
BAYS-MITC (Bay Area Young Survivors - Mets In The City)
Angela Padilla and Deb Mosley were both talented lawyers at Morrison & Foerster going through breast cancer treatment in their 30s. They tried going to breast cancer support groups at their local hospitals, but they were always the youngest woman in the room --often by several decades --and realized younger women with breast cancer faced issues that the general support groups were ill-equipped to handle.
So in late 2003, they held the very first BAYS support group meeting at Deb's apartment in the Castro District. They invited other young women they met in the chemo infusion centers and radiation waiting rooms of the local cancer centers, and word of the new group spread like wildfire. Within months, Deb's living room became a haven for dozens of young women facing breast cancer and its aftermath, and the BAYS listserv (a yahoo email group) lit up with activity.
Since its founding nearly 19 years ago, BAYS has grown to over 600 members. BAYS operates as a non-profit and is managed by an all volunteer board. The BAYS slack and google group community have been a lifeline for our newly diagnosed and mid treatment members, and continues to be a source of invaluable advice for everyone - even the long-term survivor.
For further information, please visit our website: https://bayareayoungsurvivors.org/
Please consider donating to The Job Forum to help to continue supporting job seekers in the Bay Area. Suggested donation is $20.
paypal.me/TheJobForum
or
https://thejobforum.org/donate/
Share with friends
The Job Forum, sponsored by SF Chamber of Commerce
Organizer of Returning To Work
The Job Forum aims to help people help themselves in their job search. Our approach is focused on intelligently planning and conducting the job finding campaign. We offer customized brainstorming and problem-solving to job seekers.
https://www.facebook.com/TheJobForumSF
Facebook profile https://thejobforum.org/
By signing up through Eventbrite you will be added to The Job Forum's email list.
Privacy notice: The Job Forum will be recording this event and will distribute it to those who sign up.