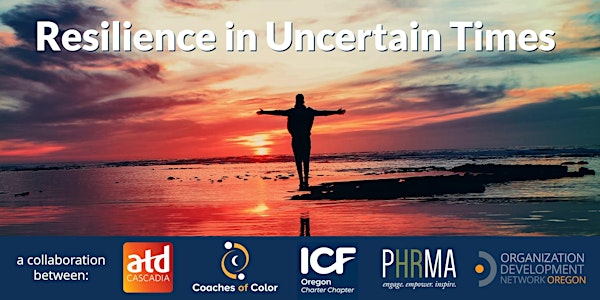 Resilience in Uncertain Times: A Collaboration by ATD/CCC/ICF/ODN/PHRMA
Resilience in Uncertain Times: Lunch and Learn Workshop presented in collaboration with ATD/CCC/ICF/ODN/PHRMA
About this event
The pandemic has forced massive change on all of us. Practitioners in training, coaching, organizational development, and human resources are important leaders in managing this change and moving forward in the "new normal."
At this FREE lunchtime workshop, you'll:
Hear from panelists from ATD, CCC, ICF, ODN, and PHRMA and learn how they are supporting clients in assessing personal and professional impacts and building resilience.
Engage with a tool that you can use to support yourself and others through this transition.
Network with and learn from professionals across disciplines in a series of small group discussions.
We hope you'll join us for this memorable lunch and learn event!
PLEASE NOTE: Ticket sales end at 10:00 am PT on Wed. February 16.
ICF Oregon is managing registration on behalf of all the partner organizations co-hosting this event. Find out more about all the partner organizations by visiting their websites:
Association for Talent Development Cascadia Chapter: https://tdcascadia.org/
Coaches of Color and Culture: https://coachesofcolorandculture.com/
Organization Development Network Oregon: https://odnoregon.org/
Portland Human Resource Management Association: https://www.portlandhrma.org/