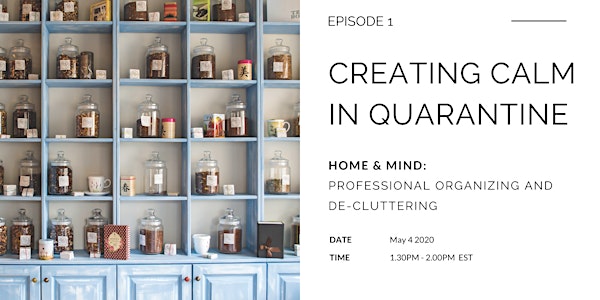 Professional Organizing: Creating Calm in Quarantine
Live webinar on de-cluttering and loving your home, featuring advice from a professional organizer, certified by Marie Kondo.
About this event
At times, home feels like heaven. And yet in other moments, it can feel like the place that used to provide rest and comfort has become a prison.
Moderated by Kim Wolfshout, a top Toronto real estate professional, this episode features Effy Terry, certified professional organizing consultant and life coach. Join us as we provide solutions to challenges you might be facing.
In this e-session, you'll learn:
the importance of creating zen habits, including mental de-cluttering
how organizing your home now can affect your spending habits later
tips to organizing specific spaces in your home or condo.
Each event guest gets access to a free guide and checklist, an e-consultation with a professional organizer, as well as a recording of the live event.
Forget the chaos. Let's create calm in quarantine together.
* We've got more episodes featuring other home experts lined up - check out our other events too*