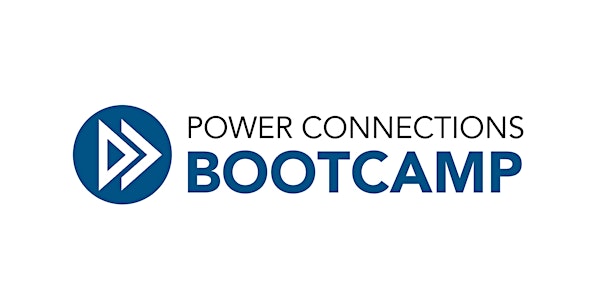 Power Connections Bootcamp
THE BOOTCAMP YOU NEED TO BUILD BETTER BUSINESS RELATIONSHIPS
When and where
Location
The Townsend Hotel 100 Townsend Street Birmingham, MI 48009
About this event
POWER CONNECTIONS BOOTCAMP
Struggling to connect with new business contacts?
Want to make a strong impression every time you walk into a room?
Need tips and techniques to up your networking game?
Long-term business success has always been based on relationships. But knowing how to build lasting, powerful relationships doesn't come easy to everyone. We've created a powerful, immersive bootcamp designed to boost your confidence and transform you into a strong networker who can confidently connect with anyone at any time in any environment.
With experienced Power Connector Derek Dickow as your guide, you'll learn about his 5 Pillars of Purpose-Driven Networking and how they can work for you, whatever your business or industry. Learn tangible tips to confidently tackle nerve-wracking networking events and create powerful, purposeful connections.
What you'll learn
In this informative, insightful workshop, Derek will share his effective techniques to help every professional forge lasting connections and grow their business network including:
Strategies to boost your confidence
Tangible tips and talking points for interacting with new contacts
How to set goals and move toward them daily
Ways to stand out from your competitors
The secret to defining your own personal and professional success
Why failing to plan is your biggest obstacle
Methods for overcoming networking barriers
How to stand out and make a strong first impression
How to effectively create a contact profile and why it's important
Proven ways to prepare for introductions
How to identify and connect with prospects, clients and referral sources
Tangible tips and talking points for interacting with new contacts
How to create more value for each of your clients
Useful tools for engaging contacts in any situation
Techniques to turn cold calls into warm leads
Strategies to experience and maintain long-term growth
Best practices for effective follow up with anyone
And so much more!
What it includes
Power Connections Bootcamp includes:
Private dinner with exclusive networking opportunities
A full day of Bootcamp filled with information, insight, and engaging activities
Breakfast, lunch, and refreshments throughout the day
Comprehensive workbook including customizable tools, templates, scripts, and guides
Ample breaks with networking opportunities
1:1 speed networking session with attendees
Who should attend?
Business Owners and C-Suite Executives
Business Developers
Real Estate and Insurance Agents
Mortgage Brokers and Bankers
Entrepreneurs
Influencers
Political & Non-profit leaders
Any professional who wants to build their network
Upon registration for a Power Connections event you will be added to our email database.