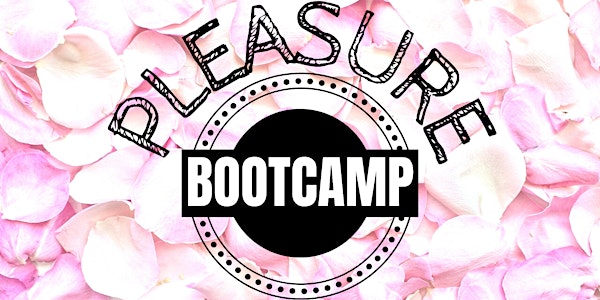 Pleasure Bootcamp MAY
A one-month intensive: live and recorded classes with daily engagement sharpen your attunement to Pleasure in every aspect of life!
Date and time
May 1 · 5:30pm - May 31 · 7pm PDT
Refund Policy
Contact the organizer to request a refund.
Eventbrite's fee is nonrefundable.
About this event
30 days 1 hour

Mobile eTicket
PLEASURE BOOTCAMP!
A tight, practical, chock-full package of self-love tools and hacks that will change your relationship to Pleasure... and to Life!
The intention of this course is to (quickly and simply) externalize the pesky, limiting Inner Critic so we can
Re-orient to a mindset and posture of continually seeking pleasure in all aspects of life!
Most of us have tons of examples showing us how to be hard on ourselves, and precious few models for being kind—or even morally neutral—towards ourselves.
When we don't understand the unconscious, underlying process and the sabotaging nature of the Inner Critic, we can literally lose years trying to please, hide from, or otherwise battle the part of ourselves that doesn't let us...
...just relax and enjoy the miracle of our lives!
Pleasure—feeling good—is our absolute birthright.
Our Judeo-Christian inheritance of guilt and shame so easily robs us of our ability to simply exist, much less be able to receive joy or pleasure in life.
However, if we make small but targeted efforts to externalize and then activate a conscious relationship with the Inner Critic, big changes can happen quickly (spoiler alert: it turns out the Inner Critic is way less scary when we bring it out of the shadows).
This small move of "outing" the Inner Critic truly, swiftly, and simply clears a path for us to start over again, psychologically, freeing ourselves of the inner judge that stops us from accessing pleasure that is available in every moment, in every aspect of life.
Taming, seducing, upgrading, or quieting the Inner Critic and in its place, implementing mindful pleasure-seeking is our jam in this bootcamp.
We can willfully choose to become more open and receptive, to embrace the bounty of life's gifts.
This course guides participants to:
Increase pleasure through awareness and choice
Feel more alive, aligned, and celebratory of life
Move from frustration to fascination
Become pleasure scientists, artists, and warriors!
Weekly calls, weekly bonus calls, free embodiment classes, a private Facebook group, and daily bootcamp "drills" increase our pleasure awareness, access, and ability.
Once the program is completed, you will graduate as a Pleasure Warrior, and we will have continued contact through my public Pleasure Warriors Facebook group.
I would love to be your Pleasure Guide for this life-affirming training!
Prerequisite for the Bootcamp:
FREE INNER CRITIC WORKSHOP 4/24/23
5:30-7:00pm PST Live Class:
Zoom Registration Link (must register to join)
OR take the class via video: https://youtu.be/6uhAQHoeZMQ
***DO NOT SKIP the actual making of your inner critic! You will be introducing it (and sharing its name) in the first class!
LIVE WEEKLY CLASSES (plus recordings)
5:30-7:00pm PST
Mondays
May 1, 8, 15, 22, 29
Online (Zoom)
Bonus (optional) LIVE Integration Calls (plus recordings)
5:30-6:00pm PST
Tuesdays
May 2, 9, 16, 23
This Cohort is DEEPLY DISCOUNTED
Regular Cost: $350
May group: $250
Message Amy at amypalatnick@gmail.com to receive the Earlybird Discount Code!
What people are saying about Pleasure Bootcamp:
"Pleasure bootcamp changed my life. I received such deep openings to natural pleasures and genius recipes of aliveness and well-being that I now gift to myself every day... soft sensuous soulful ways of walking , breathing, moving, eating, being with feelings. Ahhhhhh so grateful. HIGHLY RECOMMEND"
"It was so great. I'll advertise it as much as possible. The month went by so fast! I got so much out of it, and I fully recommend it!"
"I tend to think that there's never enough time, and I saw with this course how much that belief is not true. Pleasure is something we can work into everything that we do, it's just about remembering to do it. That's gold. So many of us have patterns we've been living in our whole lives, it just takes some practice to shift them. I'm so grateful when I can remember to come back to it."
"I really enjoyed the daily videos. I love your style and presentation. You're so authentic and relaxed."
"You've put together something really great where people can learn at their own pace, and go deeper as they're ready."
"I skipped another class to be here, and I'm so glad I did. It was totally worth it."
"I loved how available Amy was to us, all month long."
"I would say to new people: Get ready. This is going to be intense, and it's going to be great."
"You made it all work. The class was really well-managed."
"I felt privileged to meet the amazing people in this class."
"This class, and this group, helped me feel comfortable bringing all parts of myself, and realizing that I didn't need to feel 'happy' to experience pleasure. What a gift!"
"I learned that I can nurture myself in the in-between moments, which can fundamentally change my whole life!"
"I really liked the part of this class where you talked about how pleasure can be found in anything, even things we usually think of as negative. I discovered that pleasure is the free-flow of energy. When energy is flowing freely, there is pleasure. If I can open to grief and surrender, there is pleasure in the grief. It's about removing the ideas and the resistance. Even crying and screaming and wailing—we get to love so deeply, and so powerfully."
"My inner critic transformed into my cheerleader! If I can lean in towards the messy, scared parts of myself, that is where the gold is, the highest potential for my growth. My inner critic reminds me to really look at that part of myself, that's where the medicine is. The things we think of as struggles have so much power."
"I wish I had some constructive feedback for you, Amy, but I don't think I do. Your delivery was such a gift, the way you are able to offer what's moving through you in such a present way. Your grounded and centered way is so rare. You teach by transmission, it's really refreshing. The class was really well organized; you did such a beautiful job."
The FREE Inner Critic Workshop is a prerequisite for the Bootcamp. Set aside 1.5 hours and grab some art supplies (literally, anything will do). If you need help or guidance, email Amy: amypalatnick@gmail.com
DO NOT SKIP the actual making the critic part! The critic needs to be 3-D, and in making it, keep going until you actually feel that it is done. You will be introducing your critic (and sharing its name) to the cohort in the first class.
There will also be a LIVE Inner Critic Class on 4/24/23 (registration is through Zoom, just click that link!). You are welcome to do both the recorded and live classes!