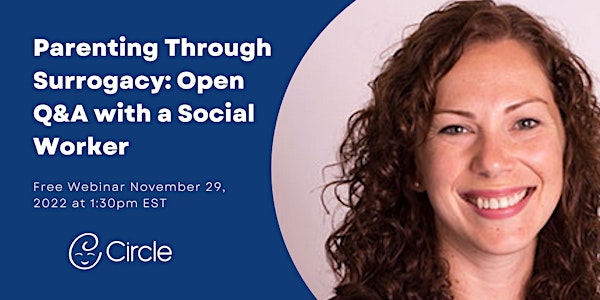 Parenting Through Surrogacy: Open Q&A with a Social Worker
Join us on November 29th for a free open Q&A with a licensed clinical social worker about parenting through surrogacy! It's FREE!
About this event
Parenting Through Surrogacy: Open Q&A with a Social Worker
Join Circle Surrogacy & Egg Donation for a 30-minute open Q&A with licensed clinical social worker Jen Rachman. Jen is a parent through surrogacy, egg donation, and IVF as well as a cancer survivor. This session will give you the chance to ask questions [for free] about the process of parenting through surrogacy and egg donation.
Register today for this free virtual event!
If this date/time doesn't work for your schedule, not to worry! As long as you register, you'll receive a copy of the recording.
- About the speaker -
Jen Rachman - Jen is a Licensed Clinical Social Worker, cancer survivor, and mother through gestational surrogacy. She earned a Master of Social Work degree from New York University and has over twenty years of clinical experience working with children, adolescents, and their families. A former Circle client, Jen is excited to combine her professional and personal experience. She serves as a resource and support person for other Intended Parents choosing surrogacy and/or egg donation to grow their families. Jen has also shared her experience and expertise with numerous publications and TV programs and has moderated and presented at many conferences throughout the United States and Europe.