Description
The creators of N.Y.E. 2016's "Off the Kuff" are back together to bring you another star-studded soirée* in the legendary Solomon & Kuff Rum Hall, on the corner of 12th Ave & 133rd St. See more about this Special Event Space and Dining Hall in the Organizer Profile below.

"WAKE" N.Y.E. is hosted by: NBC's "Hairspray LIVE," Ephraim Sykes, nationally acclaimed speaker, Shaun Derik, Broadway's hit "Hamilton" star, Sasha Hutchings, and a special guest appearance by Nick TEEN Sensation, Meredith O'Connor. This wildly entertaining evening of love, laughter and enlightenment will feature: a tribe of Beautiful People, Live Music Performances from the industry's most celebrated Broadway performers, a curated Live Soundtrack by DJ Duggz and DJ Gringo (Stateside), an Open Bar for early guests, and an energetic call to action for the coming year.
Ring in 2017 with "WAKE" N.Y.E. #wakeharlem #unifyNY
CALL NOW FOR BOTTLE PACKAGES: 212.939.9443 or EMAIL: info@solomonandkuff.com
*credit BroadwayWorld pub. 1/7/16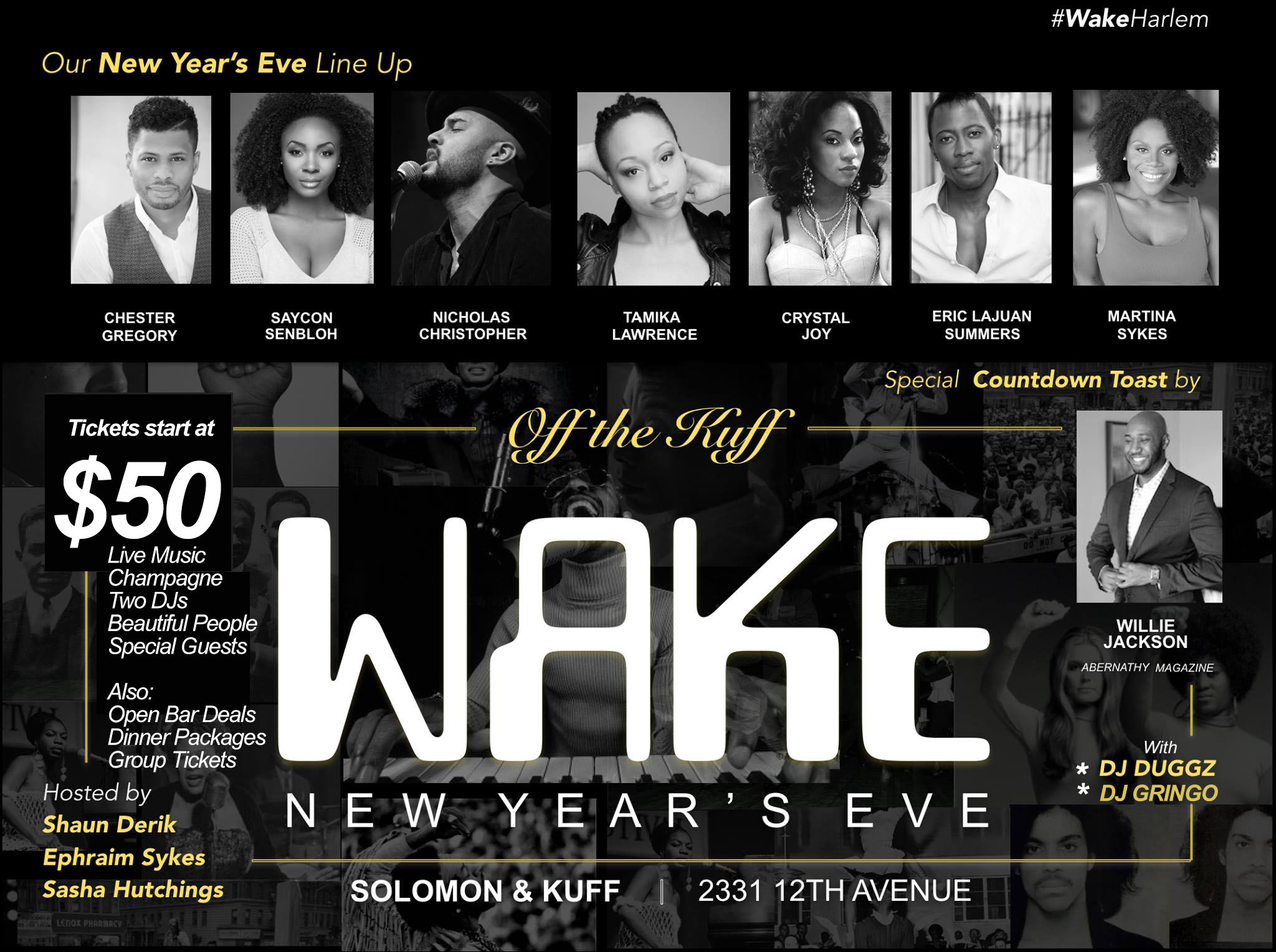 Transportation/Parking:
Street Parking, Valet Parking and/or Parking Lot next door. Subject to availability. Taxi/Car Service (i.e. UBER, LYFT), Train: "1" to 137th Street / City College (walk south to 133rd, west to 12th), Bus: M100/M4/M5 to 133rd Street (walk west to 12th).
Organizer of Off the Kuff presents "WAKE" N.Y.E.
Located under the viaduct on the corner of 12th Ave and 133rd Street, in the Manhattanville Factory District of West Harlem, Solomon and Kuff Rum Hall is a Private Event Space, and a Highly-Awarded Caribbean-fashioned Restaurant with artisan craft cocktails by co-owner and celebrity mixologist, Karl Williams.
The 5,000 square foot industrial expanse features a loft-style dining area, a private dining/event lounge, two elevated DJ booths, and two full bars --boasting over 100 international rums spanning: Authentic Caribbean Rums, Agricole Rhums, Cachacas, and American rums.