Event Information
Refund policy
Contact the organizer to request a refund.
Eventbrite's fee is nonrefundable.
Explore the future of media & tech in NYC and beyond! We'll cover AI & local news, green tech, outer space, and more.
About this event
New York City's tech and media sectors have been fielding many curveballs. And yet, in the face of disruption we continue to innovate, no matter how uncertain the future may seem at times. In the spirit of endless innovation and exploration, NYC Media Lab is thrilled to host "Summit 2021: Future Imperfect" from October 6-7, 2021.
The two-day online conference will bring together 1,000+ virtual attendees from NYC Media Lab's core community—including executives, university faculty, students, investors, and entrepreneurs—to explore the future of media and tech in New York City and beyond.
To access the event on Oct 6-7, please use Google Chrome desktop and click this link to enter: (link no longer available)
You will be asked to quickly create an account using your email. Questions? Email us at info@nycmedialab.org.
Ticket Pricing
Discounted Early Bird Registration (through September 15th): $15
General Admission (September 15th-October 7th): $25
Current Students, Faculty, Corporate Members & Friends of NYC Media Lab: FREE (register with your .edu or organization's email)
NYCML Supporter: $75 (As a thank you for your additional support, we'll mail a special swag box straight to your door—see below!)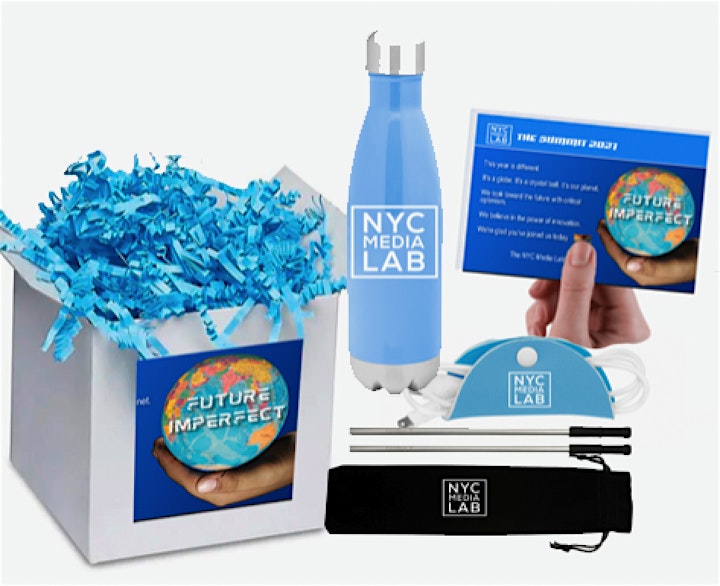 Agenda
This year's agenda includes the following fireside chats, panels, workshops, and demos (speakers will be added on a rolling basis so check back for updates):
WED, OCT 6, 2021 (10am-4pm ET)
10-10:30am ET: Welcome from NYU Tandon Dean Jelena Kovačević + Fireside Chat With Laura Edelson, Ad Observer Co-Creator & NYU Tandon PhD Candidate
Session Description: Launched in 2020, the Ad Observer extension provides better transparency for Facebook political ads. In August 2021, Facebook suspended the accounts of Laura Edelson and Damon McCoy, the NYU researchers behind the Ad Observer extension. To many, this attempt to suppress open research reflects the social media platform's sense of impunity. Facebook's reaction is important as we work to better understand the widespread problem of disinformation on digital platforms. What's good faith, what's self-regulation, what's protecting oneself as a company, and perhaps most importantly, where do we go from here?
Speakers: Erica Matsumoto (Moderator), Director of Partnerships at NYC Media Lab; Laura Edelson, Co-Director of the Cybersecurity for Democracy Project at NYU & Tandon PhD Candidate in Computer Science
10:30-11:15am ET: AI & Local News Panel
Panel Description: As we consider the critical importance of local news in fostering the fabric of our communities, newsrooms are facing unprecedented challenges: consolidated ownership, shrinking readership, and budget pressure from declining advertising and subscription revenues. Perhaps the most powerful force to bolster local news is the use of tech to give journalists ways to automate repetitive tasks and free up human capital for more news reporting. The role of AI in the local newsroom has the potential to be game changing, but it doesn't come without risks.
Speakers: Steven Rosenbaum (Moderator), Executive Director of NYC Media Lab; Aimee Rinehart, Program Manager for AI & Local News at AP; Audrey Cooper, Editor-in-Chief at WNYC; Mark Hansen, Journalism Professor at Columbia University; Claire Leibowicz, Head of AI & Media Integrity at Partnership on AI
11:30am-12:15pm ET: Diverse Teams Build Better Panel
Panel Description: As new AI and automation technologies continue to arise, the question persists: How do we prepare for the future of work? Furthermore, how do we keep the skills gap from widening, directly impacting the underserved labor force? These panelists each represent the amazing work happening in NYC to address the tech talent pipeline and how they bridge the gap for nontraditional job seekers looking to transition in the tech field.
Speakers: Abran Maldonado (Moderator), Associate Director of Verizon 5G EdTech Program at NYC Media Lab; Jerelyn Rodriguez, Co-Founder & CEO of The Knowledge House; Dante Wade, Director of National Business Solutions at Per Scholas; Jackie Bellando, Program Director at CUNY Tech Prep
12:15-12:30pm ET: Break + Networking
12:30-1:15pm ET: The Metaverse & Storytelling Panel
Panel Description: As new platforms offer uniquely holistic worlds of virtual existence, a panel of experts will discuss virtual life, the economy of the Metaverse, and, ultimately, its impact on the self. Is the Metaverse today's Ready Player One? What happens when our virtual and analogue lives blend beyond distinction? Will avatars, digital currencies, and machine-generated content take over the media landscape? This panel dives deep into the ever-evolving world of new media, human interaction, and creative storytelling.
Speakers: Dana Martens (Moderator), Director of Communications & Special Projects at the Design Futures Initiative; Evo Heyning, Chair of Open Metaverse Interoperability Group; Dirk Lueth, Co-Founder of Upland
1:30-2:15pm ET: Green Tech Panel
Panel Description: There's increased understanding—and urgency—around the climate crisis. Hurricanes, wildfires, unprecedented heatwaves: the effects of our warming planet are palpable. But there is hope. To address global warming, Biden's green energy plan aims to set the US on a course toward net-zero greenhouse gas emissions by 2050. What are green tech startups doing to help reach this ambitious goal? Urban-X Managing Director Micah Kotch moderates this "Green Tech" panel with passionate executives from the food, transportation, and energy sectors. They'll discuss tech's role in combating the climate crisis, and how they're working toward creating greener, and more efficient and livable cities.
Speakers: Micah Kotch (Moderator), Managing Director of Urban-X; Jaime Waydo, CTO at Cavnue; Viraj Puri, Co-Founder & CEO of Gotham Greens; Ali Adler, VP of Marketing at Sealed
2:30-3:15pm ET: Exploring Outer Space Panel
Panel Description: Is the future of work...in space? Join us as we discuss the future of the space industry. As aerospace becomes more privatized, it begins to open the door for more medical breakthroughs and non-scientific opportunities such as manufacturing, engineering, horticulture, and even hospitality. How far are we from this extraterrestrial future, and how do we ensure access and opportunities for all?
Speakers: David Pogue (Moderator), Correspondent at "CBS Sunday Morning"; Janeya Griffin, Founder of The Commercializer; Armen Kherlopian, Scientific Advisory Board Member for NASA-backed TRISH; Jordan Lewis, Diversity Program Lead/Project Coordinator at Baylor College of Medicine
3:15-4pm ET: Fireside Chat With Greg Brockman, Co-Founder & CTO at OpenAI
Session Description: OpenAI is a research and deployment company dedicated to creating general-purpose AI that benefits all humanity. And it's recently taken the tech world by storm with the release of their large language model, GPT-3, and Codex—an AI system that translates natural language into working computer code. As more powerful AI is developed, VCs, developers, and academics continue to explore the long-term impact of these models on the industry and beyond.
Speakers: Noelle Silver (Moderator), CEO of AI Leadership Institute; Greg Brockman, Co-Founder & CTO at OpenAI
THURS, OCT 7, 2021 (10am-3:30pm ET)
10-10:30am ET: Welcome & Announcements
10:30-11:15am ET: Workshop Block A (the following workshops will run concurrently):
BCIs Workshop: What's the next generation of wearables? Brain computer interfaces, aka BCIs. Hear from Neurable, a startup that's translating brain activity into simple, actionable insights you can use in your everyday life. Neurable wants to be the company that makes neurotechnology easily accessible to everyone, everywhere. After all, your brain knows you best.
Sleep Tech Workshop: With a PhD in Human Factors & Applied Cognition, Dr. Daniel Gartenberg has 10 years of experience making sleep technology. As founder of SleepSpace (which recently received $3.5 million in NIH grant awards), Dr. Gartenberg developed smartphone & wearable apps for tracking sleep quality, and playing sounds and vibrations to make sleep deeper. In this workshop, Dr. Snooze, as he calls himself, will share the state of the art of sleep science, and what we can all do to improve this essential part of a healthy lifestyle.
11:30am-12:15pm ET: Workshop Block B (the following workshops will run concurrently):
ASCAP Workshop: Music tech. What's possible now that wasn't before? Hear from amazing startups and university teams who spent the summer exploring and building new experiences that reimagine how we create music, connect with fans, and interact with sound.
Columbia x Hakuhodo Immersive Workshop: Who's built an AR game? How about one that's played in real time across a 13-hour time difference? Join a demo between NYC & Tokyo, and hear from a Tokyo-based advertising studio and team of Columbia grad students led by Prof. Steve Feiner on how they built an AR game that connects players across the world in real time.
12:30-1:15pm ET: Workshop Block C (the following workshops will run concurrently):
Consumer Reports's Permission Slip: Your Data, Your Rights Workshop: Consumer Reports's Digital Lab is a diverse community solving consumers' biggest tech challenges, aiming to study the challenges consumers face in today's digital market, and devise solutions. Join this session to learn about Permission Slip, a new app in development to put you in control of your data. The app aims to: identify who has your personal information, clean up your data footprint, and hold companies accountable. Learn what data companies have about you—and how it's being used and sold.
Automated AI & the Arts Workshop: In case you've been out the loop, OpenAI has been introducing new AI models that are rapidly changing the landscape of communication, programming, and automation. Their latest model is Codex, an AI code generator. It's a descendant of GPT-3 and its training data contains both natural language and billions of lines of source code from publicly available sources, including code in public GitHub repositories. Come hear from OpenAI's Dev Ambassadors, the first engineers to get access to these cutting-edge models as they walk you through demos and use cases, and discuss the potential impact on the future of software development.
1:15-2pm ET: Break + Networking
2-2:30pm ET: Synthetic Media Demos
NYC Media Lab and CHANEL teamed up earlier this year to launch an exploratory prototyping program for select teams of graduate students. Teams explored how emerging synthetic media production might impact the future of storytelling, giving form and expression to early-stage concepts. Three teams will present their final projects which showcase: interactive AR filters, OpenAI's CLIP interface, and a GANs video editing tool.
2:30-3pm ET: Verizon EdTech Demos
Arcadia Earth: The next generation art exhibition and extended reality experience designed to reimagine the way we address the most pressing environmental issues of our time. Arcadia Earth is the first multi-channel platform to offer a powerful, intimately personal exploration of the plight of our planet through immersive physical installations and the futuristic lens of XR. With a focus on individual empowerment, each experience provides educational commentary uncovering inconvenient truths about the future of our planet accompanied by easily actionable suggestions to inspire everyone to become part of the solution.
GRX Immersive Labs: POV: A VR experience set in hyperrealistic LA 2025 where personal data is the new currency and AI police drones are weaponized to enforce the law. Alton Glass, the mastermind behind the experience, developed the story to help people understand the systemic threat of bias rooted in AI. The goal of POV is to raise awareness about artificial intelligence and empower communities to partake in the futuristic narrative of emerging technologies.
Movers & Shakers: The Monuments Project: Join this demo to learn how AR is being used to advocate for the removal of problematic statues and push for more equitable representation in public spaces and landmarks. While cities are looking to create site specific monuments with limited accessibility, The Monuments Projects is aiming to empower anyone with a smartphone to be able to see digital monuments of Black and Brown icons in their homes.
3-3:30pm ET: The New York Times & ChalkNotes Demos
The New York Times R&D Team & NLP Research Fellow: The Research & Development team at The New York Times explores how emerging technologies can be applied in service of journalism. The team's work in Natural Language Processing looks to draw new insights and connections from Times journalism through reader Q&A, machine translation, topic modeling, and document analysis. Hear from members of The New York Times R&D team and Shwetanshu Singh, the NYCML & NY Times research fellow and NYU Masters in Data Science candidate, on the project he completed this summer.
ChalkNotes's Augmented Audio Reality: It's opening night and Emma Wadsworth, a rising star on Broadway, is about to make her debut as "Juliet" in the highly-anticipated revival of Romeo and Juliet, only she's nowhere to be found. Retrace her footsteps with her fellow castmates in and around Times Square in this new Chalknotes mystery: Wherefore Art Thou Juliet. The show will make its debut as the first self-guided augmented audio experience in the form of a trail starting and ending in Shubert Alley.
Date and time
Location
Refund policy
Contact the organizer to request a refund.
Eventbrite's fee is nonrefundable.
Organizer of NYC Media Lab Summit 2021: Future Imperfect
NYC Media Lab connects media and technology companies with New York City's universities to drive innovation, entrepreneurship, and talent development. Comprised of a consortium including New York University, Columbia University, The New School, CUNY, School of Visual Arts, Manhattan College, and Pratt Institute, NYC Media Lab's goals are to generate research and development, knowledge transfer, and talent across all of the City's campuses.