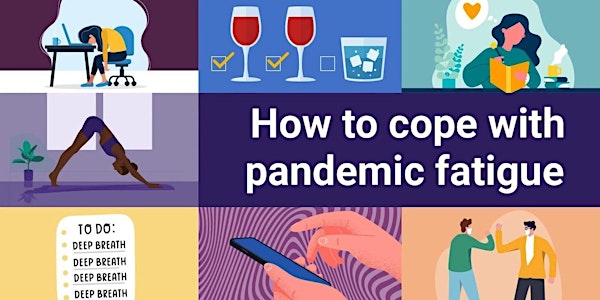 NM 5-Actions Program™ Training: Coping with Pandemic Fatigue
Join us to learn more about how to cope with pandemic fatigue, workplace stress, parental exhaustion, and an uncertain future
About this event
Almost two years into a global pandemic, variants like Delta and Omicron are pushing daily case rates to record highs. At the same time, we are all tiring of distancing, masks, virtual calls, and worrying excessively about our health and that of our loved ones. For those who have lost a loved one to COVID, there is the added grief. In this first webinar of 2022, we will take on this challenging time with the best evidence-based tools to enhance resiliency, wellbeing, and leading a meaningful life.
In this training you will learn:
Factors driving fatigue, stress, exhaustion, and excessive worry
How COVID has led to continuous traumatic stress (CTS)
Four likely responses to loss, trauma, and life-threatening stress
Tools to enhance resilience, wellbeing, and leading a meaningful life
----------------------------------------------------------------------------------------------
Keep in mind that the key to successful behavior change is understanding what needs to change. When addiction is the challenge, it may seem obvious that it be the focus of your efforts. But for most, addictive behavior is a symptom that emerges from various roots that need to be identified and addressed for successful long term outcomes. Thank you for joining us to learn more about how overcoming addiction and leading a life or recovery is available to anyone .
If you are a person who has experienced substance use and/or behavioral addictions in your life (current or previous), support someone experiencing addiction, or work in the field and encounter people experiencing addiction then this is the program for you. We invite you to join us to learn how the NM 5-Actions Program™ can give you access to powerful learning and behavior change tools to overcome addiction.
The NM 5-Actions Program™ was developed to give people access to powerful learning and behavior change tools to overcome addiction. Features include:
Over 100 videos (6+ hours) organized into easy to use learning modules
Information for families, friends, and loved ones struggling with addiction
Self-help assessment tools to explore substance use and addictive behaviors
COVID-specific resources for those struggling with addiction
We encourage you to visit the website to learn more about the program at: www.nm5actions.com
Public Awareness video can be seen here: https://vimeo.com/459569121/d86d888ff2