Join the Collegium Institute for its annual Newman Lecture. This year's lecture will feature Prof. Eamon Duffy.
About this event
The Zoom link to join the live webinar is: https://us02web.zoom.us/j/86284391928.
The webinar will also be live streamed to Youtube at: https://youtu.be/hO7T3wLnt74.
------
IMPORTANT UPDATE:
We are pleased to announce that this event has been rescheduled for Friday, March 19th at 12pm EDT (New York time) / 4pm GMT (London time). Thank you for your patience and understanding with the postponement.
-----
In his Apologia (1864), John Henry Newman emphasized his life-long commitment to the centrality of dogma to authentic Christianity. A fierce opponent of heresy while an Anglican, in the 1860s and 1870s the Catholic Newman dedicated much of his energy and considerable public prestige to combatting what he perceived as the inflationary and excessive dogmatism which threatened the intellectual and spiritual integrity of the Church under Pope Pius IX. In this talk, Professor Duffy considers the fundamental consistencies underlying the apparent contradictions in Newman's developing understanding of the relation between revealed truth and intellectual freedom.
This year's Annual Newman Lecture, taking place just before Newman's birthday, will feature Professor Eamon Duffy of Cambridge University, renowned author of The Stripping of the Altars and other monographs as well as, most recently, John Henry Newman: A Very Brief History.
Eamon Duffy FSA FBA KSG is an Irish historian. He is a professor of the History of Christianity at the University of Cambridge, and a Fellow and former president of Magdalene College. Professor Duffy's research and teaching interests centre on the history of late medieval and early-modern popular religious belief and practice, on Christian art and material culture, on the history of the English Roman Catholic community, and on the history of the papacy.
This event is being cosponsored by: 
-Penn Catholic Newman Community
-Penn's Program for Research on Religion & Urban Civil Society (PRRUCS)
-Harvard Catholic Forum
-Nova Forum for Catholic Thought
-University of Dallas Program for Studies in Catholic Faith & Culture
-Portsmouth Institute
-St. Thomas Catholic Studies MA program
-Lumen Christi Institute
-American Catholic Historical Association
-National Institute for Newman Studies
-Department of Catholic Studies at Duquesne University
-University College Dublin Newman Centre for the Study of Religions
-Center for Catholic Studies at Durham University
-Maynooth University: Irish Centre for Faith and Culture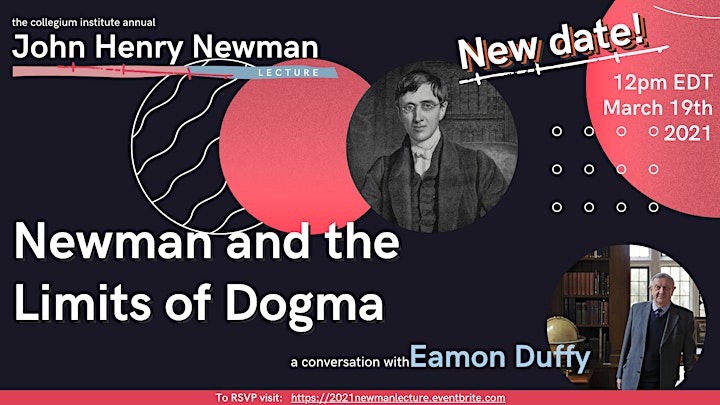 Organizer of Newman and the Limits of Dogma: A Conversation with Eamon Duffy
Founded by faculty, alumni, students, and friends of the University of Pennsylvania, the Collegium Institute is an independent scholarly foundation that draws academic learning into conversation with the Catholic intellectual tradition. In so doing, it cultivates reflection on "catholic" or universal questions and on the unity of truth across the disciplines.