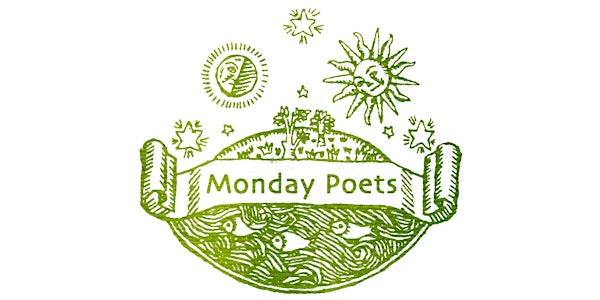 Multiple dates
Monday Poets: Virtual Reading Series
Join us for an evening of outstanding poets at the top of their craft. If you haven't heard of them by now - you will.
By Literature Department Free Library of Philadelphia
Date and time
January 30 · 3pm - May 15 · 4:30pm PST
About this event
Thank you for registering for the 28th season of Monday Poets! The Zoom link to the event will be emailed to you on the day of the event. Please check the email address that you registered with to access the Zoom link. For questions, please email us at ereflit@freelibrary.org.
March 20, 2023
Catherine Bancroft writes poetry, makes art, and sometimes combines them. Her poetry collection, The Square Where Ariadne Sleeps, recently won an inaugural AV Christie Series chapbook prize from Seven Kitchens Press. She has read her poetry at Green Line Cafe, PAFA, Blue Marble Bookstore, Fergie's Pub and other local spots. Her visual art has appeared at Muse Gallery, 3rd Street Gallery, St Asaph's Gallery, DaVinci Art Alliance, among others, and in one-woman shows at the Fackenthal-Pethick Gallery in Bryn Mawr, FireWorks Gallery in Camden, and Waverly Gallery in Gladwyne. Her current Ellis Island Series, in conte crayon and acrylic, was inspired by photographs of early 20th century immigrants. Earlier in her life she taught English to high school and college students, and wrote book reviews for The Philadelphia Inquirer, the New York Times and Ms. Magazine. She is the co-author of two children's books, including Felix's Hat. See her Ellis Island images at www.catherinebancroft.cullina.com.
Doris Ferleger, poet laureate emeritus of Montgomery County PA, and winner of the New Millennium Poetry Prize, New Letters Poetry, Songs of Eretz Prize, and AROHO CNF Prize, among others, is the author of four full-length poetry books, including Big Silences in a Year of Rain, As the Moon Has Breath, Leavened, and As for the Kiss, and a chapbook entitled When You Become Snow. Her work has been published in numerous journals including Cortland Review, Delmarva Review, and Poet Lore. Ferleger holds an MFA in Poetry and a Ph.D. in Psychology and maintains a private therapy practice. Aliki Barnestone writes: Ferleger's memorable poems keep singing with their insistent beauty.
April 17, 2023
Lilvia Soto, Ph.D., poet, essayist, and independent researcher, was a professor of Spanish American ilterature at Harvard University and an administrator (Assistant Dean) at the University of Pennsylvania. She was the first director of La Casa Latina: The Univserity of Pennsylvania Center for Hispanic Excellence and the Resident Director of the Study Abroad Program in Seville, Spain, for students of Cornell, Michigan, and the University of Pennsylvania.
Soto was born in Nuevo Casas Grandes, Chihuahua, Mexico, and migrated to the United States at the age of fiffteen. She resides in Philadelphia, Pennsylvania. She has published poetry, short fiction, essays, literary criticism, and literary translations in journals and anthologies in many countries. Her collection of bilingual poems, bajo las palabras / under the words, appeared in Editorial Garabatos, Hermosillo, Sonora, in 2015. Her second collection of bilingual poems, Lengua lanzadera enhebrada / Tongue Threaded Shuttle, was published in 2017, also in Editorial Garabatos. She is preparing a collection of poems and essays about her ancestors in the context of the Mexican Revolution. Lilvia is a member of the art collective We Are You Project International (www.weareyouproject.org). You can read some of her works at www.lilviasoto.com.
Carmen Amato Tejeda has a PhD in Hispanic American Literature from Arizona State University. In 1993 she took a Diploma in Latin American Literature and Literary Criticism in Spanish at the UACJ, which motivated her to continue with a Master's Degree in Literary Creation at the University of Texas at El Paso. This decision leads her to change the course of her professional activities to dedicate herself fully to literature. Tejeda has published 8 collections of poems and a timeless agenda: Ahora somos el silencio (Today we are the silence) (1992), Ciudad que se restaura (City that is restored) (1994), El silencio que se hiela en la blancura de las hojas (The silence that freezes in the whiteness of the leaves) (1997), El silencio de lo que cae (The silence of what falls) (Co-authored, 2000 ), Gestación de la luz (Gestation of light) (2006), Estación Tempe (Tempe Station) (2010), Soy todo lo que vuela (I am everything that flies) (2011), Bitácora de la lluvia (Rain Log) (2015), Asfalturas (Asphalts. The agenda.) (2016). She has participated in literary meetings and congresses in various parts of Mexico, as well as in Costa Rica, Argentina, Colombia, Peru and Brazil. She is currently the coordinator of the collective Indagaciones Poéticas and a founding member of the cultural company INTELECTA.
May 15, 2023
Cindy Savett is the author of Child in the Road (Parlor Press), The Breath (BlazeVOX ) and the chapbooks: The Story of my Eyes, Battle for the Metal Kiss, Rachel: In the Temporary Mist of Prayer, and Overtures of Survival. Her work is also found in the anthology, Challenges for the Delusional. Cindy is published widely in both print and online journals. Educated at The Baldwin School, she attended Gratz College and The University of Pennsylvania where she examined the works of Martin Buber and Martin Heidegger, under the tutelage of Van A. Harvey, Laurence J. Silberstein and Victor M. Lidz. The sudden death of her youngest daughter generated a fierce reckoning in her poems. As a result, for the past two decades Cindy's poetry has focused on the experience of grief from various perspectives, including that of her deceased child. Her work has evolved into an investigation into the nature of the "I" when it encounters the "Other". Cindy continues to lead poetry workshops for psychiatric inpatients at several area hospitals.
Jonathan Blunk is a poet, essayist, and radio producer. His authorized biography, James Wright: A Life in Poetry (Farrar, Straus and Giroux, 2017), earned praise from The New York Times as "fine-grained literary biography at its finest," and was also a Times Editors' Choice. Blunk assisted with editing Wright's selected letters (A Wild Perfection, FSG 2005) and has published widely about Wright's poetry. His recent essays and reviews have appeared in The Georgia Review, and poems in FIELD magazine and other journals. Blunk is at work on a sequence of poems inspired by the life and paintings of Juan Gris.
Celia Bland is co-editor with Martha Collins of Jane Cooper: A Radiance of Attention (U of Michigan, 2019) and the author of YA biographies of the Native American leaders Pontiac, Osceola, and Peter MacDonald, and of The Conspiracy of the Secret Nine, a young adult novel about the Wilmington, NC race riots of 1898. Madonna Comix, an image and poetry collaboration with artist Dianne Kornberg, was exhibited at NYC's Lesley Heller Gallery and published with an introduction by Lucy Sante. Her work has been included in anthologies published by Faber & Faber; Station Hill Press; Finishing Line Press; Persea Books; CavanKerry Press; and Tupelo Press. The title poem from Celia Bland's third collection of poetry, Cherokee Road Kill, received the Raynes Prize, judged by L.S. Asekoff.
Monday, January 30th, 2023
Maria Famà is the author of seven books of poetry. Her work appears in numerous publications and has been anthologized. In 2018, she was awarded Second Prize in the 2018 Allen Ginsberg Poetry Awards. Famà has read her poetry in many cities across the United States, read one of her stories on National Public Radio, co-founded a video production company, and recorded her poetry for CD compilations of music and poetry. Maria Famà did her undergraduate and graduate work in History at Temple University. Famà's poems were awarded the 2002 and 2005 Aniello Lauri Award in Creative Writing. She appears in the film documentaries "Prisoners Among Us," "Pipes of Peace," and "La Mia Strada: My Way" reading her poems. In 2006 she was awarded the Amy Tritsch Needle Award for Poetry. Her latest books of poems, Other Nations: an animal journal, was published by Pearlsong Press in 2017 and Mystics in the Family was published in 2013 by Bordighera Press. Maria Famà lives and works in Philadelphia. She is available to do readings and workshops.
Amy Barone's new poetry collection, Defying Extinction, was published by Broadstone Books in 2022. New York Quarterly Books released her collection, We Became Summer, in 2018. She wrote chapbooks Kamikaze Dance (Finishing Line Press) and Views from the Driveway (Foothills Publishing.) Barone's poetry has appeared in Local Knowledge, Martello Journal (Ireland), Muddy River Poetry Review, New Verse News, and Paterson Literary Review, among other publications. She belongs to the Poetry Society of America and the brevitas online poetry community. From Bryn Mawr, Pennsylvania, she lives in New York City.
February 27, 2023
Bill O'Connell lives in the Pioneer Valley in Western Massachusetts. Books of poetry include Sakonnet Point (Plinth Books 2011) & On The Map To Your Life (Dytiscid Press 1992 Chapbook). A new collection, When We Were All Still Alive, is out from Open Field Press, available from SPDbooks.org.
Robert Coles has published over one hundred poems in various literary journals, anthologies, and magazines—African American Review, Obsidian II, Massachusetts Review, The Midwest Quarterly, and many others. His most recent poems have appeared in the summer and fall issues of Philadelphia Stories, 2021, 2022. He currently lives in Philadelphia.
About the organizer
The Literature Department is located with the Art Department in Pepper Hall, 2nd floor, Parkway Central, and houses over 60,000 books of American, English and World Literature.