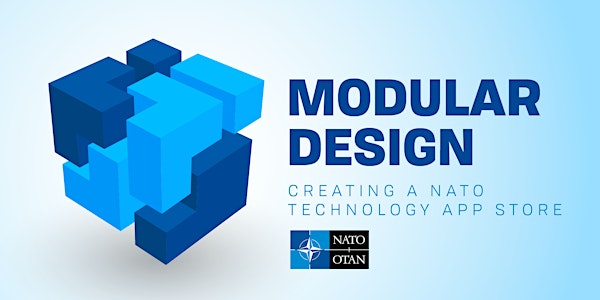 Modular Design: Creating a NATO Technology APP Store
This conference will unite diverse communities to explore the theme of modularity.
About this event
SPEAKERS
Welcome: Mircea Geoană -Deputy Secretary General, NATO
Keynote and Q&A
Bjarke Ingels - Founding Partner of Bjarke Ingels Group (BIG)
Jamie Shea - Professor of Strategy and Security at University of Exeter
Introduction to Modular Design: Colin de Kwant - Vice President, Modular Management
Panel 1: Designing Future Proof Solutions
Moderator: Matt Roper - Head ISR SC, NATO Communications and Information Agency
Vytenis Buzas - CEO and Co-Founder of NanoAvionics
Elizabeth Nyeko - CEO and Founder of Modularity Grid
David Manley - Naval Authority Group Deputy Head, Ships Division, Submarine Delivery Agency, UK Ministry of Defence
Panel 2: Creating a Technology App Store
Moderator: Michael Brasseur - US Navy, Co-Chair Innovation Advisory Board NATO MUS
Matthew Steckman - Chief Revenue Officer, Anduril Industries
Julie Angus - CEO of Open Ocean Robotics
Andrew Builta - VP Cargo/Utility Helicopter Programs Boeing
Panel 3: NATO – The Technology Backbone
Moderator: Jamie Shea - Professor of Strategy and Security at University of Exeter
Gordon B. (Skip) Davis Jr. - Deputy Assistant Secretary General for Defence Investment, NATO
Kadi Silde - Undersecretary for Defence Policy, Defence Ministry of Estonia
Christian Mölling - Research Director of the German Council on Foreign Relations (DGAP)
The Alliance is constantly adapting and transforming to ensure it is orientated to the future. Through NATO 2030, the Secretary General aims to strengthen NATO's engagement with new and diverse communities, in particular the private sector and academia. Closer engagement and a better understanding of the challenges and opportunities of emerging disruptive technologies is vital to the security of over one billion citizens across the Alliance.
This conference will unite these diverse communities to explore the theme of modularity, including 1) how modularity can support better interoperability (or indeed, interchangeability) among scarce and sophisticated military capabilities, 2) how we can learn from private sector and academia pioneers in modularity, and 3) how NATO can support a robust ecosystem to facilitate modularity within and between Allies and partners.
Panel 1: Designing Future Proof Solutions
Modular Design has become a central approach for a wide range of industry sectors enabling them to disrupt and innovate at speed. Car manufacturers, space engineers, software developers or architects have embraced the concept in their design, development and manufacturing processes. Modularity in varying degrees has also found its way into the defence sector, allowing greater interoperability and flexibility of fighter jets, tanks or ships. This panel aims to put a spotlight on innovative examples for modular products and architectures. What are the benefits of modularity, and how can this approach help to reduce costs and complexity of a product? What is the role of standards and interfaces in the relation between platforms and modules? And what are the barriers that designers need to overcome when developing modular solutions?
Panel 2: Creating a Technology App Store
Modularity has the potential to not only change the design of a single product but also to transform entire industrial marketplaces and result in greater competition and innovation. Commercial sector innovation provide examples for ecosystems that allow a wide range of suppliers, large and small, to contribute. Ecosystems such as smart-home systems or app stores can be continuously updated and enhanced with new products while keeping the overall architecture in place. Yet, how do platform providers incentivize suppliers and grow networks with a diverse supplier base? And how to ensure that the ecosystem remains open and at the same time trusted and secure?
Panel 3: NATO – The Technology Backbone
Modularity and interoperability are in NATO's DNA. As a leading standardization organization, NATO develops the interfaces that allow Allied defence technologies to plug-and-play in all operations. The Alliance is accelerating the development of numerous technology ecosystems in our skies, seas, on land and in space. Through its Alliance Future Surveillance and Control initiative, NATO plans to replace legacy systems by moving data at machine speed across the Alliance from diverse and distributed sources. The private sector will be key to deliver the disruptive technologies that are relevant to make our technologies and data more interoperable. How can NATO adapt and reinforce its role in setting standards for Allied interoperability? How can Allies and NATO incentivize non-defence and smaller industries, SME and startups, to contribute to larger defence ecosystems?