In this 5.5-hour workshop on table looms, you'll learn all the basic stitches and more, in my unique take on Tapestry Weaving Wall Hangings!
About this event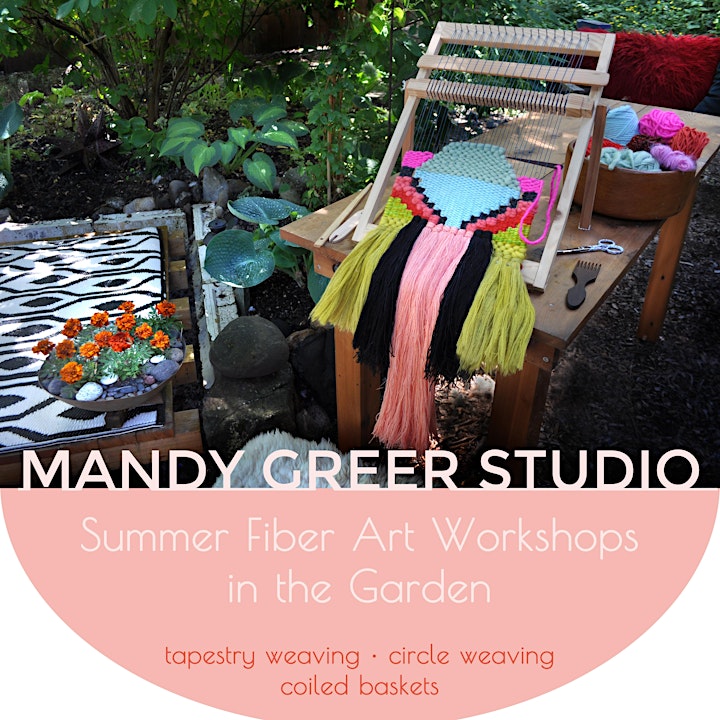 COVID-19 NOTICE -- SUMMER 2021
We are in a time of transition with Covid precautions and vaccine rates, so I look closely at all emerging CDC guidance.
To that end, classes will currently be held in an Outdoor Studio Garden with plenty of fresh air.
Classes are capped at 8 students max to provide adequate distancing.
Fully vaccinated people may remove masks when at their distanced tables, but must wear them when inside the indoor studio to use the facilities.
Unvaccinated people must wear masks fully worn over mouth and nose at all times.
Social distancing will still be met, with two students per table at 6 foot distance, and demos are limited to 15 minutes at a time with instructor.
Proper hand hygiene and sanitation is readily available. Students must wash hands upon entry to studio. And hand sanitizer will be available.
All students will have their own set of tools to use, that have been sanitized.
Anyone who is sick, or exhibiting any symptoms of Covid-19, must not attend. Please contact me ASAP to get a class credit, and so I can make your spot available to someone on the wait-list ( most appreciated!).
Stay Safe and Healthy! xoxo!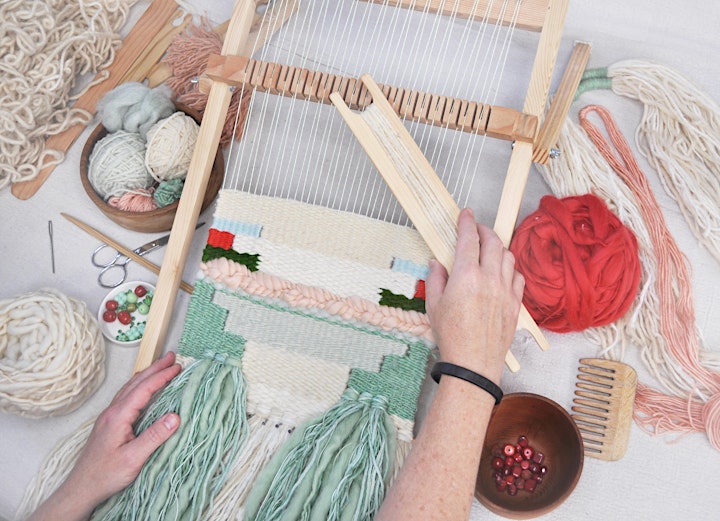 Check out my profile all my other fiber art classes, in-person and online available.
Let's weave together.
This frame-loom tapestry weaving class is great for beginners and fiber-fanatics alike!
We are innately drawn to the charms of weaving, evocative of so many rich metaphors – of bringing disparate parts into a whole, interlacing of ideas, the inter-dependency of the communal. It's a human technology that has been around for 27,000 years and still captivates us.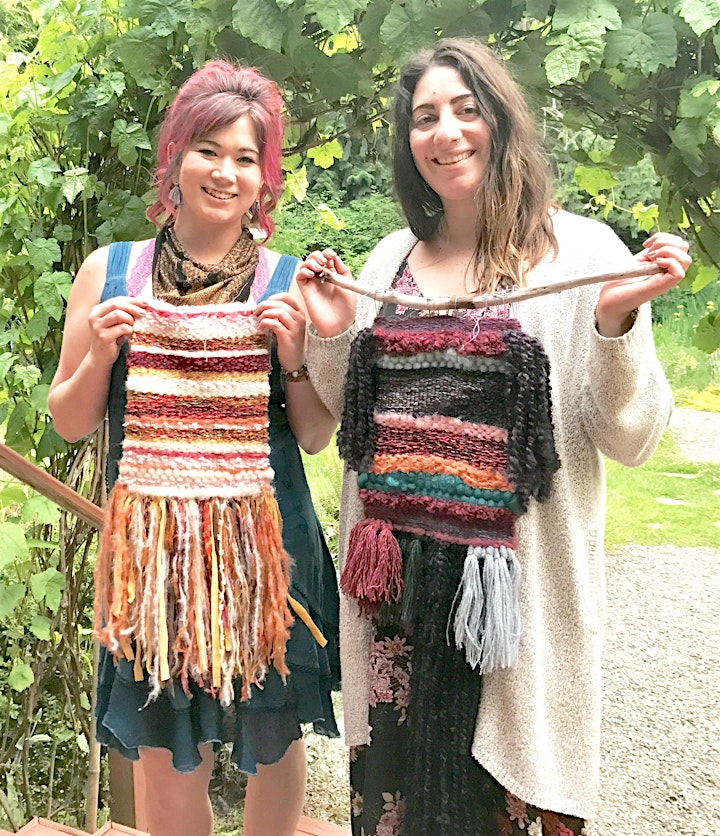 In this 5.5 - hour workshop on handmade pine table looms, you'll learn all the basic stitches, a few fancy stitches and more, in my unique take on tapestry weaving!
We'll cover warping, layering shag tassels, shapes, chunky textures and working with reclaimed and unusual fibers.
I provide all the tools and materials you need, including my huge stash of luxurious handspun wools, boutique yarns, jutes, natural fibers, wool roving and upcycled fabrics, so your weaving is totally unique and won't look like anyone elses!
You'll come away with a finished, totally one-of-a-kind weaving wall hanging, ready for you to mount at home any way you like!
Sparkling water and wrapped snacks provided!
PLEASE READ FAQ BELOW BEFORE BOOKING.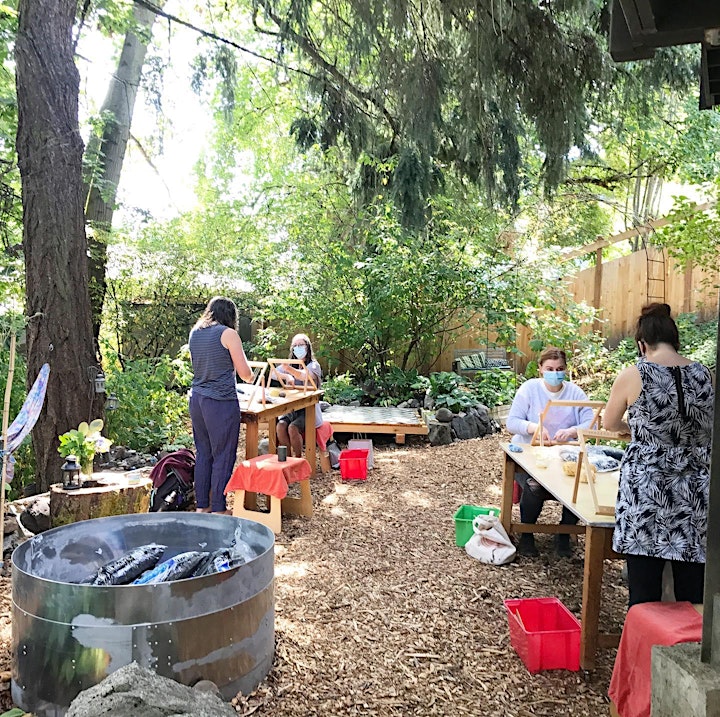 The Garden Workshops are held in a small urban forest with towering heritage Douglas Fir trees, that create a cool and pleasant shade garden, even in the height of summer.
Workshops are held rain or shine, because there is a covered workshop and a festival tent.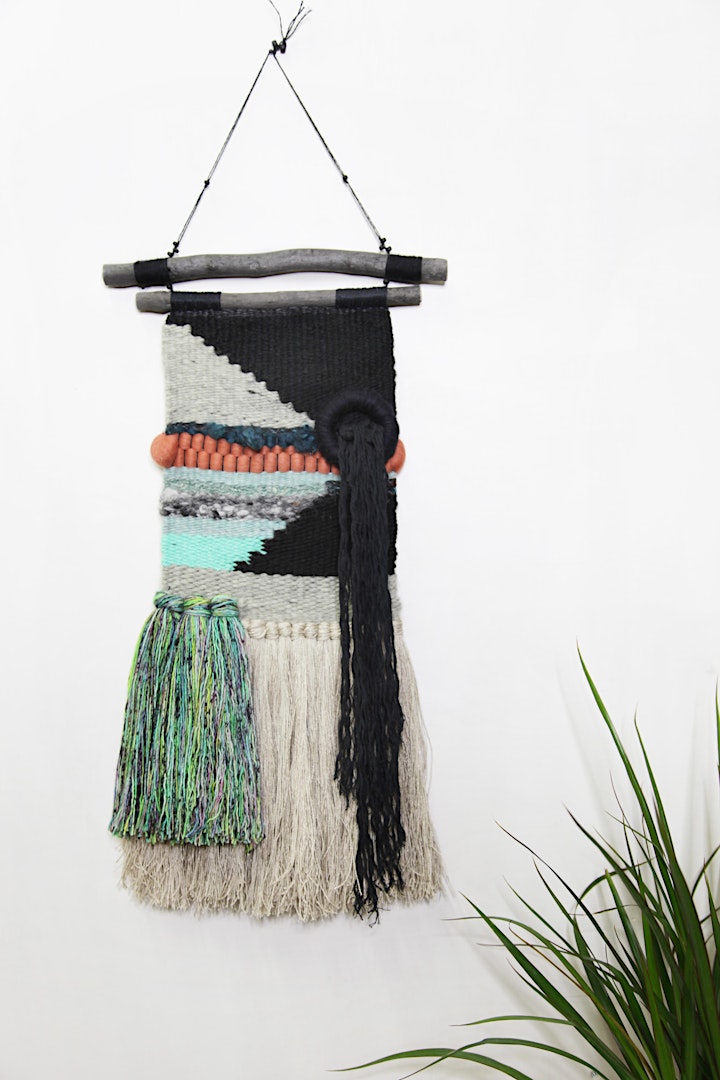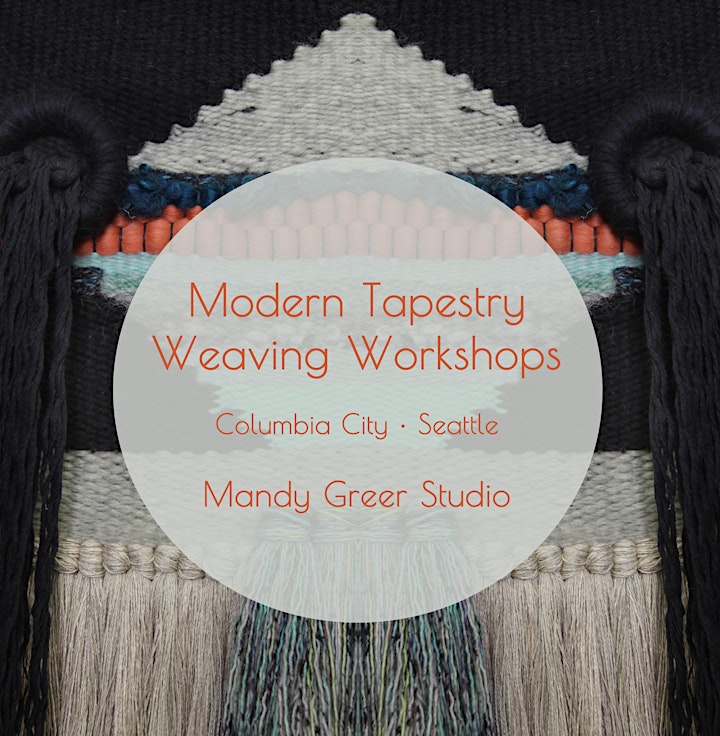 FAQs : Please Read!
CLASS MINIMUM: Four people must be registered for the class to run. Please do share with friends! I tend to cancel classes 7 days ahead if the minimums have not been met, so don't wait until the last minute to register.
AGE/ABILITY: Great for beginning weavers! You can do this! It just takes dedication. For adult learners, and children 13 and up who have an interest in weaving and maturity/ability to focus for 5 hours, are welcome to attend with a registered adult. 16 and up can attend alone.
How can I contact the organizer with any questions?
Contact me HERE
REFUND POLICY: Please review before booking.
Due to class minimums, I do not offer refunds, unless you have Covid-related health issues. If you are sick with Covid-related symptoms, please do not attend, and notify my ASAP so I can offer your spot to someone on the waitlist. I can offer you a class credit to any of my available classes, on-line and in-person.
WHEN YOU BOOK:
You will receive an important Informational Email.
It will come from "orders@Eventbrite.com" the day you order, with your Order Confirmation.
PLEASE SCROLL all the way to the end, to find the Informational Email, to know what you need to bring, and how to find the studio.
WHEN TO ARRIVE:
Please plan to arrive no later than 10:45am ; in order to find parking, get settled, go to the bathroom, wash hands, and be led to the Garden Studio.
Due to the nature of the studio set up, I must lock the doors at 10:55 am, since we will be heading away to the Garden Studio, and it is unsafe to leave it unattended.
Sadly, we cannot accommodate people who arrive late.
Demos start promptly at the start of class time.Due to the structure of class, demos cannot be re-done for late-comers without cutting things out of class for everyone.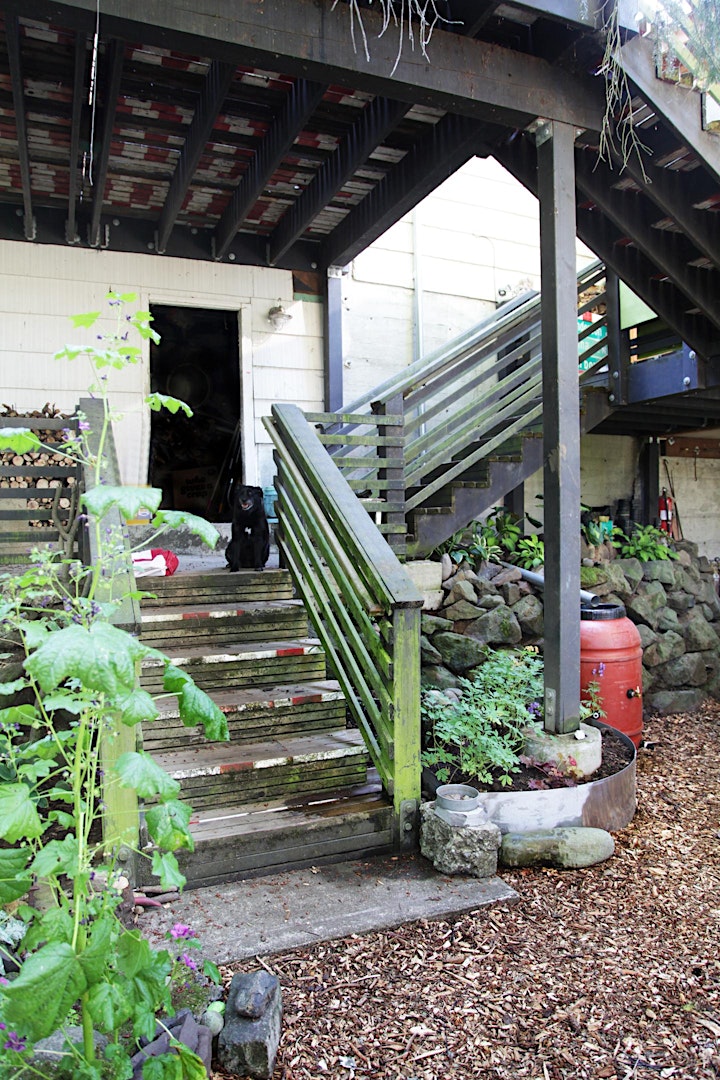 ACCESSIBILITY: The Garden Studio Space is only accessed down a flight of stairs.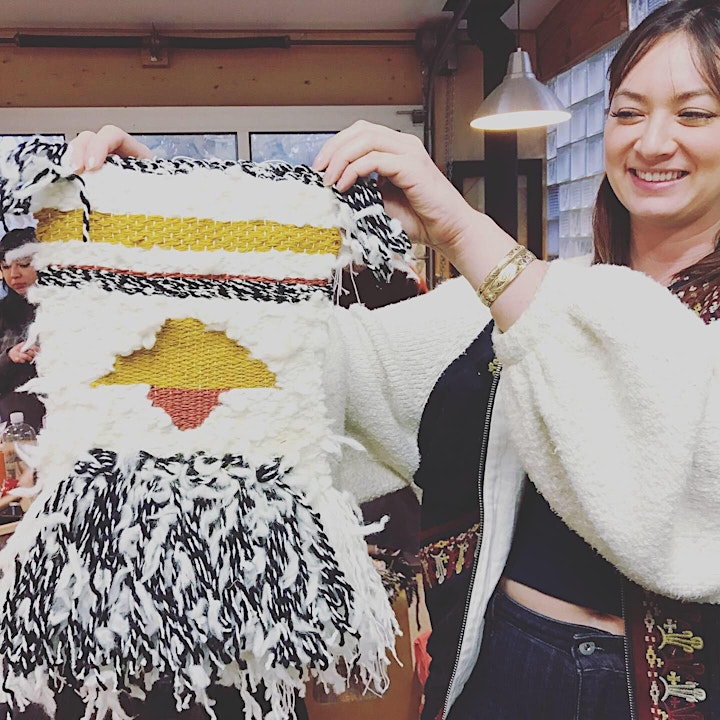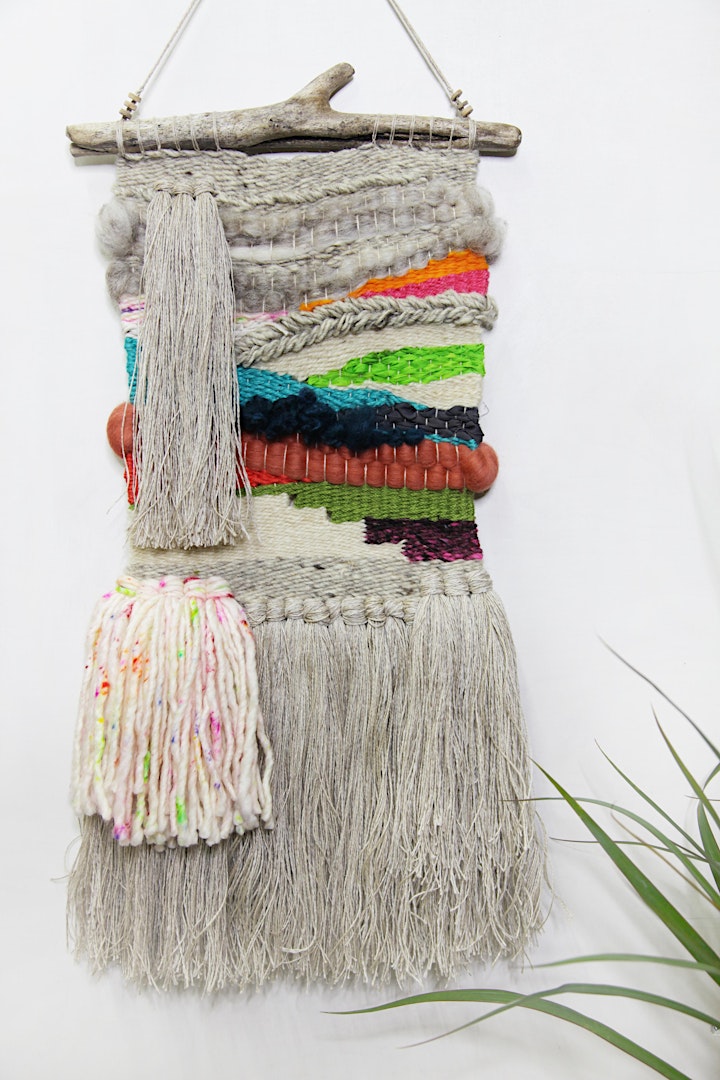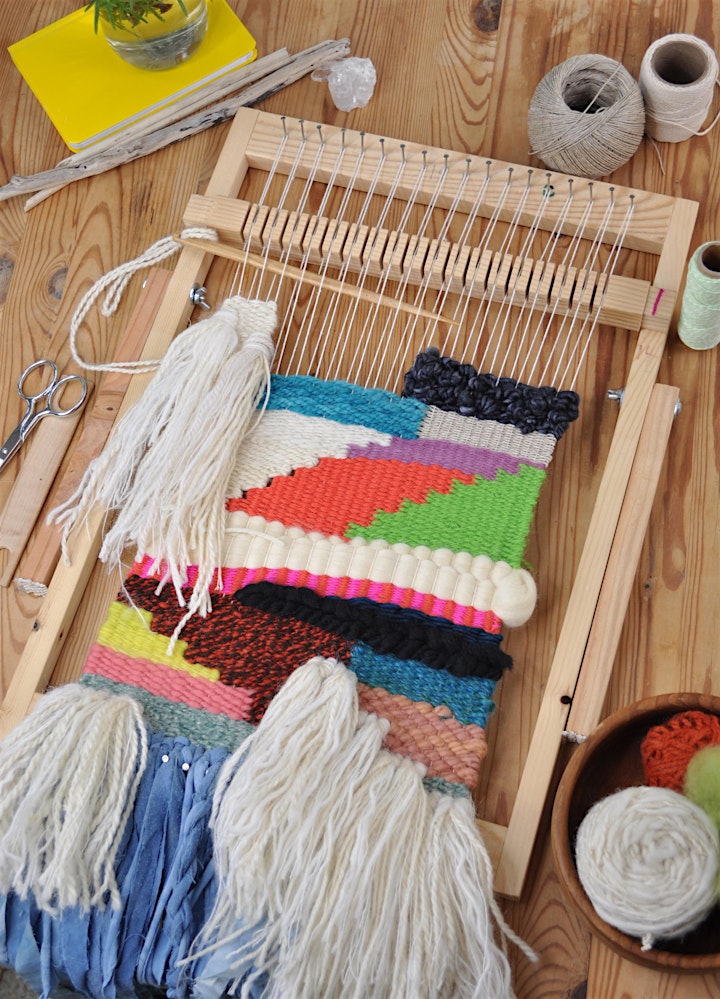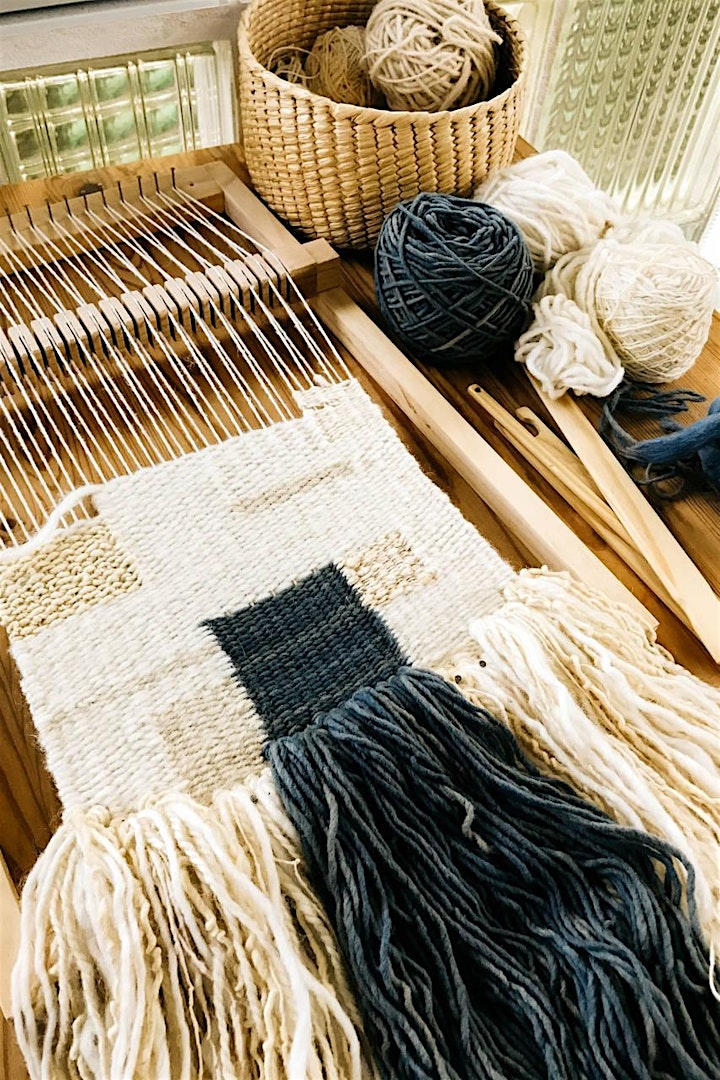 As a Weaver, I have always understood that weaving is a living metaphor for the interconnectedness of human lives - we are all threaded together. Mandy Greer Studio is in a historic Black neighborhood, on occupied Duwamish land, and to pay homage to the liberation and contributions of BIPOC communities, I donate 10% of all profits to Real Rent Duwamish and also Africatown Land Trust.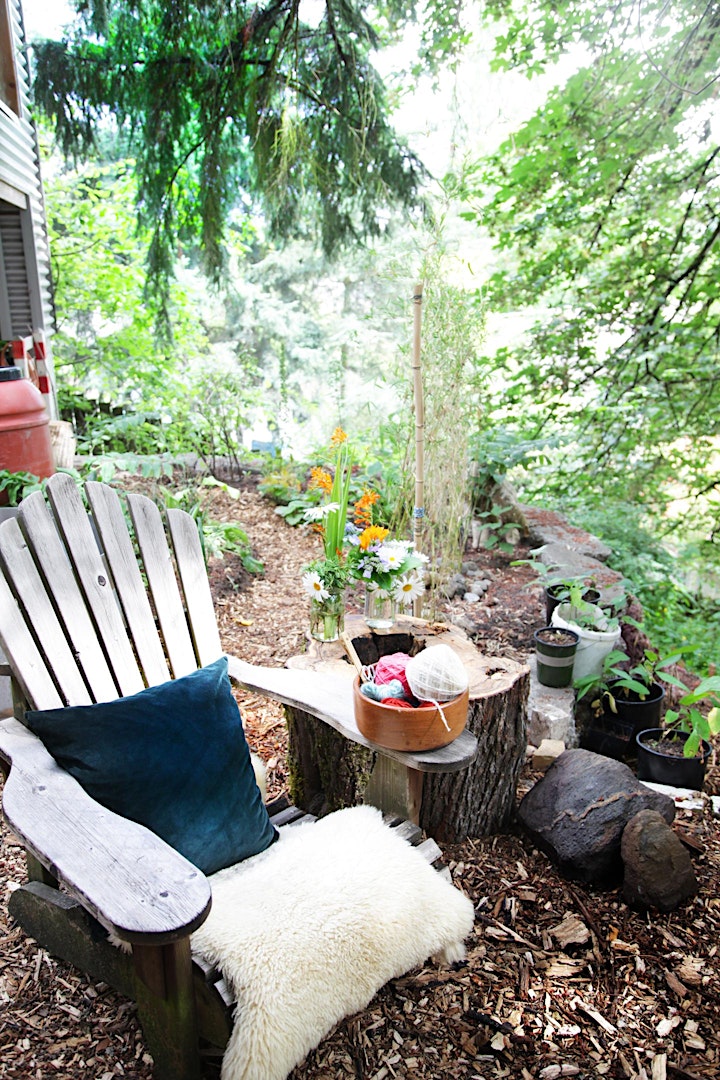 Organizer of Modern Tapestry Weaving Workshops
Mandy Greer is a multi-disciplinary artist who creates heightened narrative space through fiber-based installation, photography, performance, film and community-based action.
Her work has been exhibited nationally and internationally at Centro di Cultura Contemporanea at Palazzo Strozzi, Florence, Italy; Cathedral St. John the Divine in NYC; Museum of Contemporary Craft, Portland, OR; Aqua Art Miami; Bellevue Arts Museum, Seattle Art Museum, Henry Art Gallery, and Frye Art Museum, Seattle, WA. Mandy has received numerous awards including the Arts Innovator Award from Artists Trust/The Dale and Leslie Chihuly Foundation and the prestigious Louis Comfort Tiffany Foundation Award. She has been featured and reviewed in many publications including the New York Times, Hi-Fructose Magazine, Redefine Magazine, Seattle Magazine and Art Ltd.
Mandy Greer has an MFA from the University of Washington, and has taught clay, fiber and art in a broad spectrum of settings. She has taught as an adjunct professor at The University of Washington and The University of South Florida. She has taught school-aged and adult programs at The Frye Art Museum, Bellevue Art Museum, Seattle Art Museum, The Hudson River Museum and through Seattle Public Schools and Mercer Island School district. She has lectured and taught workshops at UW, Evergreen State University, Western Washington University and Emory University, and has designed and taught clay curriculum to teachers in Bellevue Public Schools.