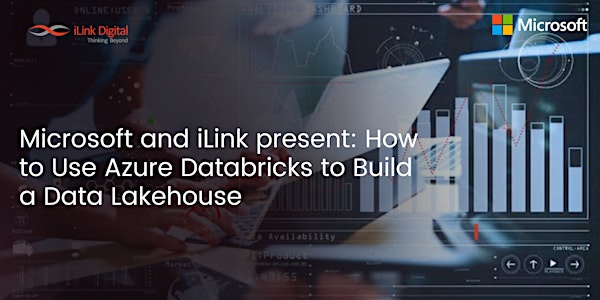 Microsoft Webinar: How to Use Azure Databricks to Build a Data Lakehouse
Microsoft & iLink Digital hosting an exclusive virtual Event on "How to Use Azure Databricks to Build a Data Lakehouse" on Aug 18th.
About this event
Digital transformation & technical innovation leads to high volumes of data with a wide variety. In fact, 2.5 quintillion bytes (or exabytes) of data are created every day.
Such exceptional data processing requires extraordinary tools and technologies to ensure business value. The Data Lakehouse is able to handle all your data, analytics and AI use cases in one simple platform.
Meaning that you can have the Best of Both Worlds. Microsoft and iLink are hosting a free expert-led event to help you understand how to build a Data Lakehouse using Azure Databricks to increase scalability, speed, and availability.
A Databricks Lakehouse efficiently handles all data types and applies one common security and governance approach to provide better data and AI outcomes, reduced ownership cost, and a faster time-to-market.
DATE: Aug 10th, 2022
TIME: 11:00 am - 2:00 pm CST
Cost: Free
Venue: Online
Here's a glimpse of what you'll learn:
● You'll get an overview of Data Architecture Evolution and Lakehouse Architecture.
● Learn more about Azure Data Lake Storage, Apache Spark - PySpark & Spark-SQL, and Azure Databricks.
● Get Hands-On Lab experience on
Creation of Lakehouse using Databricks
Analyze & Share Data Insights using Databricks SQL Analytics
Creation of Dashboards in Databricks