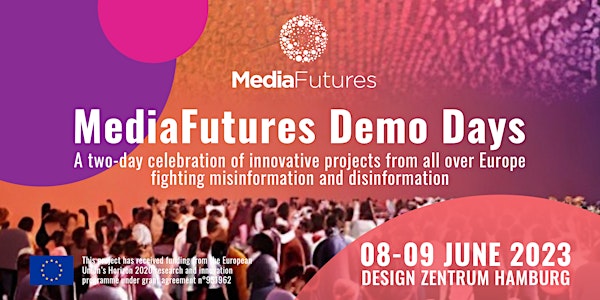 MediaFutures Demo Days
Join us on June 8 & 9, 2023, in Hamburg for an exciting summit on media & data. Discover innovative artworks & tools around misinformation.
Von NMA Venture Capital GmbH
Datum und Uhrzeit
Do., 8. Juni 2023 10:00 - Fr., 9. Juni 2023 22:00 CEST
Veranstaltungsort
Design Zentrum Hamburg Hongkongstraße 8 20457 Hamburg Germany
Agenda
10:30 AM - 8:30 PM
MediaFutures Demo Day 1 | June 8th
10:30 AM - 11:00 AM
Easy Morning & Breakfast Pastries
11:00 AM - 11:30 AM
Welcome & Introduction of the Day
11:30 AM - 12:30 PM
Pitch Session | Startup Meet Artists Track
---
The 4 teams supported this year in the Startup meets Artist track combining the ingenuity of entrepreneurs and the creativity of artists will pitch their projects. Presenting teams: Hammer & Egg, Dar...

12:30 PM - 12:45 PM
Pitch Session | Cookouts
12:45 PM - 1:30 PM
Networking Lunch
2:00 PM - 2:30 PM
Edit Wars | Slava Romanov : Disinformation at the Heart of the War
---
Bremen-based data artist Slava Romanov leverages generative graphics and interactive installations to inspire social transformation. Currently, he's part of the 'Edit Wars' team, utilizing the synerg...

2:30 PM - 3:00 PM
Factiverse | Maria Amelie: How to Establish Credibility in an Uncertain World
---
Maria Amelie, is CEO and Co-founder of Factiverse, an AI and NLP startup based on 12 years of research from University of Stavanger. She is an award winning journalist, author of 5 non-fiction books ...

3:00 PM - 3:30 PM
Mind Bugs: New Strategies Through the Collaboration of Artists and Startups
---
Radu-George Caravateanu is an artist from Transylvania, with studies in traditional painting. He also has a degree in philosophy-anthropology, a master's degree in archaeology. Professional activity ...

4:00 PM - 4:45 PM
Presentation of MediaFutures Data Innovation Toolkit
---
Over 3 years, MediaFutures developed this resource for innovators, artists and everyone working in-between business and arts. Johanna Walker (King's College London) will present how to use this toolk...

4:45 PM - 5:30 PM
Keynote: TBA
6:00 PM - 7:00 PM
Pitch Session | Startups for Citizens Track
---
This track aims at supporting startups developing innovative ideas, products and services which encourage broader and more meaningful engagement with information. The 4 supported teams will pitch the...

7:00 PM - 8:30 PM
Networking Drinks
9:30 AM - 10:00 PM
MediaFutures Demo Day 2 | June 9th
9:30 AM - 10:00 AM
Easy Morning & Breakfast Pastries
10:00 AM - 11:15 AM
Panel Discussion | Further Opportunities for Artists and Startups
---
Panelists: Soenke Zehle (EIT Culture and Creativity), Gefion Thuermer (IMPETUS project), Paula Lauterbach (Kreativ Gesellschaft), Marta Portales (Digital Future Society); Moderator: Simona Derosa (DE...

11:15 AM - 11:30 AM
Break
11:30 AM - 12:45 PM
Pitch Session | Artists for Media Track
---
The 5 supported artists will pitch their projects, proposing new ideas and experiences that critically and materially explore data and technology to question its impact on individuals and society. Pr...

12:45 PM - 2:00 PM
Networking Lunch
2:00 PM - 3:00 PM
Performance: Mining Hate
---
Built with content generated by the audience, this performance will create awareness on the practices used by anonymous hackers to target journalists and minorities in India to spread misinformation.
3:00 PM - 4:00 PM
Drew Hemment: A journey between art and technology
---
Drew Hemment is a Professor of Data Arts and Society at the University of Edinburgh. He directs Festival Futures and leads The New Real and Experiential AI projects. A Turing Fellow and Fellow of the...

4:00 PM - 4:45 PM
Hannah Redler Hawes: Interrogating Data Through Art
---
Hannah is a contemporary art curator, producer, writer, and researcher specializing in new technologies. She brings together artists, researchers, and experts to create transdisciplinary projects tha...

5:00 PM - 6:00 PM
Conclusion MediaFutures
---
MediaFutures consortium will close the days by summarizing the learning from the event and sharing the lessons learned and best practices on how to support artists and startups reshape the media valu...

6:00 PM - 7:00 PM
Award Ceremony of the Winning Teams
7:00 PM - 10:00 PM
Aftershow Party
Zu diesem Event
1 Tag 12 Stunden

Mobile E-Tickets
The Final Event of the MediaFutures Project takes place on the 8 and 9 of June 2023 in the Design Zentrum Hamburg.
This summit on media, data and misinformation will be an occasion to showcase the results of the MediaFutures programme: artworks, tools and services created by the supported artists and startups but also learnings, toolkit on misinformation and policy briefs.
It will include panels and keynotes with experts, presentations of local and European initiatives for artists and startups as well as social moments for professionals and the general audience.
A specific focus will be made on the projects of the 3rd cohort, supported in 2023 providing them with networking opportunities, as well as supporting them with the sustainability and visibility of their projects.
At the end of this event, demonstrating the impact of the MediaFutures programme to reshape the media value chain, attendees will be invited to celebrate the end of this 3-year programme around cocktails and music fostering synergies among teams, cultural and business partners and the general audience.
If you cannot participate on site in Hamburg, you can also follow the event via livestream. Simply select the Online Livestream Ticket.
Über den Veranstalter
next media accelerator is an independent accelerator funded by over 30 media outlets in Germany and Austria. NMA invests in early stage media tech startups from Europe, Israel and USA providing innovative solutions to disrupt the media.