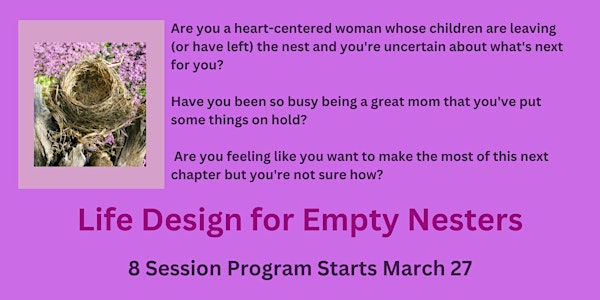 Life Design for Empty Nesters
Create an inspiring vision for your "empty nest" future and get into action so you can step powerfully and confidently into the next chapter
By Inspired Life by Design
Date and time
March 27 · 3pm - June 26 · 5pm PDT
Refund Policy
Contact the organizer to request a refund.
Eventbrite's fee is nonrefundable.
About this event
One thing we've noticed as we've explored the "empty nest mom" experience is that there aren't a whole lot of resources out there to support women going through this time of life. Interestingly, there's a lot more attention paid to menopause (which, of course, also has an impact but offers much less in the opportunity department!)
Even though approaching the empty nest is a major transition in a mom's life with so many emotional and life-changing effects, there is little acknowledgment of the profound impact it may have…and even less attention paid to the importance of the next chapter.
You may be done raising your children (in theory;) but you are far from done!
We consider this an underrated and underappreciated opportunity for women to step powerfully into a deeply purposeful and fulfilling phase of life, striking a balance between making a meaningful contribution and having fun! The question is, what do you want it to look like—and how can you get there?
At Inspired Life by Design are offering a Life Design program starting in March that will support you in creating a clear and inspiring vision for your "empty nest" future and get you into action so you can transition into your next chapter with less uncertainty and more confidence and ease.
Imagine your empty nest future...
You have strong relationships with your children and the other significant people in your life.
Your days are filled with thoughtfully chosen and meaningful activities.
You are finally doing the work you love or enjoy volunteering, making a difference that makes your heart sing!
You are fulfilling a dream you have put on hold or exploring new hobbies.
You're travelling to all those places you've always wanted to go to and relaxing and having fun with loved ones.
You have a deep sense of fulfillment and joy.  You are clear on who you are and you are living the life you've chosen and created for yourself. 
All of this can be true for you, especially when you thoughtfully craft a clear vision for your empty nest future and start taking inspired action to make it your life.
Isn't that something worth investing in?
Navigating transitions can be difficult and frustrating. Life Design is a proven step-by-step process that helps you gain clarity about what you want, provides you with the accountability you need to take action and elevates your mindset so you can move forward with confidence and excitement about what lies ahead. Life Design will accelerate the transition process for you so you can figure out where you want to be and get there faster!
And, you get to do this within a supportive community of like-minded people.
Join Certified Life Design Coaches Amanda Coburn and Dina Crawford to create the life of meaning, fulfillment and joy that you desire.
If you'd like to learn more or are not sure if Life Design is for you, we invite you to have a free conversation with one of our coaches to explore the possibilities. Email dina.inspiredlife@gmail.com to schedule a time!
Life Design for Empty Nesters will be offered via Zoom on the following dates and times:
6-8 pm.
March 27
April 10
April 24
May 8
May 22
June 5
June 19
June 26
Your Coaches:
Amanda Coburn, MSW, LICSW, CLDC
In her 20 plus years as a medical social worker, Amanda has been privileged to share in the journeys of persons living with dementia, mental illness and substance abuse disorders as well as the families who support and love them. She holds the belief that there is hope and possibility in all life circumstances creating opportunities for each person to discover happiness, wholeness and the quality of life that resonates with them.
As a certified Life Design Coach, Amanda lives her mission to inspire others to manifest their highest expression. Rooted in New England, family, friends and nature are of great importance. As a talented and ardent quilter, Amanda looks at life like a quilt — with lots of little unique pieces of various colors, textures and infinite combinations that when put together make a work of art that can be breathtaking.
Dina Crawford, MHA, CLDC
Dina has over 30 years of experience in health care including 15 years in management positions at hospitals. She has been active in the field of health and healing both as a business owner and speaker for over 20 years. A passionate advocate for holistic well-being, Dina has presented workshops and seminars throughout New England on topics such as Stress Management, Complementary and Alternative Medicine, Spirituality and Health and The Power of Personal Peace.
In addition to her work at Inspired Life by Design, Dina teaches communication and physical exam skills to students at medical schools in Boston and is the founding president of a cancer support non-profit, North of Boston Cancer Resource. Dina's passions extend to sunrise photography, participating in community theater productions, playing ice hockey and spending time with her grandsons, Tommy, Julian and Ben. She resides in Salisbury, Massachusetts.