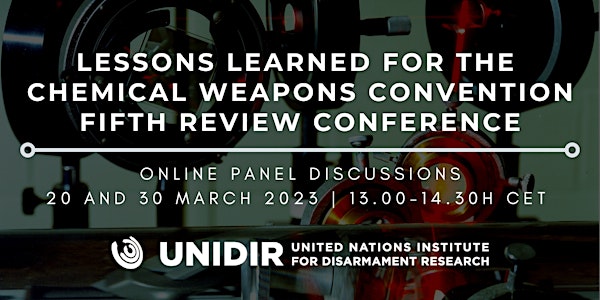 Multiple dates
Lessons Learned for the CWC Fifth Review Conference
These events will feature experts discussing prospects and preparations for the Fifth CWC Review Conference.
Date and time
March 20 · 5am - March 30 · 5:30am PDT
About this event
WHAT: The United Nations Institute for Disarmament Research (UNIDIR) is pleased to invite you to two online panel discussions on Lessons Learned for the Chemical Weapons Convention (CWC) Fifth Review Conference. They are part of a series of events the Institute is holding in preparation for the Fifth CWC Review Conference. The events will contribute to enhancing understandings of CWC Review Conferences and identifying lessons to be learned from past experiences. Speakers for each event include former office holders at the OPCW and CWC Review Conferences, national representatives, and experts. The panels will be moderated by James Revill and will include a question-and-answer session with the audience.
Monday 20 March:
Amb. Ahmet Üzümcü, former Director General, OPCW
Dr. Richard Guthrie, Editor, CBW Events
Ms. María Garzón Maceda, Associate Researcher, UNIDIR
Thursday 30 March:
Amb. María Teresa Infante Caffi, former Permanent Representative of Chile to the OPCW
Dr. Ralf Trapp, independent expert consultant
Dr. Paula Vanninen, Director of the Finnish Institute for Verification of the CWC (VERIFIN)
WHEN & WHERE: Monday 20 and Thursday 30 March | 1300-1430 CET | Online
PARTICIPANTS: UNIDIR encourages the participation of representatives and experts specialized or interested in issues pertaining to the Chemical Weapons Convention.
RSVP: Please register through Eventbrite to receive the links to the events. For any questions, please contact sarah.erickson@un.org .