Evie Lupine , Sage & ShaktiBlissBunny, Kim Lee, Madame Posh, Ms. Reemah & Lavender and WorldsOkayestRopeBunny & Magnolia Monroe!
About this Event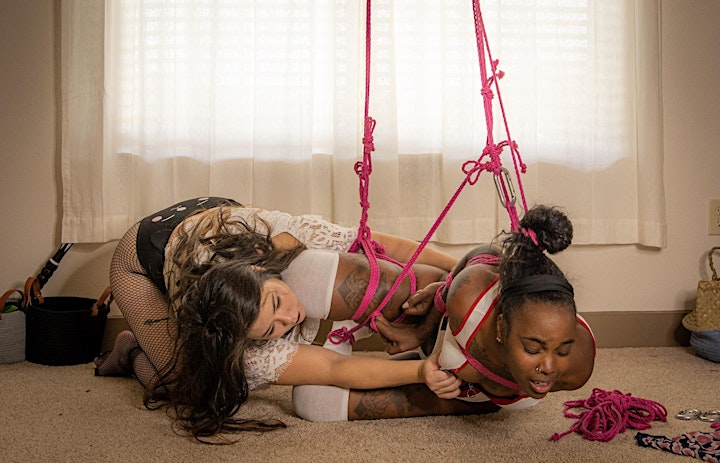 KEW 2020 VIRTUAL WORKSHOP!
KEW 2020 VIRTUAL WORKSHOP! This will be a weekend long Zoom Kink Educational Workshop featuring a powerhouse line up of National Queer & Femme adjacent Rope & Kink Educators: Austin based presenters Sage and ShaktiBlissBunny, Femme Domme and Self-Suspender Kim Lee, WorldsOkayestRopeBunny and Magnolia Monroe, Atlanta based Educator Ms. Reemah & Lavender, Seattle-based YouTuber Educator, Evie Lupine and Dallas based FemDom, Madame Posh!
Classes to be offered:
Low Hanging Fruit w/ YumYumPanda & ShaktiBlissBunny
Impact for Non-Masochist w/ Evie Lupine
Tables Can't Talk w/ Madame Posh
Domming From the Bottom w/ Kim Lee
Ochies from Both Sides w/ WorldsOkayestRopeBunny & Magnolia Monroe
AND SO MUCH MORE! OVER 18 CLASS OPTIONS!
WEEK EVENT OFFERINGS:
Over 18 Educational Classes & Discussions over the course of 2-days.
Raffle for rope kits bundles!
Giveaways for one-on-one privates with our Educators!
Fetish & Rope Performances at the end of each day!
If you previously purchased your tickets, we have an EXCLUSIVE VIP lineup of classes and educator for you!
If you hadn't previously purchased tickets you can purchase VIP access to this class & discussion lineup for an additional $40 per person.
FOR MORE EVENT DETAILS CLICK HERE!
HOSTED BY THE FACTORY DFW! CLICK HERE FOR MORE INFO!
INTERESTED IN VENDINGS OR SPONSORING YOUR KINK FRIENDLY BUSINESS AT THE EVENT? EMAIL FACTORYDFW@GMAIL.COM.
This event is brought to you by The Factory DFW and BANK !
B.A.N.K. is a Dallas based rope bondage circle centered on continuous education. We hope to create an open and inviting space; where anyone from rope newbie to rope veteran can learn shibari technique, theory and philosophy.
Event Sponsor - BANK DFW Educational Group
TWITTER: https://twitter.com/bankdfw
INSTAGRAM: https://www.instagram.com/bankdfw/
FACEBOOK: https://www.facebook.com/BANKDFW/
This weekend is hosted by The Factory, DFW Kinky Event Production Non-Profit.
Event Producer - The Factory Social Media
Website: www.thefactorydfw.com
Instagram: https://www.instagram.com/thefactorydfw/
Facebook: https://www.facebook.com/thefactorydfw
Twitter: https://twitter.com/thefactorydfw/
FetLife Profile: https://fetlife.com/users/10877972