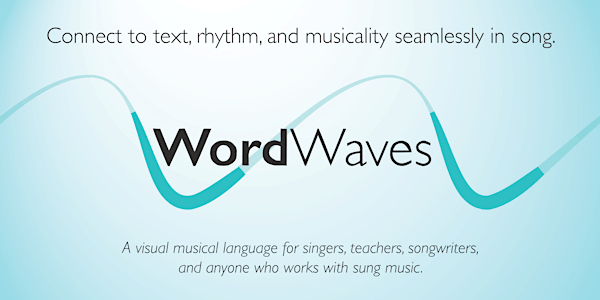 Intro to WordWaves
A workshop for singers, teachers, songwriters, and anyone who works with sung music.
Refund Policy
Contact the organizer to request a refund.
Eventbrite's fee is nonrefundable.
About this event
WordWaves is a visual musical language that enables you to connect text, rhythm, and musicality seamlessly in song. In this workshop, you'll learn how to break free of the confines of sheet music and see music in a whole new way.
With WordWaves, you can:
Learn music faster
Demystify musical rhythm and make it more accessible and fun
Connect complex music to storytelling and emotion so you can lead with story while you sing
Turn vague notes like "Say the words" and "Feel the groove" into actionable directions
Sing in rhythm without sounding mechanical or robotic
Make a song your own without having to imitate someone else's performance
If you are...
A singer who doesn't read music or struggles with traditional music theory
A musical theatre or opera performer who wants acting in song to feel intuitive and alive without sacrificing musical integrity
A vocalist looking to deepen your connection to text and groove
A music director or vocal coach looking for new ways to approach music with your students, clients, and performers
A composer, lyricist, librettist, or songwriter looking to improve your vocal writing
A director, choreographer, or other music theatre creative who wants to communicate clearly about music with your collaborators
An instrumentalist looking for a new way to think about rhythm and music
...then WordWaves is for you!
How It Works
Traditional music notation is very good at showing when pitches happen, but it has no way of conveying the elements of music that actually make a song feel right.
WordWaves uses simple, dynamic visuals to illuminate the interplay between the rhythm of language and the rhythm of music. It allows you to stretch beyond the limits of sheet music and gives you tangible, actionable tools for engaging with feel, groove, and all the other "hidden" parts of music.

For more information, visit www.singwordwaves.com.
Details
DATE AND TIME: Monday, July 26, from 7:30-9:30pm EDT
LOCATION: Virtual. All participants will receive a Zoom link in advance of the workshop.
COST: $59. There are pay-what-you-can tickets reserved for interested participants with financial need.
Testimonials
"WordWaves is an absolute must take for anyone who wants to upgrade their understanding of music and lyric and their harmonious relationship. I have never come across a class like Andrea's. ... I would honestly take the class all over again!"
Hannah Shankman, Actor (Broadway: Wicked, Les Miserables, Side Show, Hair)
"Andrea's open-minded and intuitive approach to rhythm prioritizes the singer's perspective in a way that feels fresh and validating. I've attended multiple WordWaves workshops, and every time I'm excited by the many layers and impressive adaptability of this framework. If you want to empower yourself and others to embody any level of music with increased confidence and ease, I highly recommend checking out WordWaves."
Amanda Ku, Accompanist and Music Director
"When I receive a piece of new music, I struggle with making it dynamic without a reference point. WordWaves provides a technique for learning new music and making it sing dynamically, without ever having to hear anyone else's vocals on the song. ...It ultimately will allow me to feel freer in my choices so I can really focus on the storytelling, which is super exciting!"
Sara Kapner, Actor (The Band's Visit, Rags, bare)
"Andrea has broken down the complex interplay of text and rhythm into a simple and systematic method that is specific and accessible. WordWaves has inspired me to look at music I've known for decades with a fresh pair of eyes and ears. It has also given me more coherent language to describe concepts I've previously only been able to talk about in abstract or intangible ways. Andrea's passion for WordWaves is captivating and infectious! I've already incorporated many of WordWaves's lessons into my own study and coaching. Thanks Andrea!"
Adrian Ries, Music Director and Pianist
"Andrea kicks ass. She has somehow found a way to verbalize the connection between music theory and acting, a tool which is invaluable to anyone in the performing arts. This workshop pushed me in ways I haven't felt since college and I couldn't be more excited to apply WordWaves to my craft as an actor! If you handle sheet music in your career, I highly urge you to take this class and prepare to learn a new way of navigating the complexities of music and rhythm with ease. Do yourself a favor and give this a shot."
Michael Dewar, Actor
About the Instructor
Andrea Grody was the Music Director & Vocal Arranger for the Broadway musicals THE BAND'S VISIT (Best Musical Tony Award, 2018) and TOOTSIE (Best Musical Tony nomination, 2019). Her music directing credits include world premieres and regional premieres at venues like the Public Theater; Signature Theatre in Arlington, VA; Dallas Theater Center; Yale Repertory Theater; and the Williamstown Theater Festival. Her writing credits include the full-length musical STRANGE FACES and several songs for The Civilians' Let Me Ascertain You series. Andrea is also Resident Music Director and Senior Voice Teacher at New York Vocal Coaching. B.A. Princeton University, M.A. Royal Conservatoire of Scotland.