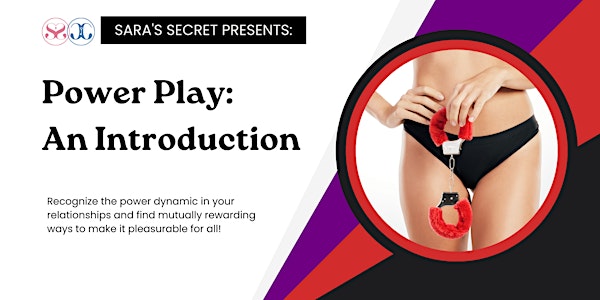 Intro to Power Play
Do you like to challenge the status quo in the pursuit of happiness, pleasure and fulfilling relationships? This one is for you!
By Sara's Secret/Condom's To Go
Date and time
Friday, March 31 · 7 - 9pm CDT
Location
Sara's Secret 5946 Lyndon B Johnson Freeway Dallas, TX 75240
Refund Policy
Contact the organizer to request a refund.
Eventbrite's fee is nonrefundable.
About this event
This workshop is for you if you like to think outside the box, understand and challenge the status quo in the pursuit of happiness, pleasure and fulfilling relationships.
Specifically, in this class we'll examine POWER.
Power exists in every relationship whether acknowledged or not.
Examples in everyday life include: a woman uses her "feminine wiles", a man who "romances" a woman to get laid, or a woman who agrees to sex with her husband if he goes to the ballet with her.
But, given that power exists whether we like it or not, why have we been taught to think negatively about it? Why don't we use it for good instead of ignoring it?
After all, power roles aren't fixed, they're equal opportunity! Power dynamics can shift depending on the issue: sex, spending, where to live, whether to go to church, how to raise kids, which couch to buy.
When power dynamics are ignored or overlooked they can cause struggles, even mutiny even as each tries to carve out the role they see for themself or tries to force the other into a role.
In this workshop you'll learn how to recognize the power dynamic in your relationships and then find mutually rewarding ways to make it pleasurable for all.
Meet Beth, Your Sexy Genius!
Beth Darling (aka: Beth Liebling) is a former divorce lawyer who flipped and is now an internationally recognized Love Life & Work Coach, Author, Radio Host and Speaker.
She offers private coaching for individuals & couples, as well as private and public workshops.
Beth authored the award winning/Amazon Best Selling book, Love and Laughter: Sexy (meaningful) Fun for Everyone and her latest book, The 5 Kinds of Intimacy: How to Keep Your Love Alive is now also available on Amazon.
A former ESPN Houston radio host, Beth Darling currently hosts Come With Us Podcast. Learn more and check out her video on demand classes at BethDarling.com. For speaking engagements or 1:1 coaching opportunities, email her directly: Beth@Darlingway.com