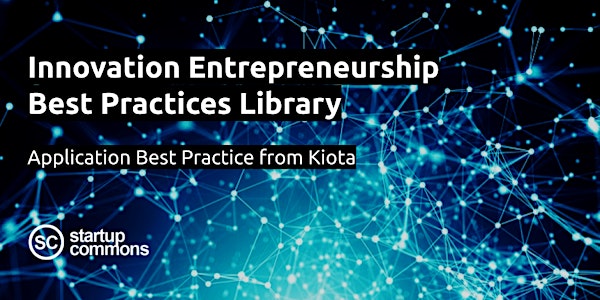 Innovation Entrepreneurship Best Practices with Kiota
A digital service for investors to assist them in their efforts to analyse startup teams
About this event
Startup Commons is developing innovation entrepreneurship ecosystem best practices webinar series, where we share in more details different types of ecosystem best practices and related applications with target to build the world's first, open standards based best practices library to support innovation entrepreneurship ecosystem builders and operators globally.
Early Stage Startup analysis is complex and 70%+ of investments fail. Emphasis has always been put on TEAM is key, but to date no one addressed the big question of how do you measure team, compatibility, performance, experience, passion and vision. In this session, Raul Estrada, CEO of Kiota, and Ali Parandeh, COO of Kiota, will present the Kiota SaaS product that allows investors of all type to analyse key metrics such as team, passion, vision and provides an in depth report with survival expectation, growth potential, valuation score and much more to investors. Entrepreneurs can also self analyse their investment readiness by going through the process.
The target group is especially Business Angels, Incubators, VCs as well as Entrepreneurs (free gift for entrepreneurs at the end).
In the end of the session, there will be Q&A and experiences sharing from other ecosystem actors. Don't miss it out and book your place!