Ideagen Acceleration Summit Series - "Connecting the Globe by 2030"
About this event
See a break down of Speakers, Topics, Organizaitons, and more: Click HERE
Ideagen has selected city & country "chairs" to represent Ideagen and our mission in communities around the globe. From cities across the US like Seattle, Houston, Miami, New York, Los Angels... to counties of Greece, China, India, and more! At this summit, we will highlight Ideagen cities/counties and how their communities are leading the way to achieve the UN Global Goals by 2030!
The Ideagen Acceleration Summit Series will include the Chairs and Co-Chairs of Ideagen Cities and Countries including Bio-Pics, PowerTalks, PowerChats and PowerPanels led by these leaders and luminaries from the world's leading companies, NGOs and public sector to help continue to "accelerate" achieving the Global Goals by 2030.
The Ideagen Acceleration Summit Series mission is to highlight Ideagen cities and countries from around the globe with a spotlight on the individuals and organizations leading to develop awareness and the roadmap to achieving the UN Global Goals by 2030 with a focus on relentless empathy, inclusion, resiliency, leadership, partnerships and technology.
Cities Represented:
Seattle, WA
Houston, TX
Washington, DC
Baltimore, MD
Los Angeles, CA
Chicago, IL
Miami, FL
NYC, NY
AND MANY MORE!
Countries Represented:
China
Qatar
India
Greece
AND MORE!
Confirmed Speakers:
Dina Grimstead: Sr. Manager, AI Programs & Strategic Partnerships at Microsoft
Kate Mayerschoff: Director, Strategy & Operations AI & Sustainability Market Development at Microsoft
Kim Smith: Global Vice President of IBM
Gavriella Schuster: Corporate VP, OCP of Microsoft
Rudy Fernandez: Senior VP for Public Affairs & Communications, and Chief of Staff to the President at the University of Miami
David Wicks: Vice President at NASDAQ
Jean Accius: Senior Vice President, Global Thought Leadership at AARP
Peggy Pelonis: President of ACS Athens
Colleen O'Brian: CMO of M12 - Microsoft's Venture Capital Fund
Jeffery Levett: Professor and Board Member, ECPD, Belgrade
Chaitra Vedullapalli: President & Co-Founder of Women in Cloud
Tameka Little: Americas Program Manager, Supplier Diversity of IBM
Wendy Garcia: Chief Diversity Officer of New York City Office of the Comptroller
Nedra Dickson: Managing Director of Accenture
Tania Gayathri Daniel: Senior Director of Entrepreneurship Initiatives of Junior Achievement of Southeast Texas
Rob Lewis: Ball High School, CTE Department Chair, Incubator Director Chair, Incubator Director & Legacy Print and Apparel CEO
Dr. Christine Galib: Chair of Ideagen Houston, Senior Director of Programs at Ion
Kathy Cheng: Associate Director of Admission at Phillips Exeter Academy
Michael Chen: China Country Director Summer Discovery
Yan Chen: International Admissions Coordinator; Toronto International Academy
Jane Oates: President of WorkingNation
Dr. Lewis Johnson: President and CEO of Alelo Inc.
Christina Brooks: Senior Director of Next Programs and Special Projects at the Hampton Roads Workforce Council
Andy Dwonch
Angela Jackson: Managing Partner, New Profit
Ernest Coney: CEO of Corporation to Develop Communities of Tampa, Inc. (CDC of Tampa)
Sean Plater: General Manager - WHUR-FM & WHUT-TV
Celeste Crenshaw: Senior Producer – WHUT-TV
Sharan Hildebrand: Vice President of Strategic Alliances, North America, Hitachi Solutions
Fares Ghanimah: CIO, William Blair and Founder of the WIT Mission
Keath Jacoby: CEO Vision Galveston
David Haines: BakerRipley Chief Strategy + Innovation Officer
Professor Thakur Powdyel: former Minister of Education, Bhutan
Sophia Stone: Founder of Indie Tech
Jeanne Contardo: Vice President and Managing Director, Capital CoLAB
Kurtis Palermo
Amar Mukanda
Annabelle Ship: Founder, Bootstrap Business School
Lydia Kuyawa: Waste Division Business Manager Waste Management
Gabriela Zahoranska: Expansion Lead - West Coast, City Lead – Houston
Sebastien Bellin: CGO at Createment
Mary Ellen Sprenkel
Lashauntya Moore
Sofia Kouvelaki: CEO The HOME Project
Bronwyn Beightol: Chief Impact Officer/Sarasota, Manatee, DeSoto at United Way Suncoast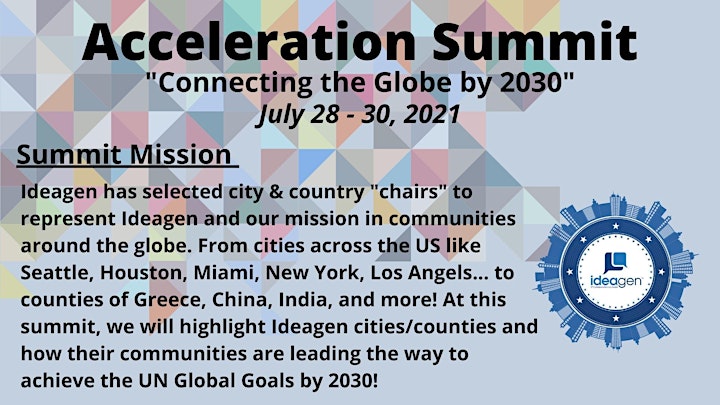 Organizer of Ideagen's Acceleration Summit Series - Connecting the Globe by 2030