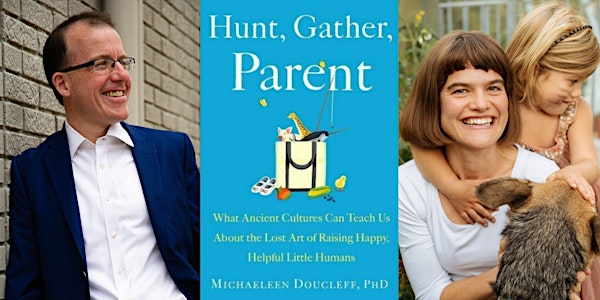 Hunt, Gather, Parent: A Conversation with Michaeleen Doucleff & Ned Johnson
Bestselling authors Michaeleen Doucleff and Ned Johnson discuss how Western parents can raise happy, helpful, and well-adjusted children.
About this event
The oldest cultures in the world have mastered the art of raising happy, well-adjusted children. What can we learn from them?
Filled with practical takeaways, Michaeleen Doucleff's new book, Hunt, Gather, Parent: What Ancient Cultures Can Teach Us About the Lost Art of Raising Happy, Helpful Humans, describes a way of raising confident, generous children, that families all over the world have turned to for centuries.
Michaeleen Doucleff, PhD, is the author of the New York Times bestseller Hunt, Gather, Parent. She is also a global health correspondent for NPR's Science Desk, where she writes about disease outbreaks and children's health.
Ned Johnson is the founder of PrepMatters and a speaker, writer, and teen coach on study skills, parent-teen dynamics, and anxiety management. Johnson and Dr. Bill Stixrud are the bestselling authors of The Self-Driven Child and What Do You Say?
Parents/caregivers, students, educators, mental health professionals, and community members welcome! Free admission. Simultaneous Spanish interpretation will be available.
This presentation is sponsored by Sequoia Union High School District, Sequoia Healthcare District, Peninsula Health Care District, and The Parent Venture.
Questions? Contact Charlene Margot, MA, Co-Founder and CEO, The Parent Venture, at cmargot@parentventure.org. The Parent Education Series is a program of The Parent Venture, a 501(c)(3) nonprofit organization.