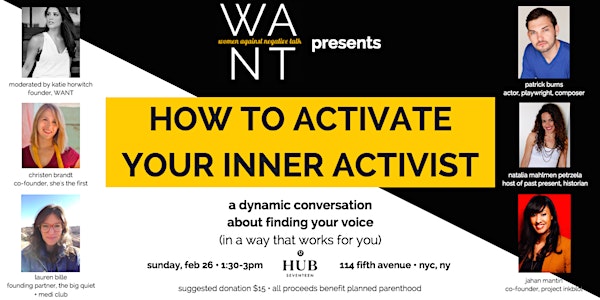 How To Activate Your Inner Activist: A Conversation About Finding Your Voic...
Event Information
Location
Hub Seventeen
114 5th Avenue
New York, NY 10011
Description
If your form of activism lives on the mat, on the stage, or on the page instead of in the streets, is it still activism?

The answer is: a resounding YES.

Activism doesn't always need to be loud to be heard. Join Katie Horwitch, founder of WANT: Women Against Negative Talk for an afternoon of conversation, collaboration, and change-making on Sunday, February 26th from 1:30-3pm at HUB seventeen in NYC.

In this intimate yet powerful panel discussion, Katie and a panel of five powerhouse game-changers will help you find your brand of activism and make a difference in a way that's in alignment with who you are. We firmly believe that no act of activism is too small and that everyone should feel empowered to move forward fearlessly when it comes to defending and advocating for what they believe in.

In this jam-packed afternoon sesh, you'll learn how to:
Rethink "activism" in a constructive way (that can apply to any part of your life)

Identify blocks when it comes to making your voice heard

Bash overwhelm and discouragement when things are rough

Take care of yourself so you don't burn out

Apply your unique skills, talents, and know-how to stand up for what you believe in

Get others on board without being pushy, overbearing, or inauthentic

...and SO much more!

Panelists include:

Lauren Bille, founding partner of Medi Club and The Big Quiet
Christen Brandt, co-founder of She's The First
Patrick Burns, actor, playwright, composer and activist
Jahan Mantin, co-founder of Project Inkblot
Natalia Mehlman Petrzela, author, professor of history, wellness expert, co-host of Past Present podcast

Suggested donation is $15, but no one will be turned away because of funds. All proceeds will be donated to Planned Parenthood.

We'll also have bites and sips and the ready (mimosas, anyone?) to come together and celebrate - well, coming together to make a difference.


Nitty gritty:
**Please arrive no later than 1:40pm, as we want to begin the panel promptly and allow enough time for food, drinks, and socializing with other WANT Women and Men! We're keeping this event short yet meaty so anyone can fit it into their day.
**HUB seventeen is located below Lululemon Flatiron on Fifth Ave between 16th and 17th Streets.

A bit about our panelists and moderator...

Lauren Bille is founding partner at Medi Club and The Big Quiet - a community of thousands of New Yorkers who come together to share meditation, culture and discussion. She speaks and co-lead Medi Club every month, started women's circles and the diversity action team. In response to the election and the threat to human rights and justice everywhere, she recently co-founded Cycles and Sex- a massive reproductive health and sex event on April 30 in NYC. She's also involved in the political activist group, Fem Cohort and The Arena Summit - both dedicated to supporting future candidates for political office.

Christen Brandt is a feminist, an activist, a self-defense instructor, and an avid troublemaker. She is the co-founder and chief programs officer at She's the First, an NGO that provides scholarships for quality girls' education worldwide. She's the First began as a grassroots movement in 2009, and has since grown into a million-dollar organization which has funded 2500 years of education. As an activist, Christen is most passionate about fighting for gender equality. She teaches empowerment self-defense in Brooklyn, NY, as well as to girls around the world. In January 2016, her Facebook post about catcalling went viral, kicking off a worldwide conversation on casual street harassment that reached media outlets from Brazil to Afghanistan. After the 2016 election, Christen launched Next Steps Salons as a way to connect with others interested in becoming more involved in grassroots change and provide resources to anyone looking to do the same within their own networks. Through these efforts, she works to improve the lives of women and girls across the world.

Patrick Burns is a NYC-based actor, playwright, composer and activist. Patrick has performed off-Broadway, regionally and in national tours. His plays have been produced off-Broadway and regionally and his writing has been featured online in The Atlantic, The Chronicle for Social Change, and Stage Agent. Patrick is the creator and star of the one-man-musical, From Foster Care to Fabulous chronicling his experiences as a foster youth which he has used to benefit charities that champion causes related to youth in foster care such as The Children's Aid Society, Beyond Emancipation, Just In Time For Foster Youth and Fostering Imagination. During his time at the Red House Arts Center, Patrick helped develop an extended learning time program using arts-integrated STEM curriculum to provide enrichment learning for 3000 students in the Syracuse School District. He has also directed and musically directed numerous productions partnering professional artists with at-risk youth and mentally-challenged adults in a theatrical setting to build community, self-respect and healthy relationships.

Jahan Mantin is the co-founder of Project Inkblot, a strategy consultancy which supports companies in building sustainable programs and services. She is also the co-creator/executive producer of Fit the Description, a video interview series between Black male civilians and Black male officers. Jahan began her career working in advertising and marketing at Time Out New York and later moved into the editorial world as the Associate Editor for Beyond Race Magazine. Prior to Project Inkblot, Jahan co-founded Culturefphiles; an arts and social impact online publication featuring cutting edge creatives and entrepreneurs. Jahan is an avid traveler, having lived in such locations as Colombia and Scotland. A native New Yorker, self-described "Jewmaican" and proud born and raised Lower East Sider, Jahan currently resides in Brooklyn with her husband.

Natalia Mehlman Petrzela is an author and assistant professor of history at The New School. She is the author of Classroom Wars: Language, Sex, and the Making of Modern Political Culture (2015) and working on a new book about fitness culture in the postwar United States. She is a host of the Past Present podcast, a Premiere Leader of the mind-body practice intenSati, and a frequent media commentator on American culture and politics in venues ranging from the Guardian to Well+Good to Refinery29 to the Atlantic.

Katie Horwitch is the founder of WANT: Women Against Negative Talk, a platform that gives women tips, tools, resources, and inspiration to move forward in their lives by shifting their negative self-talk patterns. WANT was founded out of the realization that there were zero places for women to not only receive inspiration, but actual tools and resources to change their limiting negative talk patterns in a lasting way that works very personally and specifically for them. A writer, artist, and activist, Katie has spoken across the country - from SXSW to body-positive pageants - on the subjects of self confidence and self image. She is also host of the WANTcast: The Women Against Negative Talk Podcast, where she interviews visionary women on the topics of body image, self worth, relationships, career, community, and taking a pragmatic approach to positivity. Most recently, Katie was a founding editor of The Chalkboard Mag by Pressed Juicery, one of the leading wellness destinations online, and has been featured in countless publications such as mindbodygreen, Darling Magazine, Cameron Diaz's The Body Book, xoJane, and more. She is proud to have served as a mentor in the Chrysalis Women's Empowerment Program, helping to empower homeless and underprivileged women transition into self-sufficiency through job readiness. WANT is not her passion project - it's her purpose project.
~~~
Move forward fearlessly, spread the (good) word, and see you on the 26th!

xo,
Katie
Date and time
Location
Hub Seventeen
114 5th Avenue
New York, NY 10011