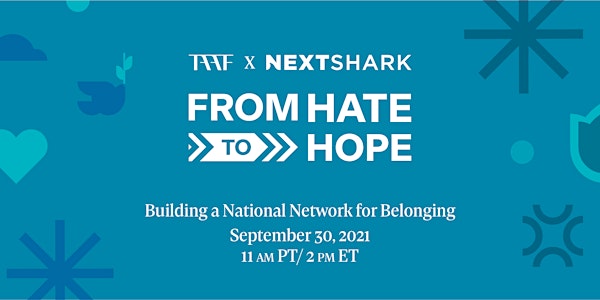 From Hate to Hope: Building a National Network for Belonging
From Hate to Hope: Building a National Network for Belonging
About this event
The Asian American Foundation (TAAF) will co-host a virtual event with NextShark titled, "From Hate to Hope - Building a National Network for Belonging" following TAAF's recent announcement of its Anti-Hate National Network, AAPI Action Centers, and AAPI Emergency Relief Fund.
The event will feature discussions on the most pressing issues facing AAPIs and how TAAF will create a connective tissue nationwide between organizations to fight anti-AAPI hate.
Join AAPI leaders committed to ending the crisis of anti-AAPI hate and fostering a sense of belonging for the 23 million AAPIs living across the U.S.
Speakers include:
Sonal Shah, Founding President of The Asian American Foundation (TAAF)
Benny Luo, NextShark Founder & CEO
Congresswoman Grace Meng
Thu Quach, Chief Deputy of Administration of Asian Health Services
Jo-Ann Yoo, Executive Director of The Asian American Federation
Amna Nawaz, Chief Correspondent at PBS NewsHour (Moderator)
About The Asian American Foundation (TAAF)
The Asian American Foundation (TAAF) is a convener, incubator, and funder committed to accelerating opportunity and prosperity for AAPI communities. TAAF supports advocates and organizations committed to AAPI causes so that together we can more effectively take action against hate and violence, and build the infrastructure needed to improve AAPI advocacy, power, and representation across American society. We were founded to solve for the longstanding lack of investment and resources provided to AAPI communities and we strive to be a catalyzing force for creating a permanent and irrevocable sense of belonging for the 23 million Asian Americans and Pacific Islanders living in the United States. The month of its launch, TAAF announced that through its AAPI Giving Challenge and donations from its Board it raised nearly $1.1 billion — the largest philanthropic commitment in history fully focused on supporting AAPI communities. For additional information about TAAF, please visit www.taaf.org.
About NextShark
NextShark is the global leader in Asian and Asian American news. We strive to provide the most accurate and up-to-date coverage and analyses of the breaking news and cultural issues most affecting our communities worldwide. Our publication was the vanguard in the fight to bring stories about the anti-Asian hate wave and Stop Asian Hate movement to the forefront of American news. We have been cited by publications such as The New York Times, The Washington Post, BBC, NBC, CNN, Fox News and The Guardian.