Don't allow toxic workplaces to leave you feeling like a victim. LEARN HOW TO TELL YOUR STORY!
About this event
Attorney Brittany S. Hale describes this event series as being "...for anyone who's experienced a toxic workplace and is looking to transform that victimhood into valor." Learn how to tell your story in way that allows it to be heard - and to transform feelings of failure from a bad work environment into actions that reflect empowerment and movement forward. This is a two-part session featuring Atty. Brittany Hale from the BND Consulting Group (presenting on June 23, 2022 and Restorative Justice expert Olajiwon McCadney, ED.M.. (presenting on July 14, 2022). You won't want to miss this series!
Presented by the NAAAHR New Jersey Chapter in Partnership with the NAAAHR NORTHEAST ALLIANCE (NAAAHR-NEA)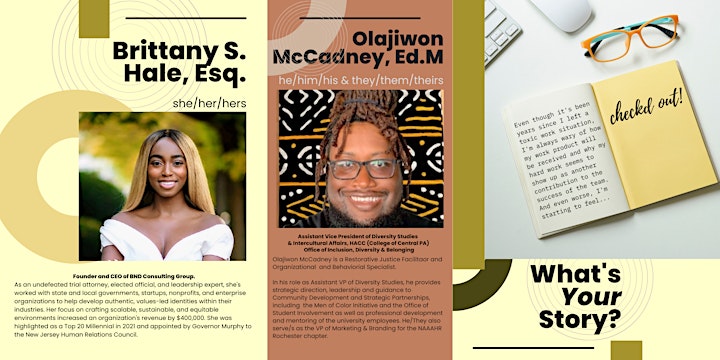 Please note: You have the option of adding details regarding your workplace experiences during the registration process. Do not include any information on your employer. All information will be shared with Atty. Hale and Trauma Facilitator McCadney for purposes of designing sessions that are germane to the topic and that speak to a compilation of information captured by attendees. All information will go directly to our two presenters.