Join us for a live event with Anna Liotta as she discusses What Makes Each Generation Tick and What Ticks Them Off!
About this event
This event offers the opportunity to gain better insight into providing equity across generations in our work as a grant-making organization, while creating an inclusive experience and preparation for upcoming generational changes.
Anna's presentation will show us how to:
Provide equity across generations in our work as a grant-making organization
Create an inclusive experience for a multi-generational organization
Recognize generational changes are coming and prepare for those
This virtual event will be held via Zoom. Login information will be sent to all registrants the day before the event. We'll be using Zoom breakout rooms for engaging, small group discussions during the event.
We look forward to seeing you on Friday, July 16 for this informative session!
About the Speaker
Anna Liotta, founder of The Generational Institute and author of the best-selling "Unlocking Generational CODES", is an award-winning speaker, business consultant and author. Anna is a sought-after thought leader on generational leadership sales and customer service. She served as the President of the National Speakers Association in 2019-2020 and has served on 53 non-profit, education, and corporate boards.
Learn more about Anna at https://annaliotta.com/ and purchase her book "Unlocking Generational CODES" here.
By registering for this event you authorize Impact Austin to use your picture and likeness. You also grant Impact Austin the right to use, publish, and reproduce, for all purposes, my name, pictures of me in film or electronic (video) form, sound and video recordings of my voice, and printed and electronic copy of the information described above in any and all media for the purpose of promoting Impact Austin.
About Impact Austin
We are an Austin-based women's collective giving organization, funding Central Texas nonprofits that provide services in Bastrop, Hays, Travis, and Williamson counties.
Since Impact Austin launched in 2003, we have invested $7.64 million in Central Texas. Our members value knowing more about the needs in our community and engaging with friends who share a passion to support it.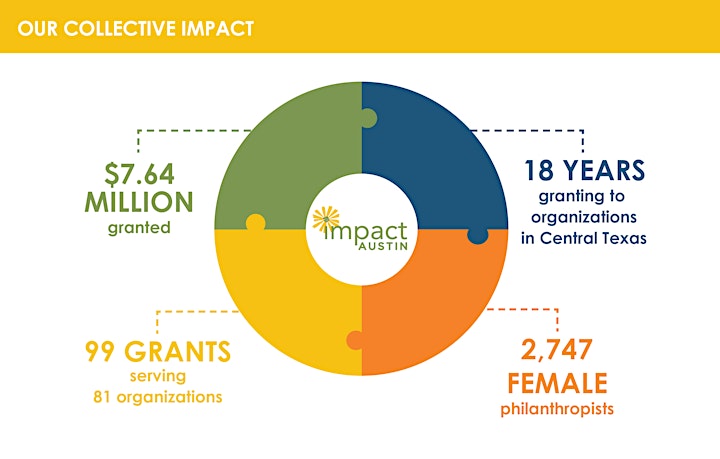 Our membership and leadership proudly reflect the many faces, cultures and walks of life that make up our society. We believe diversity helps us to better understand and address the issues facing our community.
Learn more at: https://www.impactaustin.org