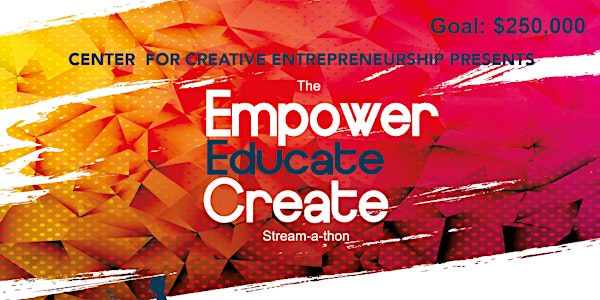 Empower, Educate and Create | Nine Days of Giving Stream-A-Thon
The Center for Creative Entrepreneurship presents Nine Days Of Giving Stream-A-Thon
Refund Policy
Contact the organizer to request a refund.
Eventbrite's fee is nonrefundable.
About this event
The Center for Creative Entrepreneurship is producing an unscripted and inspirational "Nine Days of Giving" Stream-A-Thon every night Dec 1st - Dec 9th at 7pm CST. We will showcase our creative community (Music, Film/Video, Dance, Theatre, Fashion, Visual Arts/Design, Media, Sports, Culinary) and the resources available to support creative entrepreneurs. This is a virtual salon-style gathering of experts and artists, patrons and fans coming together to celebrate and enrich the creative economy, including: Cinespace Studio Owner Alex Pissios along with Producer Bob Teitel and The Hangar Studio owner Rob Tovar; Visual Arts thought leader Michelle Boone and Artist Nick Cave with celebrities like Hill Harper and fashion icon and published author Marcellas Reynolds; Media maven, Michelle Mitchell of Facebook, who drives strategy for the Strategic Communities Initiative, within Facebook, Inc.'s Media along with game changers in theatre, Deb Clapp of Chicago League of theatre and Pioneers like Collaborations Anthony Mosely and Lookingglass company member, actress and writer extraordinaire J. Nicole Brooks. Each night represents a creative sector. Stop by to watch one or watch them all! We hope that our lineup of guest speakers will demonstrate CCE's commitment to you that we provide excellence at all levels in education of the nine sectors.
Each power-packed, engaging conversation will wrap up with a drum solo from a globally celebrated drummer like Jimmy Chamberlin of the Smashing Pumpkins, and Damion Reid of the Robert Glasper Trio. Drumming is foundational, it is a system of organization, it is the rhythm we feel that sets a tempo to our action. It is a universal language. It is the heartbeat of our passion. And it is the thread that ties all nine nights together!
The first eight nights are free to all, while the final night is a ticketed event celebrating Film/Video. Your MVP "All Stars" ticket comes with two John Legend, "Legend Vineyard Exclusive wines" from Boisset Collection and access to a virtual wine tasting after party with plenty of celebrity surprises!
With your support, we will have the necessary capital resources to continue to empower entrepreneurs to grow their business in the creative sector. Since March we have produced 27 CCE Global Industry Talks, 4 Webinar/Workshops, 1 Bootcamp and 7 BetaIn Real Talks with real women in Technology, archived on our Youtube channel.
SCHEDULE
Days 1-8 are FREE with a suggested donation of $50.
Day 9 Finale is a ticketed event. Ticket prices are as follows: General admission is $75, MVP "All Stars" experience is a $250 minimum or $500 or up. ..
Tuesday, December 1 - Music
Conversations with Martin Atkins, Frayne Lewis, Music Producers for TV Jeff Morrow and Rich Daniels, and Periscope Post & Audio Mike Nehs
Drum Solo: Martin Atkins
Wednesday, December 2 - Media
Conversations with Mary Landaverde and Errol Angara (Indistry Media) , Michelle Mitchell (Facebook), Silvia Rivera, Sean Rugless (Katalyst)
Drum Solo: Charles Heath
Thursday, December 3 - Fashion
Conversations with Marcellas Reynolds, Dana Todd and Fashion Designers: Elda de la Rosa, Lauren Lein, and Daryl Sneed.
Drum Solo: Hannah Welton (Prince)
Friday, December 4 - Theatre
Conversations with Deb Clapp (League of Chicago Theatres) , J. Nicole Brooks (Lookingglass Theater) , Anthony Mosley (Collaboraction)
Drum Solo: Daniel Crane
Saturday, December 5 - Dance
Conversations with Nicole Clarke - Springer, Kevin Lega Jeff and Gary Abbott ( Deeply Rooted Dance Theater). Pranita Jain (Mandala Arts)
Drum Solo: Jeremiah Collier
Sunday, December 6 - Design/Visual Arts
Conversations with Hill Harper, Nick Cave, Michelle Boone and Erin Jenoa Gilbert
Drum Solo: Kahil El'Zabar
Monday, December 7 - Sports
Conversations with Kamau Murray, Jim Cornelison and more
Drum Solo: Dina Micelli
Monday, December 8 - Culinary
Conversations with Oliver Gottfried (Oxfam), Mott Smith and Kevin Boehm
Drum Solo: Jimmy Chamberlin (Smashing Pumpkins)
Wednesday, December 9 - Finale - Film/Video
Conversations with Alex Pissios (Cinespace), Bob Teitel (Producer) Rob Tovar (The Hangar) and Saudia Davis (CCE Global) plus special celebrity appearances
Drum Solo: Damion Reid
Special musical performance from Sam Trump
*MVP "All-Star" includes:
Two bottles of John Legend's exclusive wine collection from Boisset Collection Napa Valley (pictured below) shipped directly to your house.
Virtual wine tasting and admission to the virtual after party!
Must purchase by November 27 in order to have wine delivered in time for Dec 9th tasting
For more information visit www.cceglobal.org or donate now at www.givecce.com